Six Chicago PD Stars Will Be Hitting A Big Milestone In Season 10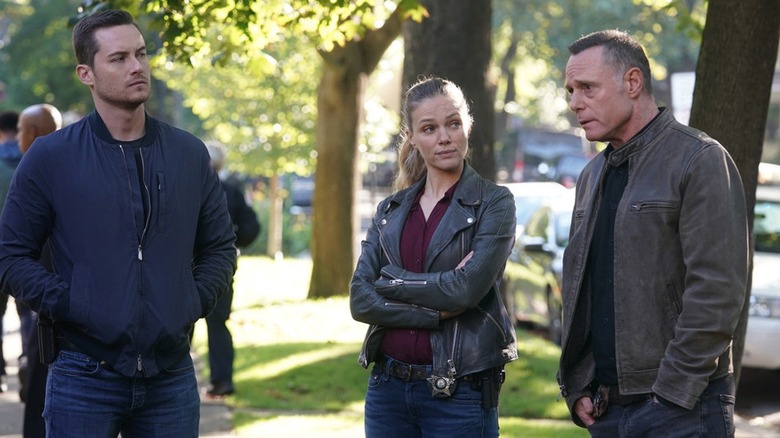 Lori Allen/NBC
With nine seasons of pulse-pounding procedural drama under its belt and no end in sight, NBC's beloved first-responder saga "Chicago P.D." remains one of the jewels in the network's primetime programming slate. Created by Michael Brandt, Derek Haas, and Matt Olmstead, with backing from super-producer Dick Wolf, the series is, of course, part of the "One Chicago" franchise, sharing characters and settings with "Chicago Med" and "Chicago Fire." While each program brings its own flavor to the mix, it's easy enough to argue the hard-nosed procedural chaos of "Chicago P.D." brings a little more grit than its franchise partners.
It's also arguably more adept at serving family style, with the series' central cast having mainly remained intact since its pilot episode. Perhaps more than most shows on the air, the longest-tenured cast mates of "Chicago P.D." really have come to feel like a family for diehard fans. As one might expect, given the longevity of "Chicago P.D.," milestones are starting to pile up for both the show and the tight-knit crew working the Windy City beat since the early days. And yes, Season 10 of "Chicago P.D." will see the series and its longtime cast members surpass their biggest milestone yet.
Several Chicago P.D. cast members will air their 200th episode in the upcoming season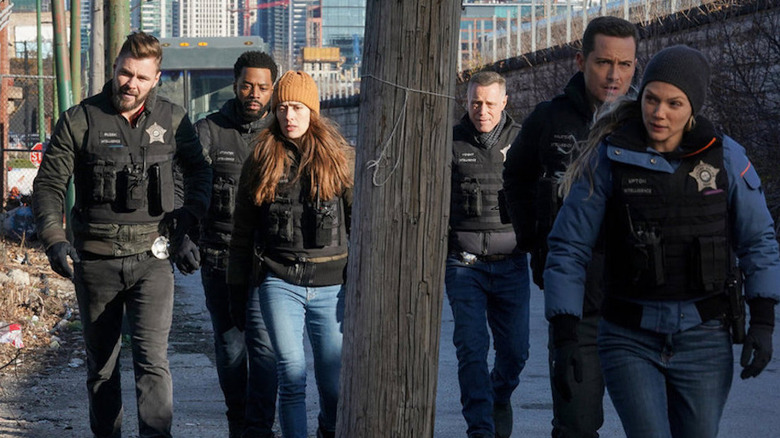 Lori Allen/NBC
"Chicago P.D." has always been a legit ensemble drama. And like any long-running ensemble piece, the series has seen its share of actors leaving the One Chicago franchise. Despite the turnover, the show has maintained the formidable talents of stars Jason Beghe (Hank Voight), Marina Squerciati (Kim Burgess), LaRoyce Hawkins (Kevin Atwater), Jesse Lee Soffer (Jay Halstead), Patrick Flueger (Adam Ruzek), and Amy Morton (Trudy Platt) since it hit the airwaves back in 2014. And by the time the 10th season of "Chicago P.D." finishes, that core group will have fronted more than 200 episodes.
Beghe, Squerciati, Soffer, and Fleuger are all currently sitting on 186 episodes of "Chicago P.D." and will hit 200 the same time the series does, during Episode 14 of the new season. Said season is set to premiere on September 21, 2022, meaning they'll cross that momentous episode count around midseason finale time. Ditto for Hawkins and Morton, who will have to wait for one more episode to hit 200, as each currently boasts an impressive 185 (via IMDb).
As for what Dick Wolf and the "Chicago P.D." creative team have in store for the Intelligence Unit as the massive milestone approaches, that remains to be seen. Given everything the crew of the 21st has endured over the first nine seasons of "Chicago P.D.," the 200th episode is shaping up to be a "go big, or go home" sort of affair. And if the emotionally-wrenching nature of the 200th episode of "Chicago Fire" (per TV Insider) is any indication, we should probably be prepping for a bit of heartbreak.