Brendan Fraser Shares Ominous Appraisal Of Batgirl Cancelation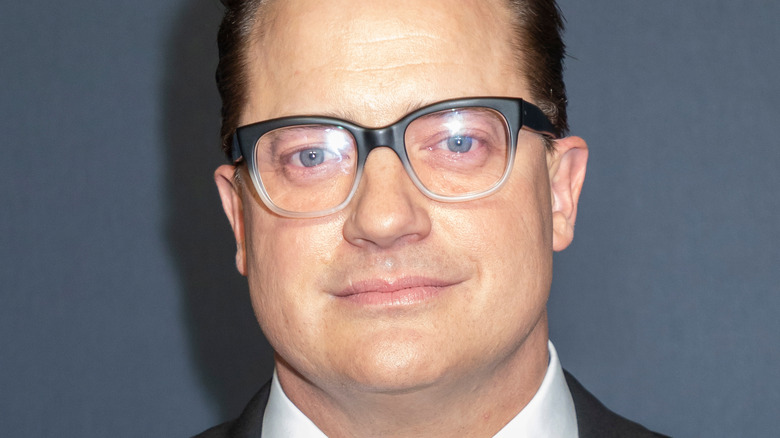 Sam Aronov/Shutterstock
It seems like we're still feeling the reverberations from the fallout of the Warner Bros. Discovery merger and the empty space where "Batgirl" used to be in the DCEU line-up. The massive shake-up saw movies pushed back, countless projects canceled, and many shows being pulled from streaming service HBO Max in a matter of weeks (via IndieWire).
One of the biggest announcements from the merger was the shocking revelation that "Batgirl would be scrapped altogether, even though Warner Bros. had already invested $90 million into the project (via Grid). The news of the cancelation was received negatively all over the internet, not just by fans but by those deeply involved in the project.
One of those voices came from Brendan Fraser. The actor was set to play Firefly, a Batman villain who had yet to make a big-screen appearance, in "Batgirl." While Fraser has been out promoting another project, "The Whale" from filmmaker Darren Aronofsky, he hasn't been shy about discussing the tragic fate of "Batgirl."
Brendan Fraser implies Batgirl can serve as a warning
Brendan Fraser sat down to talk with Variety at the Toronto International Film Festival, and, naturally, the canceled comic book movie came up in the chat. Fraser quickly pointed out how great his co-star was in "Batgirl" and how much he thought viewers deserved to see the movie. "The fans really wanted to see this film made. Leslie Grace is a dynamo," Fraser said.
"The movie was shot and conceived for a smaller screen," Fraser explained. "In this age that we've come out of now between streaming service versus theatrical release, it wound up being the canary in the coal mine. What did we learn from this? Work with trusted filmmakers like Darren," the actor concluded, referring to "The Whale" director Darren Aronofsky.
This sounds like it might be a shot against "Batgirl" directors Adil El Arbi and Bilall Fallah. While Fraser didn't name either one of them specifically, his comment on "trusted filmmakers" definitely sounds like he might be implying something about the duo. Furthermore, this could be even more of an indication as to why "Batgirl" was ultimately left unfinished and proposed as a tax break for Warner Bros. Discovery instead.
Either way, with other DCEU projects like "The Flash," "Black Adam," and "Shazam: Fury of the Gods" still in the pipeline, it doesn't look like Warner Bros. Discovery is abandoning their superhero stories any time soon, but the loss of "Batgirl" still stings for fans nonetheless.