The Real Reason Keanu Reeves Was Cast In Netflix's Always Be My Maybe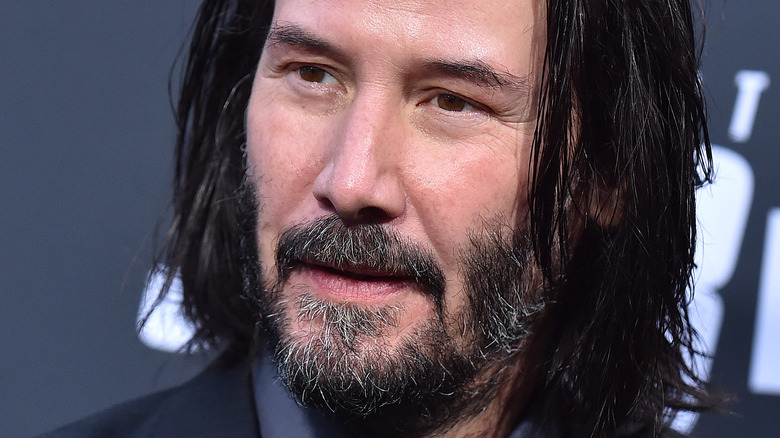 DFree/Shutterstock
If you've been tracking the career arc of Keanu Reeves, you know he's been on a bit of a roll over the last decade or so. That, of course, has a lot to do with the blockbuster success of his "John Wick" franchise, the last edition of which was in 2019 with "John Wick: Chapter 3 – Parabellum." While "Parabellum" was arguably the biggest film Reeves appeared in that year (which also found him lending a voice to "Toy Story 4"), his cameo in a low-budget Netflix rom-com earned just as much attention. 
That film was "Always Be My Maybe," which, once described by star and co-writer Ali Wong as "our version of 'When Harry Met Sally'" to The New Yorker, finds the Asian-American actor and comedian and her longtime pal Randall Park (who co-wrote the script with Wong and Michael Golamco) portraying star-crossed would-be lovers Sasha Tran and Marcus Kim respectively. If you've seen "Always Be My Maybe," you know their romance is anything but easy and gets exceedingly more complicated about halfway through the film when Sasha begins dating Mr. Keanu Reeves.
Reeves is, naturally, playing a wildly and hilariously fictionalized version of himself in a legitimately brilliant cameo. And if you're wondering how he ended up in "Always Be My Maybe," it seems the production team had a couple of good reasons to bring him aboard.   
The story needed a suitably intimidating love interest according to the stars of Always Be My Maybe
For the record, Ali Wong and Randall Park were very much part of the production process of "Always Be My Baby," writing and starring in the film and serving as producers. And they played as integral a role as anyone in bringing superstar Keanu Reeves into the mix, doing so purely as a source of comically mind-blowing torment for Park's character.
For a point of reference, Reeves makes his first appearance in "Always Be My Maybe" just as Marcus is set to reveal his feelings to Sasha, the childhood sweetheart he's recently reconnected with after years of estrangement. As Wong noted in a 2019 Extra interview, it had to be someone of Reeves' stature as she and Park conceived the role by asking, "Who would be Marcus' worst person for Sasha to be dating at that moment?" The actor added that Reeves' Asian heritage played a big part in his casting, "And we wanted it to be like an Asian-American icon who was funny and a great actor ... and there's literally no one else. He was always our first choice."
"We never thought we'd get him," Park claimed. It seems, however, that Reeves is a fan of Wong's standup, so it was maybe a little easier to convince him to appear in the film than initially anticipated. Wong went on to quote Reeves as humbly stating, "I would be honored to be part of your love story" when he accepted the role. And in case there were any questions, Reeves shamelessly winking turn as his worst self instantly became arguably one of his best roles to date.