The Miami Vice Star You Likely Didn't Know Coined The EGOT Term
Winning at a major awards show is far from the only indicator of success in the performing arts, but nonetheless, recurring wins at annual awards ceremonies oftentimes mean a performer is at the top of their game. This is effectively the basis for the EGOT, which is a status attained by the select few winners of at least one Emmy, Grammy, Oscar and Tony each.
The full list of EGOT winners includes Audrey Hepburn, Mel Brooks, Whoopi Goldberg, Andrew Lloyd Webber, and John Legend, among a number of other multi-talented individuals from film, music, TV, and theater history. Likewise, a number of performers are on the path toward attaining EGOT status, which — given the rarity of the achievement — is itself a cause for celebration. Lin-Manuel Miranda nearly earned EGOT distinction, for example, when he was nominated for Best Original Song at the 2022 Academy Awards. Meanwhile, popular singer and flautist Lizzo is halfway to EGOT status, as the recipient of Grammy and Emmy awards.
While most awards show fanatics are well aware of the existence of the EGOT distinction, some may not know that they have one of the stars of "Miami Vice" to thank for the term.
Philip Michael Thomas popularized EGOT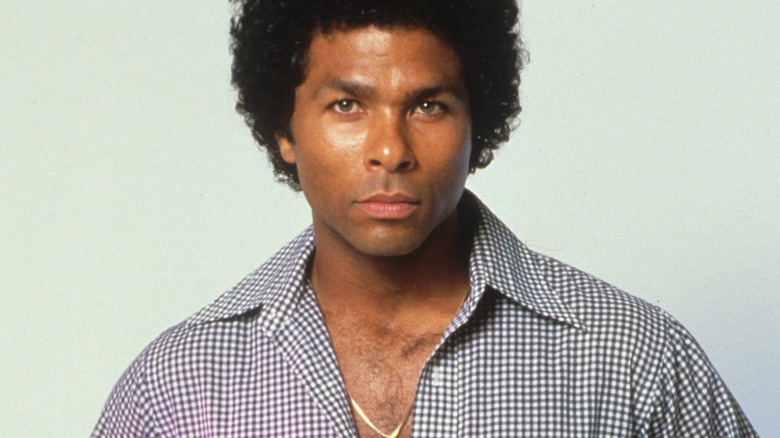 Donaldson Collection/Getty Images
As recounted in a profile published by Vanity Fair, actor Philip Michael Thomas first brought the term EGOT into the popular consciousness. For those unfamiliar, Thomas portrayed Detective Sergeant Rico Tubbs on the original "Miami Vice" TV series that aired primarily through the mid-to-late '80s. Thomas, as some may know, is not an EGOT winner, nor has he won any of the four awards necessary to quality. Thomas did, however, sometimes sport a necklace in public decorated with its four letters, indicating his desire to one day win all four awards. In fact, Thomas' EGOT jewelry and his discussion of it effectively introduced the term to the public, making him the inventor of the EGOT distinction.
For what it's worth, an Atlantic account of the term EGOT references the fact that Thomas at one point changed the meaning of his necklace to energy, growth, opportunity, and talent. The article also credits a Season 4 episode of "30 Rock" in which Thomas' pendant appears for introducing the term to many who were previously unfamiliar with it.
So, while plenty of "30 Rock" fans may have heard Tracy Morgan vocalize the acronym for the first time, by the show's own admission, the term EGOT originates with Thomas and his extravagant, custom jewelry.