Lizzo's Emmy Win Just Put Her One Step Closer To A Monumental Entertainment Achievement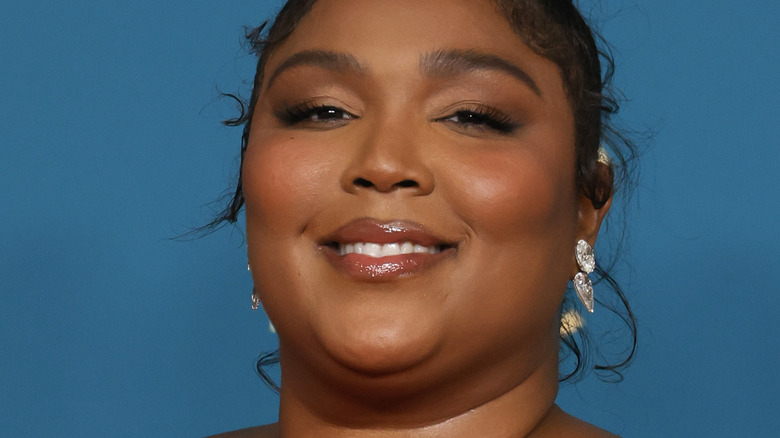 Frazer Harrison/Getty Images
"Lizzo's Watch Out for the Big Grrrls" took home the Emmy Award for outstanding competition series at tonight's 74th Primetime Emmy Awards, beating out "RuPaul's Drag Race" and "Top Chef," among others. The show follows a group of plus-sized girls as they compete to become one of Lizzo's backup dancers. Winners will soon accompany the pop star on a worldwide tour.
During her emotional acceptance speech, Lizzo dedicated her win to big girls everywhere, saying she created "Watch Out for the Big Grrrls" to fill a void of representation for people who look like her. "When I was a little girl, all I wanted to see was me in the media," she said. "Someone fat like me, Black like me, beautiful like me."
The win was an upset in a race that also included consecutive four-time winner "RuPaul's Drag Race." But not only is Lizzo's Emmy win a massive achievement for her television show and her personal career, it also brings her one step closer to one of the rarest achievements in all of entertainment.
Lizzo is halfway to an EGOT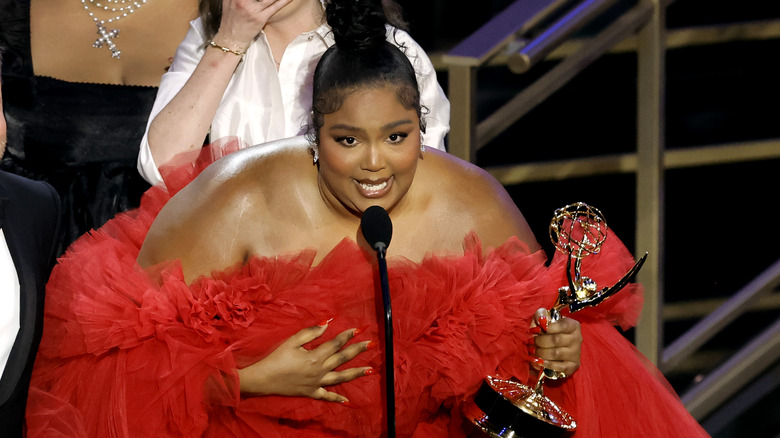 Kevin Winter/Getty Images
With both a Grammy and now an Emmy under her belt, Lizzo is halfway to the extremely rare category of EGOT winners. The term is an acronym for "Emmy, Grammy, Oscar, Tony," and refers to performers who have managed to win at least one of each of the four awards. At present, there have been merely 22 EGOT winners in history. Among their ranks are true legends such as Audrey Hepburn, Whoopi Goldberg, and Andrew Lloyd Webber.
Lizzo previously won three 2020 Grammy Awards. In the category of best urban contemporary album, she won for "Cuz I Love You." Her singles "Truth Hurts" and "Jerome" took home the gold for best pop solo performance and best traditional R&B performance, respectively. Her win for the competition show "Lizzo's Watch Out for the Big Grrrls" now puts her at the halfway point to EGOT.
All Lizzo needs now to check all the boxes and complete the uncommon accomplishment is an Oscar and a Tony, both of which would still be technically possible to achieve even if Lizzo does not expand further into acting; both awards shows feature musical categories. That said, the singer has already dipped her toe into the acting pool, appearing on "The Proud Family: Louder and Prouder" and "The Eric Andre Show," among other projects. She also had a cameo with her friend Cardi B in the film "Hustlers," so don't be surprised if you see more of her on the silver screen.