All The Ways Squid Game Made History At The 2022 Emmys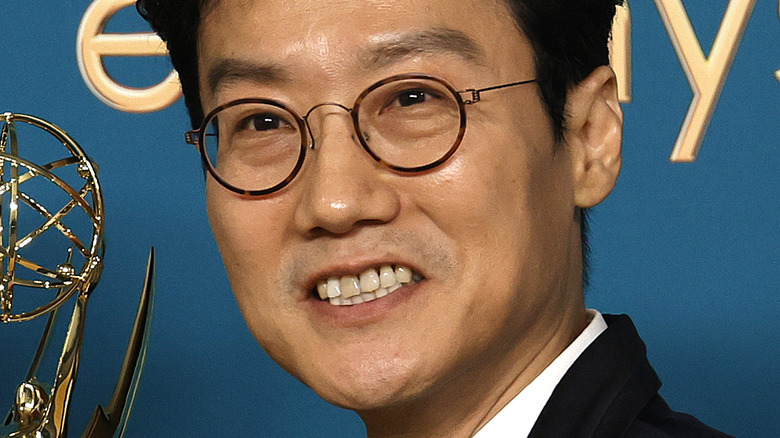 Frazer Harrison/Getty Images
In 2019 and 2020, audiences ate hefty portions of the rich in films like "Knives Out" and "Ready or Not," and series like "Slasher: Flesh and Blood." By 2021, however — and in the midst of a devastating pandemic whose degree of impact was increasingly tied to one's zip code and tax bracket (via Human Rights Watch and IDB) — viewers were in need of an even more poignant commentary. One that attacked the very foundations of income inequality, and capitalism run amok.  Enter: Hwang Dong-hyuk's "Squid Game." 
The original series, which had been in development for 10 years — about a group of desperate contestants who compete in a seemingly harmless but ultimately deadly game show for much-needed cash — was, less than a month out from its September 17th debut, Netflix' most successful series launch to-date, with over 111 million fans (per Hype Beast). To say that it took the TV viewing world by storm would be an understatement, so it came as no surprise when the series was given the green light for a second season last June (via CNN) or when it pocketed so many nominations, and wins, at the 2022 Primetime Emmy Awards.
However, while the series' much deserved acclaim and celebration isn't particularly surprising, it is noteworthy, since several of those "Squid Game" awards made Emmy history.
Hwang, Lee, Squid Game, and its cast make history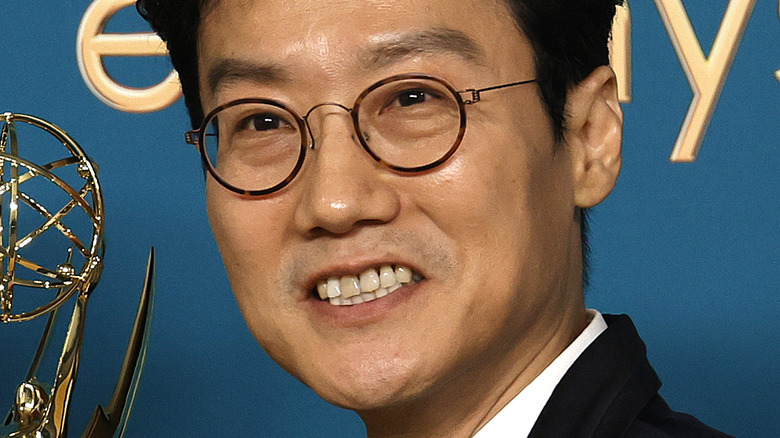 Frazer Harrison/Getty Images
Heading in to the 2022 Emmys, "Squid Game" had earned itself 14 nominations, and taken home the awards for Stunt Performance, Production Design for a Narrative Contemporary Program (One Hour or More), Special Visual Effects in a Single Episode, and Outstanding Guest Actress in a Drama (for Lee You-mi) at the Creative Arts Emmys over the weekend. On Monday, the series added two more awards to its collection.
Hwang became the first South Korean, and the first Asian, to be awarded the top honor of Outstanding Directing for a Drama Series — a series that made history in and of itself, as the first non-English language series to receive a nomination for Outstanding Drama Series (per Variety) and the first to take home major awards at the ceremony (via The Los Angeles Times). 
Lee Jung-jae's Oustanding Lead Actor win — for his portrayal of protagonist Seong Gi-hun — made him, like Hwang, the first South Korean and the first Asian to take home the award, and although Park Hae-soo, Jung Ho-yeon, and Oh Yeong-su didn't win in their respective categories, all five cast members were the first native Koreans to receive nominations, as The Los Angeles Times reported back in July. 
In Hwang's acceptance speech, he was quick to point out that the history made was a team effort, and shared his hope that future ceremonies would be even more globally inclusive: "I truly hope 'Squid Game' won't be the last non-English series to be here at the Emmys," he said (via E! News).