What Kaley Cuoco Really Thought About Penny's Wardrobe In Early Big Bang Theory Episodes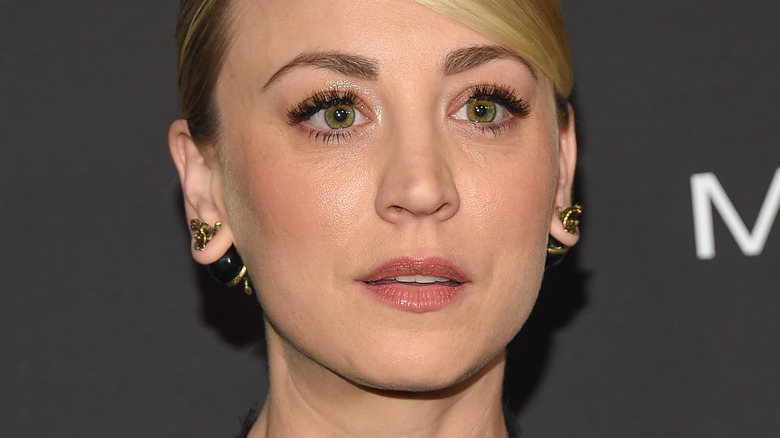 DFree/Shutterstock
"The Big Bang Theory" was on the air for a total of 12 seasons and 279 episodes, so it makes sense that the sitcom ended up changing a lot over the years. According to Cinema Blend, the pilot itself featured completely different characters, like the much darker, tough-as-nails character of Katie (Amanda Walsh), instead of the gentler Penny (Kaley Cuoco).
Early episodes of the show also emphasized the massive gap between the nerdy scientists, like Leonard (Johnny Galecki) and Sheldon (Jim Parsons), and their stereotypically "hot" neighbor, Penny. This slowly changed over time as the writers took more time to develop the ensemble cast and flesh out the relationships. Co-creator Chuck Lorre noted in USA Today, "The characters grew. It expanded the relationships and what the characters were capable of doing." One thing that especially changed was how Penny was treated in the series — and even how she dressed.
In earlier seasons of the show, Penny dressed sexy, wearing revealing outfits that flashed cleavage and were almost always featured some version of a tank top. That was the norm for quite some time until the seasons ticked by, and the waitress began dressing more formally and was covered up way more than she used to be. Penny actress Cuoco has thoughts on her character's wardrobe evolution, and her feelings on the shift are exactly what you'd expect.
Kaley Cuoco asked for Penny to wear less sexy clothing
At first, Kaley Cuoco didn't mind wearing Penny's often revealing clothing during the early seasons of the show. "I was the cute girl next door to the nerds [who] was all about booty shorts and Juicy Couture zip-ups," she told W Magazine. "At 21, I was hot. I wanted to show that stuff off."
But as Cuoco and Penny got older, wearing short shorts didn't feel right for the character anymore. "All of a sudden, it's like, 'Can I have a long-sleeve shirt? How about a slack? How about a loafer?'" she shared with the outlet. The Emmy-nominated actress joked about wearing Uggs with shorts all the time and mentioned she was sick of wearing high heels. 
However, Cuoco doesn't feel like the sexy clothes took away from her performance, saying, "I don't think it was hard to wear that stuff and be funny. I think I love being funny no matter what." She mentioned a lot of Penny's comedy was self-deprecating and it all worked perfectly. Clearly, she can knock out a comedic performance no matter what, as obvious in her work in "The Flight Attendant" and the "Harley Quinn" animated series.
Meanwhile, co-star Kunal Nayyar hated Raj's costume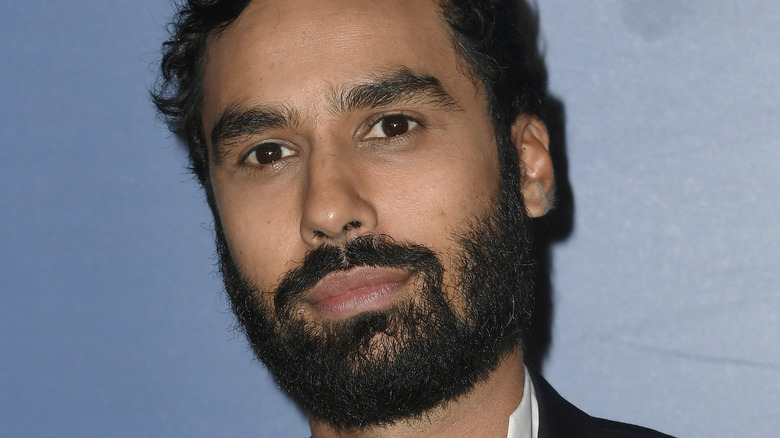 Frazer Harrison/Getty Images
Whereas Kaley Cuoco eventually became sick of wearing heels and miniskirts on "The "Big Bang Theory," co-star Kunal Nayyar hated Raj's rather unflattering clothes. The shy scientist Raj often dresses in a combination of sweater vests, windbreakers, and cargo pants that make sense for a young male geek. Nayyar explained to Page Six, "I think the discussion that happened with the costume designer is that because he's in a new country and because he's a genius at such a young age, the layers act as protection."
However, if Nayyar's Instagram page is anything to go by, he tends to dress in elegant and stylish fashion. It's why he told Deadline in 2019 that he would be burning his character's cargo pants once the show ended. He also took on some new television roles where he couldn't be typecast as Raj, including the Netflix series "Criminal" and the Apple TV+ series "Suspicion." Ultimately, both Cuoco and Nayyar seem to have transcended their former sitcom characters' images, whether that involves Juicy Couture zip-ups or windbreakers.