The Rhaenyra And Ser Criston Scene That Led To An Extra's Removal From House Of The Dragon's Set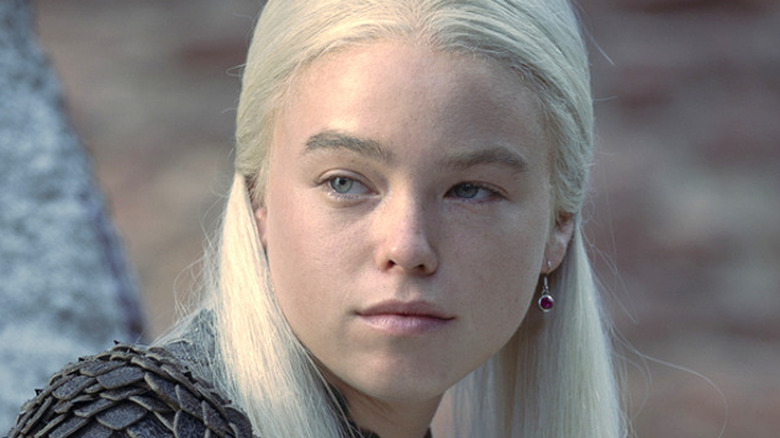 Ollie Upton/HBO
"House of the Dragon" is off to a pretty impressive start thus far. Though the series is fighting for its audience with another high-profile fantasy show, "The Lord of the Rings: The Rings of Power," the "Game of Thrones" spin-off is more than holding its own with viewership numbers so good that a second season has already been greenlit by HBO (via The Hollywood Reporter).
Based on George R.R. Martin's dark fantasy novel "Fire and Blood," "House of the Dragon" follows the reign of the Targaryen dynasty on the Iron Throne nearly 200 years before the events of "Game of Thrones." Still, the more things change, the more they stay the same, as the new series is brimming with as much graphic violence, political intrigue, and adult content as its forebearer. However, behind the scenes, things are far from as dour and dreadful as the struggles the central characters of "House of the Dragon" face with each passing week of the series.
The jousting tournament scenes presented a few challenges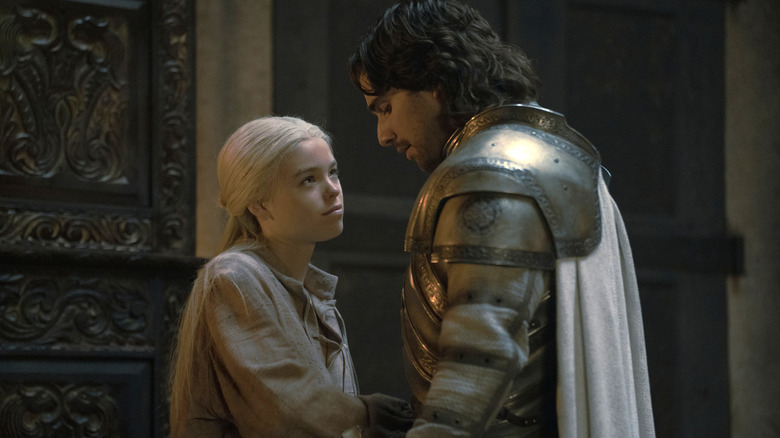 Ollie Upton/HBO
Milly Alcock and Fabien Frankel play Rhaenyra Targaryen and Ser Criston Cole, respectively, in "House of the Dragon," and the two actors sat down with Seventeen to talk about some of the behind-the-scenes memories they've shared throughout the first season of the series. When asked which scene was toughest for them to film, both Alcock and Frankel agreed that it was the scene where Ser Criston must catch Rhaenyra's wreath during the duels in Season 1, Episode 1 ("Heirs of the Dragon"). "It was windy, and Fabian can never catch the wreath," Alcock recalled.
However, things got pretty intense on set as the extras from "House of the Dragon" began cheering or booing depending on how Frankel was doing with catching the wreath on his lance during the jousting tournament scenes. Still, there was one particularly egregious member of the extras team who was removed for a very strange reason.
"The guy with the sunglasses!" Alcock remembered as the two chatted. "He got removed!" Frankel broke in shortly thereafter. "This extra was just wearing like straight-up sunglasses," Alcock continued. Obviously, not wanting to have another production snafu for fans to catch, the extra was urged by crewmembers to remove the sunglasses but refused so many times that he was taken off of the set of "House of the Dragon." Though it probably isn't the best career move for a performer who is trying to make a name for themselves in the acting scene, hopefully, the extra learned his lesson and will try to be more professional on future sets.