MCU's First Secret Invasion Trailer Keeps Fans In The Dark On Two Key Characters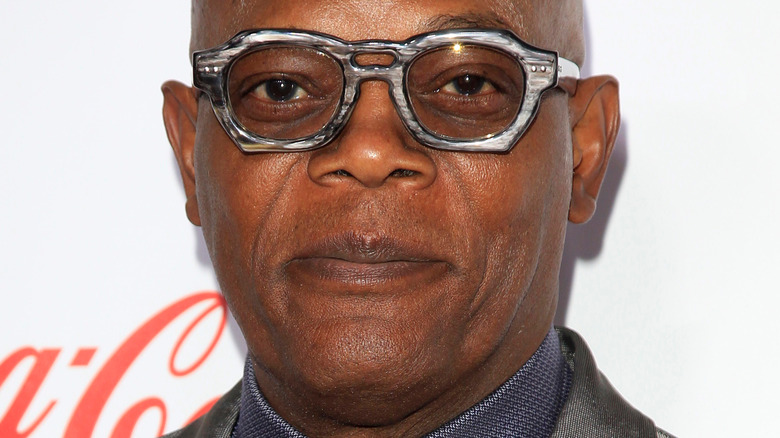 Kathy Hutchins/Shutterstock
Marvel Studios brought the goods at D23 Expo this past weekend. The event saw the lineup of "The Thunderbolts" finally revealed. We also got our first look at the MCU's first Halloween special "Werewolf by Night," and the confirmation of the "Fantastic Four" director being Matt Shakman (via Twitter). The future looks brighter than ever for the MCU, which is currently on track to enter its 15th year. And while the franchie has always taken inspiration from the comics, there are still numerous classic storylines left to adapt.
One of the most anticipated projects coming out from Marvel Studios is "Secret Invasion," which is adapting the comic event of the same name. The series sees Samuel L. Jackson's Nick Fury back to earth after his stint in space, only to find that Skrulls — whom, until now, he has presumably been in alliance with — have infiltrated Earth, appearing as humans. Joining Fury on his mission is his confidant Maria Hill (Cobie Smulders) and Ben Mendelsohn's Talos, a Skrull who debuted in 2019's "Captain Marvel." 
Created by "Mr. Robot" writer Kyle Bradstreet, the first footage from the series is filled to the brim with action and intrigue. Unsurprisingly, details are slim, though it's clear that Marvel and Bradstreet are echoing a conspiratorial thriller vibe, not unlike "Captain America: The Winter Soldier." And while the first "Secret Invasion" trailer did pull back the curtain on two intriguing new characters, it also kept many details about them locked away tightly.
Emilia Clarke and Oliva Coleman are joining the MCU ... but in what roles?
The action-packed trailer may have been light on plot points, but it revealed two of the limited series' most exciting cast members: Emmy-nominated "Game of Thrones" alum Emilia Clarke, and Oscar-winner Olivia Coleman. Both Clarke and Coleman are making their MCU debut with "Secret Invasion," though it remains to be seen how prominent they are in the limited series ... or, for that matter, which comics characters either of them are playing.
Surprisingly, the trailer doesn't focus on the two new characters and instead takes an intimate direction highlighting Nick Fury's (Jackson) latest adventure. While it's possible clever editing is at play, it appears that Coleman's mysterious character is speaking to a seated Fury, telling him: "You're in no shape for this fight that lies before us." The line is wholly ambiguous, making it unclear if Coleman's MCU character is a villain or hero. Clarke's character similarly has ambiguous dialogue, saying "This is just the beginning," to an unknown person — and few moments later, we see Clarke navigating a hallway with a gun. Both stars appear to retain their British accent. The "Secret Invasion" limited series was extensively filmed in the United Kingdom (via Halifax Courier), so it's possible that the two mysterious characters' heritage could play a deep role in the series.
Unless, that is, either (or both) of them are Skrulls. Too early to say, on that score. 
Following the trailer debut, Clarke took to Instagram to praise the limited series' cast and crew, saying "Can't believe they let me and my star struckness near this much talent, I also can't believe I managed to get words out without dissolving into a fangurl."