Michael Weatherly's NCIS: Los Angeles Injury That Had Him Screaming Out In Pain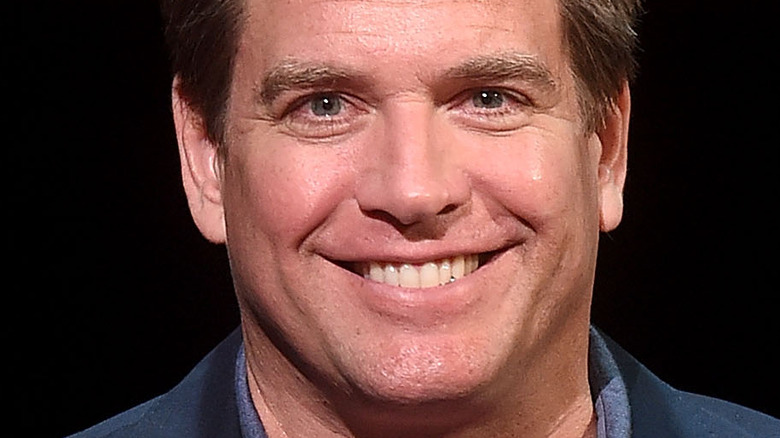 Jamie Mccarthy/Getty Images
Actor Michael Weatherly is arguably best known for his role as Tony DiNozzo on "NCIS." Tony remained a part of the team from before the events of the pilot all of the way until the end of Season 13, which had him retire to raise his daughter while Ziva David (Cote de Pablo) was presumed dead. Many fans consider him the heart of the team, as he is charismatic and charming while still profoundly caring for his friends and family. During his time with the Major Case Response Team, Tony would even reach out to help other sections of NCIS, including joint missions in the Middle East and the field team in Los Angeles. 
Tony appeared in an episode of "NCIS: Los Angeles" searching for a money launderer. Everything seemed to go smoothly in the investigation, which likely delighted hardcore fans of "NCIS." However, behind the scenes, Weatherly revealed that he received an injury that left him screaming in pain.
Michael Weatherly slammed his thumb in a door on the NCIS: Los Angeles set
During an interview with The Talk that Michael Weatherly had with his "NCIS: Los Angeles" co-star Eric Christian Olsen, the actor revealed that his guest spot in the series left a literal impression. While talking about shooting scenes with Olsen, Weatherly explained that one car scene caused him to slam his thumb in a door accidentally. "Kensi (Daniela Ruah) and Deeks were having a scene in the front seat. Now, as an actor, a polite actor, I had to get out of the car during the scene and close the door. And you don't want to close it on someone's line. So, I was trying to do it, and I put my thumb right into the door," Weatherly said.
He continued that he was able to keep his emotions together until "cut" was called, but he immediately rushed to the boom microphone operator and told them to turn the sound off so he could scream out in pain. Coincidentally, that was the first and last appearance that Weatherly made on "NCIS: Los Angeles" as his character, but that could change in the future now that "Bull" has finished (via Deadline).
Many fans think it's possible that Weatherly will now return to "NCIS" with or without Mark Harmon (via Reddit). However, the show's executive producer Steven D. Binder thinks Weatherly will take some time to rest before that conversation begins (via Newsweek).