We Might Finally Get The Quantum Leap And Magnum P.I. Crossover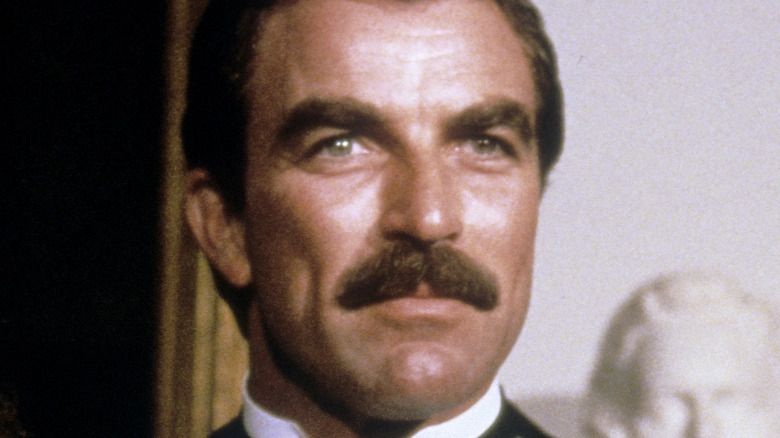 Anwar Hussein/Getty Images
In television's relatively brief reign, a few titans have emerged as the medium's most influential producers. What would the modern sitcom look like without Norman Lear? Are there four words in the English language more powerful than Executive Producer Dick Wolf? In the 1980s, Donald P. Bellisario began his rise as a TV writer and producer to be reckoned with. That decade he created "Magnum P.I." and "Quantum Leap," and would go on to helm "JAG" and its spinoff "NCIS" in the subsequent decades.
"Magnum P.I." was a star-making turn for Tom Selleck, whose performance as Thomas Magnum earned him an Emmy Award in 1984. During its run from 1980 to 1988, the crime drama series regularly enjoyed top ratings, a trend that would continue once it was in syndication (via Museum of Broadcast Communications). Bellisario pivoted genres with "Quantum Leap" in 1988. With Scott Bakula at the helm as physicist Dr. Sam Beckett, the sci-fi series ran for five seasons.
Here's the story behind the "Quantum Leap" and "Magnum P.I." crossover that never came to be, and why it may finally be on the horizon.
Concurrent Quantum Leap and Magnum P.I. reboots could result in a crossover 30 years in the making
"Magnum P.I." and "Quantum Leap" don't have much in common. One features a mustachioed private investigator zipping around Hawaii in a Ferrari while the other has its protagonist "leaping" to other times in another person's body. But for a brief moment, the shows were almost united in a crossover event. At a 1992 press event, an NBC executive announced that Dr. Sam Beckett would "leap" into Thomas Magnum. Bob Meyer, an NBC spokesperson, backpedaled, saying, "We're hoping. It's on hold. We don't have an answer." In 1992, Tom Selleck's publicist put the final nail in the coffin: "There's no truth to it" (via EW).
While the would-be crossover never came to fruition, there does exist grainy screen test footage of a mustachioed Scott Bakula doing his best Magnum impression. In a video courtesy of a "Quantum Leap" convention, Bakula can be seen wearing a Hawaiian shirt and trying out Selleck's signature grin.
With "Magnum P.I." and "Quantum Leap" reboots set to air concurrently this fall, the stars are aligned for a potential crossover. "Magnum P.I." first returned to TV in 2018, and following its cancellation by CBS, NBC swooped in to save the Jay Hernandez-starring series (via Deadline). At the same time, a "Quantum Leap" reboot starring Raymond Lee is set to premiere on NBC on September 19. At this point, it's all fan speculation — but with the same network hosting both series, and with network TV crossover events more popular than ever, fans could finally see an inter-series "leap" thirty years later.