Tense Teaser For The Three-Way Law & Order Crossover Has Fans All Saying The Same Thing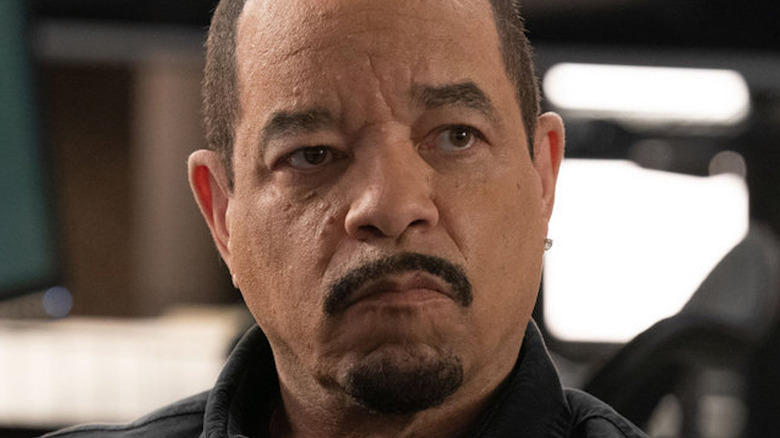 Michael Greenberg/NBC
It's an event 32 years in the making — all three current "Law & Order" series will come together for one epic crossover event that will kickstart the Fall 2022 season. "Law & Order: Organized Crime" Season 3, "Law & Order: Special Victims Unit" Season 24, and the original "Law & Order" Season 22 will be part of a three-hour event on September 22, bringing together the biggest names in the Dick Wolf universe.
This won't be your traditional crossover, where the story plays out across two or three clearly defined episodes. "Unlike other crossovers, this is structured and produced more like a movie," "Law & Order" showrunner Rick Eid told TVLine. "It's not a handoff from one show to the next. It's really one story that involves all the characters from the different shows." There will also be no credits or title cards at the 9 p.m. and 10 p.m. hours to give that more cinematic feel.
The teaser for this epic crossover event has finally dropped, which has "Law & Order" universe fans all in their feels.`
The Law & Order crossover teaser has fans ecstatic
The teaser is the very sense of the word and doesn't offer any new footage from the upcoming seasons. The brief shots we see of Olivia Benson (Mariska Hargitay), Elliot Stabler (Christopher Meloni), Jack McCoy (Sam Waterston), and other "Law & Order" players are recycled footage from recent seasons. The voiceovers from each character are also old, but that hasn't stopped fans from getting excited about the crossover.
In the comments section of the YouTube trailer, "Law & Order" fanatics let the world know how much they're looking forward to the Fall 2022 premiere. "OMG I'M SO EXCITED FOR THIS!!!! CAN SEPTEMBER JUST COME NOW PLEASE?!?!?!" one user wrote. "This is gonna be epic! Let's go!" another added. Many fans expressed how exciting it was to see OG stars of their franchises come together and how this is a significant first for the Dick Wolf series. "Awesome the whole law and order army together fighting the crime in a case together just like the untouchables," another excited viewer wrote.
The "Law & Order" crossover event kicks off the Fall 2022 season on September 22 at 8 p.m. According to Deadline, the story will revolve around an investigation into a girl's murder, which unravels into something much bigger than a typical homicide. DUN DUN.