The Live-Action Little Mermaid Teaser Takes Fans Under The Sea Like Never Before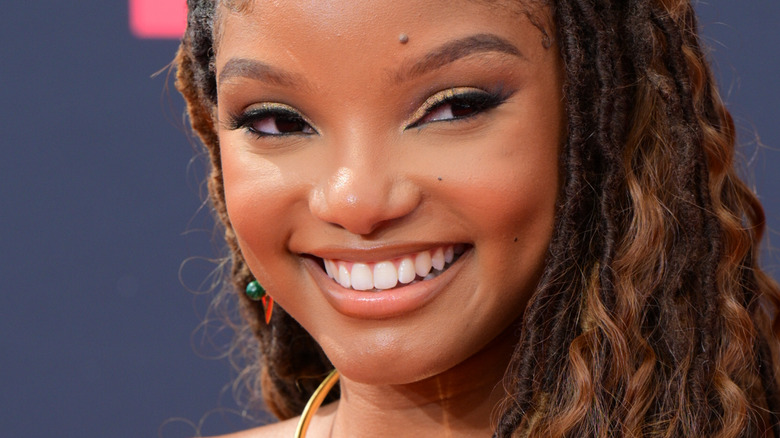 Prince Williams/Getty Images
1989's "The Little Mermaid" made quite the splash when it arrived in cinemas, and for good reason. The film — about a mermaid named Ariel (Jodi Benson) who trades her voice and aquatic life to live among those on land, which she later realizes was a terrible mistake — captivated an entire generation of young moviegoers with colorful imagery, original songs, and a host of memorable characters. Not to mention, it kicked off the Disney Renaissance proper, paving the way for numerous eventual animated classics to hit the big screen.
Naturally, all of that makes it the perfect candidate for a live-action remake.
First spoken of back in 2016, the proposed retread of "The Little Mermaid" has only recently begun to pick up steam. Halle Bailey landed the role of Ariel in July 2019, Rob Marshall took on directing duties that December, and principal photography finally began in January of 2021, having been delayed several times thanks to the COVID-19 pandemic. With that, the live-action version of "The Little Mermaid" was up and running, and fan desire to see what it had to offer grew exponentially. Thankfully, at long last, we've received a good first look at the film.
At the 2022 D23 Expo, Disney revealed the first trailer for "The Little Mermaid," taking fans under the sea in a breathtaking new way.
The Little Mermaid looks remarkable
On September 9, 2022, the official Walt Disney Studios Twitter account – and later YouTube account – dropped the "Little Mermaid" teaser for all to see, and it's a sight to behold. Naturally, it only takes a few seconds for us to be transported into the ocean depths, where all kinds of aquatic creatures such as fish and sea turtles swim about. As they move through the water, we see various rocks, corals, and an algae-covered shipwreck. Just as she did in the original "Little Mermaid," Ariel's curiosity prompts her to explore the downed vessel in search of relics from the surface that she could add to her ever-expanding collection.
Alerted by the sound and sight of cannon fire above them, Ariel and her trusty fish companion Flounder (Jacob Tremblay) swim up to investigate the commotion. To finish off the trailer, we get a clear look at Ariel as she gazes forlornly from the ocean floor at the surface. She sings the tail end of an updated version of the iconic song "Part of Your World" before her image fades, giving way to the text "May 2023" as this breathtaking first look concludes. To be more specific, as prior reports and the aforementioned tweet confirm, "The Little Mermaid" will premiere at the movies on May 26, 2023.
It may not reveal too much, but there's no denying just how impressive this preview of "The Little Mermaid" looks.