The Musical Dramedy You Likely Didn't Know Adam Levine Filmed With Two MCU Stars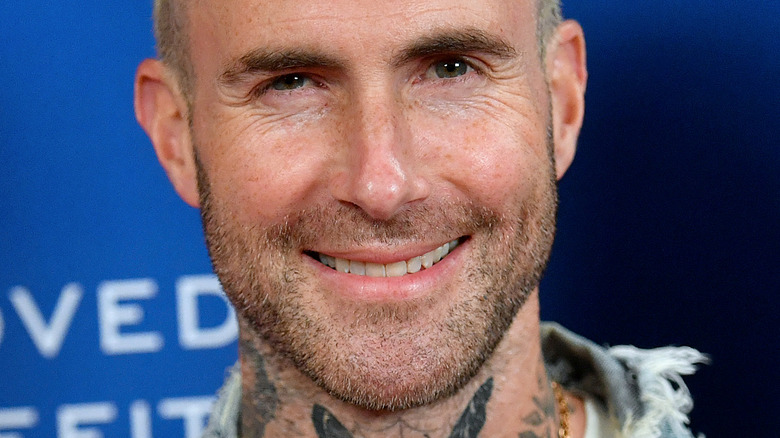 Paras Griffin/Getty Images
The Marvel Cinematic Universe started back in 2008 with "Iron Man," and more than a decade later, we are now in Phase 4 of the MCU with what seems to be no real end in sight for the franchise. Thanks to its mainstream popularity, there have been plenty of noteworthy cameos in MCU projects, including those from famous musicians. Most recently, rapper Megan Thee Stallion was in an episode of "She-Hulk: Attorney at Law" on Disney+, though her twerking scene with Jennifer Walters/She-Hulk (Tatiana Maslany) has proven to be rather polarizing among fans. Harry Styles, who has made a smooth transition to acting on top of his successful post-One Direction singing career, was also introduced as Thanos' brother Eros in the first post-credits scene of "Eternals."
Meanwhile, Adam Levine is best known as the frontman for the popular pop-rock band Maroon 5. Outside of music, he's done his share of acting, and you can actually see him in three episodes of "American Horror Story" as Leo Morrison. The singer also served as a coach on "The Voice" from 2011 to 2019. Given his popularity, it may seem unusual that he has yet to make an MCU cameo, but back in the earlier years of the franchise, he starred alongside two of its iconic superheroes in a musical dramedy.
Levine starred in Begin Again alongside Mark Ruffalo and Hailee Steinfeld
In 2013, Adam Levine made his film debut as a musician named Dave in "Begin Again." The comedy-drama shows how a random encounter between down-and-out music-business executive Dan Mulligan and young singer-songwriter Gretta James (Keira Knightley) leads to a talented collaboration (via IMDb). Mark Ruffalo played the role of Dan, while Hailee Steinfeld had a supporting part as Dan's teenage daughter Violet. 
Ruffalo has played Bruce Banner, aka The Incredible Hulk, since "The Avengers" and is still bringing the character to the screen in "She-Hulk: Attorney at Law," which is currently releasing new episodes. Steinfeld recently joined the MCU in 2021 as Kate Bishop in the Disney+ series "Hawkeye." 
During a press conference, Levine was asked if he took any acting classes to prepare for the role. "I tried to take one and it didn't go well," the Maroon 5 frontman explained to reporters. "It was bizarre. I didn't like it. I didn't like what I was being told, because it wasn't making me happy, but that's a whole other conversation I don't want to have. So I just thought that I would pretend that I knew what I was doing and hope and pray that it worked."