The Chicago Med Doctor Who Will Be Hospitalized In Season 8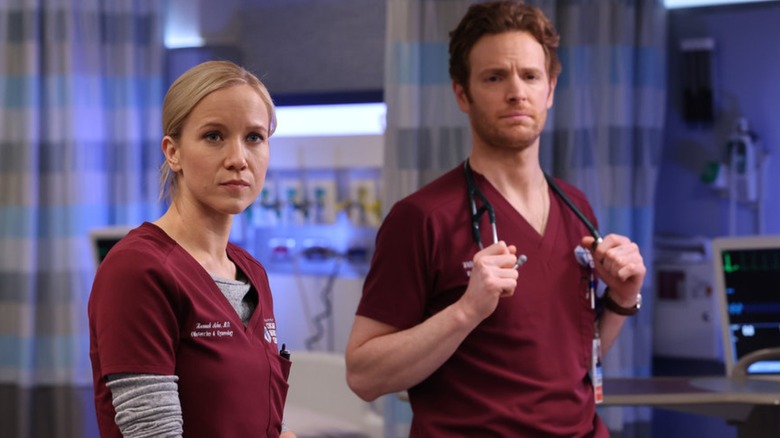 George Burns Jr/NBC
On NBC's ratings-topping medical drama "Chicago Med," the operative phrase for some of the docs and nurses could be: "Physician, heal thyself." The harsh truth is many series regulars from "Chicago Med" — and the other two shows in the "One Chicago" franchise — have endured serious injuries. Some incidents were so dire that the victims signed in for treatment at the show's fictional Gaffney Chicago Medical Center.
In the Season 4 episode "The Poison Inside Us," multiple staff members at the hospital were exposed to a toxic chemical spill, with Dr. Ethan Choi (Brian Tee) becoming so sick that he was bedridden. Then, at the end of Season 6, the unfortunate Dr. Choi landed in critical care again when an enraged patient of Dr. Dean Archer (Steven Weber) pulled a gun and shot him. In the "With a Brave Heart" installment of the series, the show's former Dr. Natalie Manning (Torrey DeVitto) was knocked unconscious and bloody when someone violently rammed her car. With these and other unlucky "Chicago Med" staffers proving that any doctor could end up on the other side of the physician-patient fence, what doc on the series is heading for hospitalization in Season 8?
Chicago Med's Dr. Hannah Asher is heading for a hospital bed in Season 8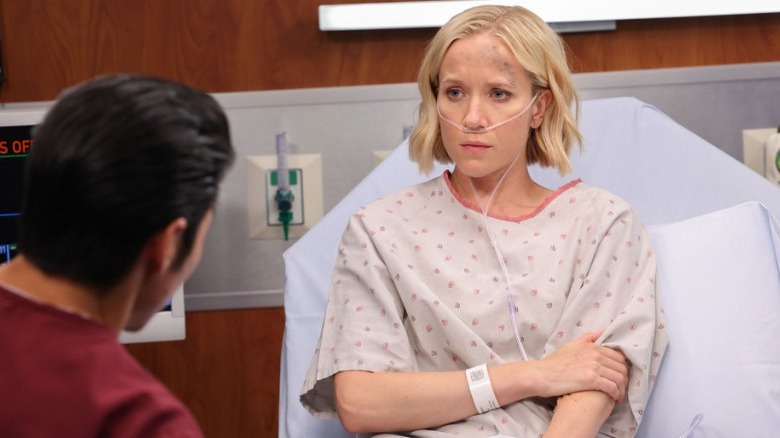 George Burns Jr/NBC
As noted above, the staff manning the wards on "Chicago Med" seems to be fair game when it comes to their lives getting put in jeopardy or at least having their bodies put into a hospital bed. As revealed in a publicity shot posted on NBC's press information site, the physician who's in for a bed-stay at Gaffney Med in Season 8 is obstetrician-gynecologist (and recovered heroin addict) Dr. Hannah Asher (Jessy Schram). The photo shows Asher clutching one arm anxiously, with what looks to be a serious bruise across the left side of her forehead. Another promo photo posted from the same episode shows her in a hospital corridor being supported on both sides by doctors Choi and Will Halstead (Nick Gehlfuss).
Although we don't know the nature of Asher's injury or how she sustained it, her concerned expression in both photos isn't exactly reassuring. In addition, the caption identifies the Season 8 premiere as being titled "How Do You Begin to Count the Losses." The episode's storyline isn't yet known, but the title alone sounds a bit dark.
For now, all we can do is hope for the best for Hannah as we await the Season 8 debut of "Chicago Med," set to air on NBC, along with the season premieres of its "One Chicago" sister shows on Wednesday, September 21 (via NBC.com).