Forgotten Sitcom Spinoffs Based On Hit Comedy Movies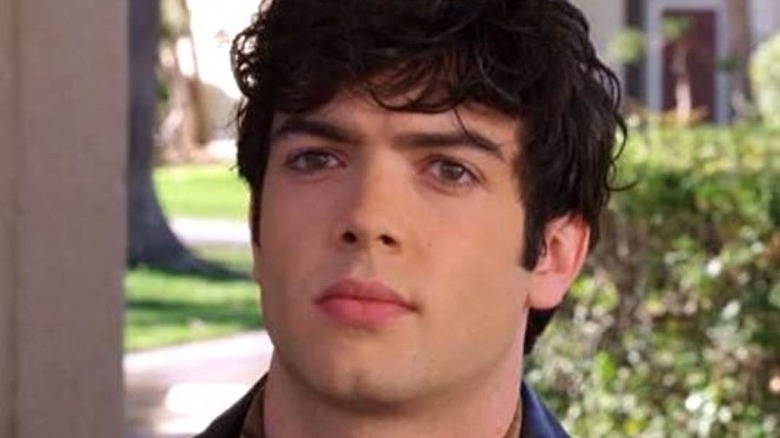 Buena Vista Home Entertainment
When a movie unexpectedly becomes a big hit, you can bet that Hollywood will try to find more ways to capitalize on it. Sometimes that means merchandising, sometimes it means a sequel, and other times it means a move to television. When adapted to the small screen, these spin-offs can sometimes become big hits themselves, with the likes of "Highlander," "Buffy the Vampire Slayer," and "Stargate" all receiving long-running series that have gone on to become iconic in their own right. 
But it's not just genre fare about immortal warriors, vampires, and aliens that get the TV treatment. Sometimes it's something as ordinary as a down-to-Earth comedy. Over the years, plenty of lively laughers have made the leap from the silver screen to the tube. But unlike their high-concept fantasy counterparts, few have ever become classics of their own. Many have been outright failures in fact, with some so awful that they came and went before anyone even noticed. But if you thought we'd let history forget these massive misfires, think again. 
From workplace comedies to family sitcoms, we've found more than a dozen comedy spinoffs that you've probably never even heard of. Some probably deserve to stay dead, while others have been resurrected again years later via recent reboots. So let's put the spotlight on our favorite forgotten sitcom spinoffs based on hit comedy movies.
The Bad News Bears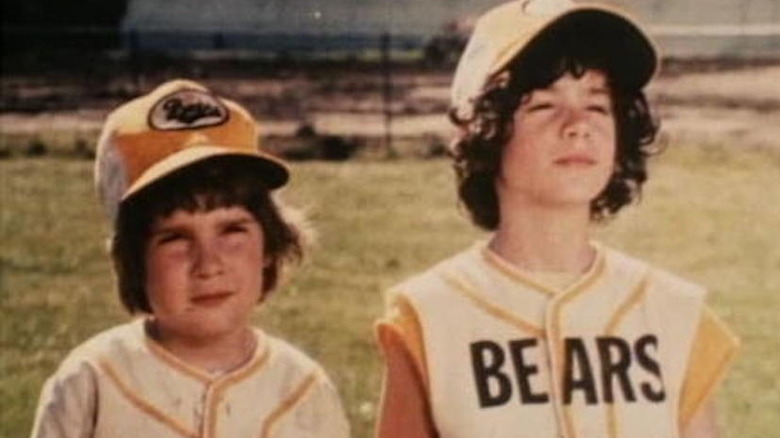 CBS
One of the most iconic baseball movies ever made, "The Bad News Bears" stars stage and screen legend Walter Matthau as Coach Butterman, who's forced to manage a little league team as part of a court-ordered settlement. But the ragtag team is mostly made up of delinquents, malcontents, and losers, including a hard-throwing tomboy (Tatum O'Neill), a motorcycle-riding bad boy (Jackie Earle Haley), and a foul-mouthed shortstop (Chris Barnes). The underdog story struck a nerve with audiences of all ages and became a big hit in the summer of 1976, earning itself a pair of sequels, with the third film, "The Bad News Bears Go To Japan," landing in 1978. 
A year later, "The Bad News Bears" became a sports sitcom adapted fairly faithfully from the original film, with Jack Warden as Butterman and Catherine Hicks as the school principal. A new cast of child actors took on the roles of the kid players, with a young Corey Feldman among them. The show isn't a bad translation from the big to the small screen, but its need to tone down the crudeness for television takes away a lot of its appeal (something many shows on this list have in common). It lasted two seasons and 26 episodes and was largely forgotten by the time the 2005 feature film remake hit theaters, this time starring Billy Bob Thornton as the begrudging Butterman.
9 to 5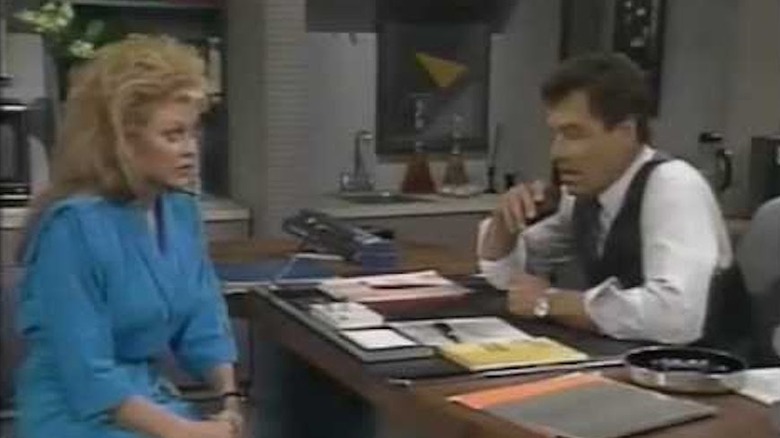 20th Television
In an era when big-budget action movies weren't dropping every week, even an ordinary comedy could top the box office. That's exactly what happened in 1980, with the workplace comedy "9 to 5" becoming the highest-grossing movie of the year not named "The Empire Strikes Back." In the film, Lily Tomlin, Dolly Parton, and Jane Fonda play women working at Consolidated Companies under the iron-fisted ministrations of the pig-headed Franklin Hart Jr. (Dabney Coleman). Together, the three women conspire to get even with Hart for his despicable ways, and madcap hijinks result. A few years later, "9 to 5" came to television starring Rita Morena, Rachel Dennison, Sally Struthers, and Valerie Curtain.
Though the film concludes with the ladies getting their revenge and Hart leaving the company, the small-screen series is more of a standard office sitcom. With a cast of mostly women workers and Hart as the tyrannical boss making their lives hell throughout the series, it delivers some pretty good TV comedy and is one of the few spin-offs on this list to make a name for itself apart from its big screen counterpart. The show ran for five seasons and 85 episodes in total. However, despite some known names in the cast and a theme from Dolly Parton, "9 to 5" was quickly overshadowed by other similar '80s hits like "Designing Women."
Fast Times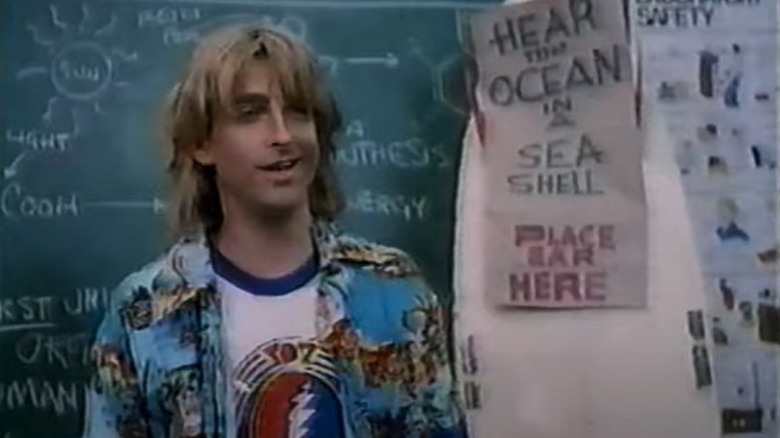 NBCUniversal Syndication Studios
One of the most seminal high school comedies of the 1980s, "Fast Times at Ridgemont High" made stars out of its cast, including Sean Penn, Phoebe Cates, Jennifer Jason Leigh, and Judge Reinhold. Written by Cameron Crowe and based on his own book produced after a year of undercover work in a California high school, the film follows a mix of different students across a year on campus. This includes Stacy and Mark, a pair of sophomores, plus older students Linda and Mike. But the highlight of the film was breakout star Sean Penn as Jeff Spicoli, the school's resident stoner and surfer. The ensemble cast was also notable for featuring early career appearances from Nicolas Cage, Forest Whitaker, Eric Stoltz, and Anthony Edwards.
Four years after the movie premiered, a television spin-off dropped, but only Ray Walston and Vincent Schiavelli — who'd played Ridgemont High teachers Mr. Hand and Mr. Vargas respectively — returned from the film's cast. The new starring roster wasn't without its own budding stars, however, with Claudia Wells ("Back to the Future"), Courtney Thorne-Smith ("Melrose Place"), and Patrick Dempsey ("Grey's Anatomy") all among the series regulars. Unfortunately, the show just didn't work. Without the likes of Penn, Cates, and Reinhold, nor the ability to be as raunchy and envelope-pushing as the film, audiences just didn't respond in any meaningful way. In the end, the show came off merely as a watered-down imitation that felt more like a rip-off than a spin-off, barely making it through seven episodes.
Parenthood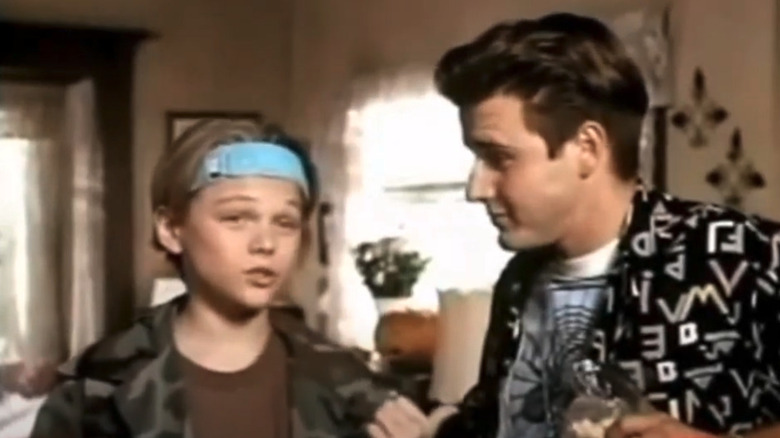 NBC
Even by the late 1980s, when action blockbusters like "Batman" and the "Indiana Jones" movies were racing up the charts, family comedies were still big box office hits. In fact, 1989's "Parenthood," starring Steve Martin and Rick Moranis, managed to finish in the top ten films of the year, ahead of franchise sequels like "Back to the Future Part III" and "Star Trek V: The Final Frontier." The film focuses on the family life of Gil Buckman (Martin) who already struggles with being a father when he learns his wife (Dianne Wiest) is pregnant with child number four. The cast also includes Mary Steenburgen, Martha Plimpton, Keanu Reeves, and Joaquin Phoenix.
A big dysfunctional family hit, it seemed like the perfect movie to turn into a sitcom, and the spin-off dropped a year later in 1990 with an all-new cast featuring several future stars. While Ed Begley Jr. filled in for Martin, David Arquette took over for Keanu Reeves, and a young Leonardo DiCaprio replaced Joaquin Phoenix. Despite all the talent, and some good reviews, viewership didn't hold up, and the show couldn't sustain more than 12 episodes on the air before the plug was pulled. The multigenerational tale of child-rearing proved timeless, however, and the series was revived in 2010 with a new adaptation that ran for six seasons and more than a hundred episodes. The 2010 series completely eclipsed the 1990 edition, which has been all but forgotten today.
Stir Crazy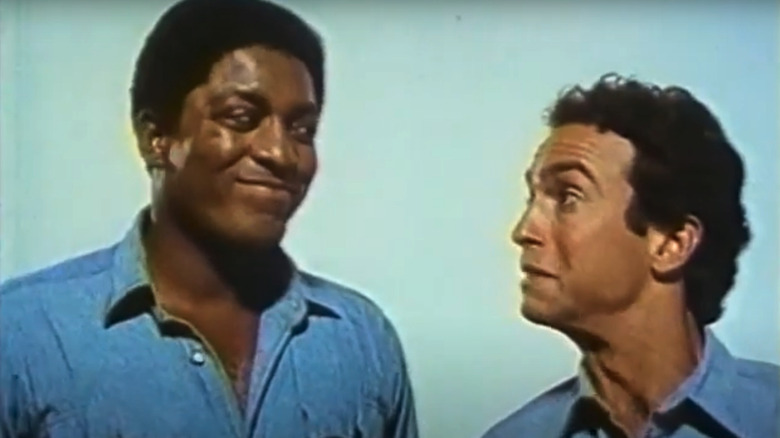 Sony Pictures Television
Just behind "9 to 5" at the 1980 box office was another comedy, the Richard Pryor and Gene Wilder buddy comedy "Stir Crazy" — one of four films they'd make together. Helmed by Sidney Poitier, it's still one of the most successful films from a black director and one of the era's most beloved comedies (via IndieWire). The story follows Skip and Harry (Wilder and Pryor), two unemployed friends who get sentenced to more than a hundred years behind bars for a robbery they didn't commit. In prison, they get into all manner of trouble with the more hardened cons while trying their best to escape.
Six years after the film smashed the box office, it came to television with actors Joe Guzaldo and Larry Riley in place of Wilder and Pryor. Needless to say, the comic genius of the movie's two stars was irreplaceable, and it didn't help that the premise was retooled for television. Instead of being set within a prison, the series sees Skip and Harry successfully bust out of the slammer and go on the run. In the series, they're pursued by Captain Betty Phillips (Jeanne Wilson), a gender-swapped version of the film's warden Beatty. The show earned poor reviews and wound up being canceled after just a handful of episodes. 
Bustin' Loose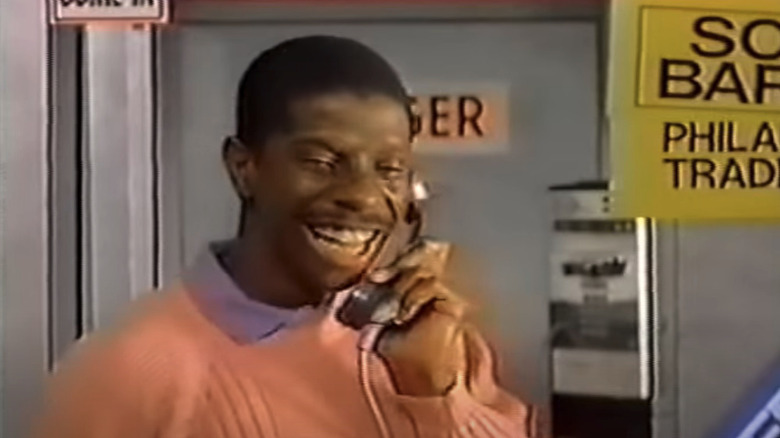 MCA TV
Richard Pryor's 1981 road movie "Bustin' Loose" was a big hit, co-starring Cicely Tyson and Richard Coe. In the film, Pryor plays Joe Braxton, an ex-con whose repeated attempts at going straight never seem to work out. But his parole officer gives him one more chance and asks him to travel cross-country with a teacher named Vivian Perry and a busload of students who are headed West to open a new school. One setback after another threatens not just Vivian's big plans, but Joe's freedom as well. 
More than half a decade after the film, "Bustin' Loose" became a first-run syndicated TV series starring veteran comedian Jimmie Walker in the lead role. Only loosely based on Pryor's film, it centers on Sonny Barnes (Walker), a con man who's busted and sentenced to five years of community service. As part of paying his debt, he's put into the care of Mimi Shaw, a social worker, and her four orphaned foster children. Now Sonny finds himself a quasi-mentor while trying to get his life back on track.
With so little in common with the movie, there wasn't much to get fans of the film invested, and Pryor's absence was sorely missed. As funny as Walker is, no one is Richard Pryor, and the series simply couldn't recover. Perhaps it would have been better off as its own series, unrelated to the film, but alas, we'll never know. "Bustin' Loose" was taken off the air after its first year.
Working Girl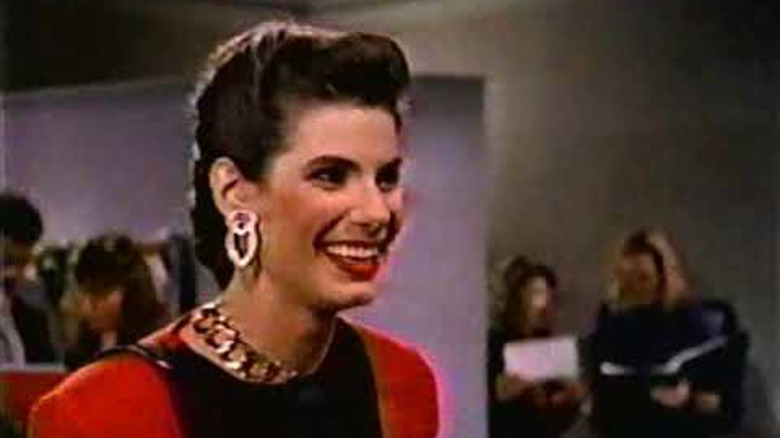 NBC
The 1988 romantic comedy "Working Girl" is a star-studded affair in classic Hollywood fashion, led by Harrison Ford, Sigourney Weaver, and Melanie Griffith, with Alec Baldwin, Joan Cusack, and Kevin Spacey rounding out the cast. Similar to "9 to 5," it's a workplace comedy-drama, this time with Melanie Griffith as Tess, an ambitious young executive who discovers that her boss Katharine (Weaver) is going to steal her big new idea for the company. But when Katharine's put out of commission during a skiing accident, Tess seizes on the opportunity to get ahead and winds up romantically involved with a powerful executive (Ford).
A year after leaving theaters, "Working Girl" came to television, with a then-unknown Sandra Bullock taking the role of Tess and most of the movie's plot jettisoned in place of an ordinary office sitcom setting. A crew of eccentric coworkers fills out the cast, including uptight boss Bryn Newhouse, played by Nana Visitor ("Star Trek: Deep Space Nine"), and George Newbern ("Scandal") as junior account executive Everrett Rutledge. As you can imagine, the run-of-the-mill sitcom didn't compare favorably to the film, though Bullock gives it her best effort. The show yielded just 12 episodes before falling into the dustbin of history, never to be heard from again.
10 Things I Hate About You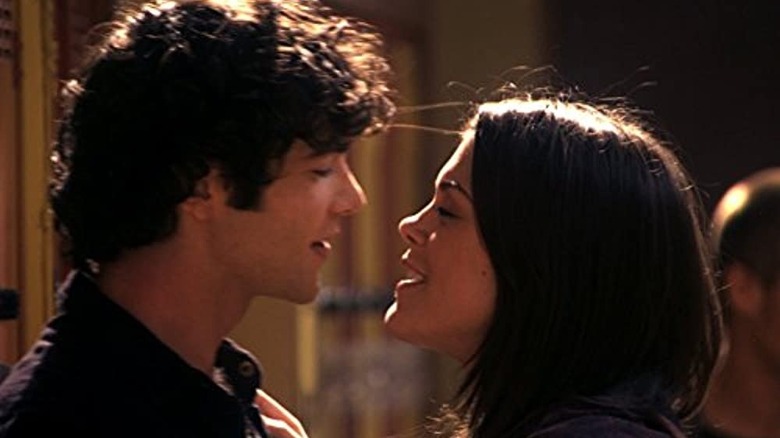 Buena Vista Home Entertainment
Before he became the Oscar-nominated star of "Brokeback Mountain," Heath Ledger was a rising Hollywood hunk in the early 2000s. His first starring role on the big screen came in "10 Things I Hate About You," a 1999 coming-of-age teen romance loosely based on William Shakespeare's "The Taming of the Shrew." The film follows Bianca (Julia Stiles), a misanthropic teen whose sister needs her to start dating so she too can find a boy, all due to their father's strict rules. Eventually, Bianca gets set up with the enigmatic bad boy Patrick (Ledger). A modest hit, the film was turned into a sitcom a decade later.
With an almost entirely unknown cast, "10 Things I Hate About You" went from an edgy teen comedy to a family-friendly sitcom on ABC Family. It once again follows a pair of sisters who've just moved to a new town and new school. Kat is the younger, more popular, free-spirited feminist, while Bianca is a socially awkward loner. But despite being different, they stick together and help each other as they adjust to their new surroundings, which includes the world of dating.
Lasting just one 20-episode season, the show was quickly canceled. Most notable today for featuring Ethan Peck ("Star Trek: Strange New Worlds") as Patrick Verona — the role originally played by Ledger — there's really nothing remarkable about the show in either direction, which explains why nobody remembers it.
Ferris Bueller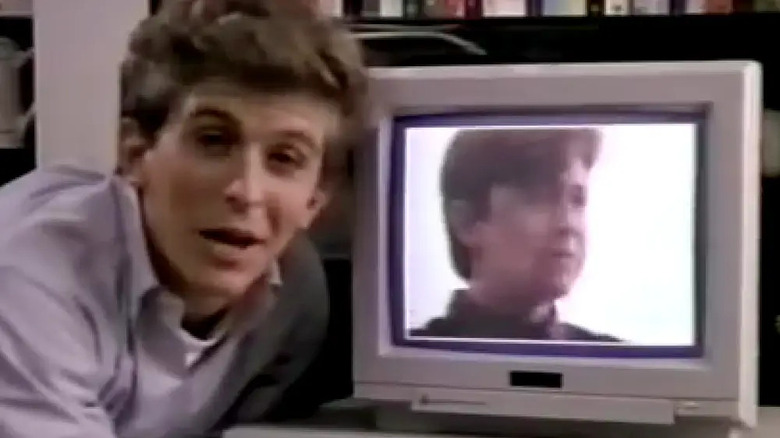 NBC
One of the most famous coming-of-age comedies is the 1986 John Hughes classic "Ferris Bueller's Day Off" — the movie that made Matthew Broderick a star. The film centers on the titular misfit teen, who fakes being sick so he can skip school and get into all manner of trouble. When the school principal and his uptight sister make it their mission to expose him, Ferris becomes a lightning rod among his fellow classmates who idolize him for his rebellious spirit.
Four years after it was a hit in theaters, "Ferris Bueller" arrived as a sitcom on television, with Charlie Schlatter as Ferris and a young, unknown Jennifer Aniston as his sister Jeannie. Less about Bueller's single day of adventure, the series introduced new characters and became a broader high school comedy about Ferris' antics in and out of the classroom. Debuting to poor reviews, it quickly slumped, with far less charm than its feature film predecessor. Failing to live up to expectations, the series wound up a major dud that was canceled after its first batch of episodes. It didn't help that it was heavily overshadowed by the much better and similarly themed quirky comedy "Parker Lewis Can't Lose" that debuted the same year.
A League of Their Own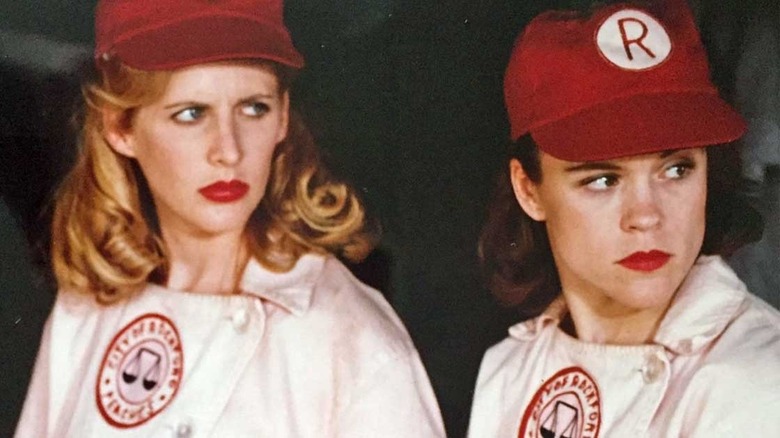 Sony Pictures Television
Directed by the legendary Penny Marshall, 1992's "A League of Their Own" is one of the best baseball comedies ever made. The film tells a fictionalized version of a true story, chronicling the exploits of the All-American Girls Professional Baseball League, which sprung up during World War II while many of the best male players were off fighting in the military. The cast includes Madonna, Geena Davis, Lori Petty, and Rosie O'Donnell as the team's best players, while their manager is played by Tom Hanks — a character whose declaration that there's "no crying in baseball" has become an iconic sports movie moment.
Just a year after the film became an unexpected hit, "A League of Their Own" was adapted as a series. And while most of the secondary cast returned to reprise their roles, the likes of Hanks, Madonna, Davis, Petty, and O'Donnell were nowhere to be found. Behind the camera was another story though, with Marshall helming the pilot and even Hanks directing an episode. Unfortunately, viewers didn't tune in, and the series only got five episodes on the air before it was canceled. Hollywood clearly loved the idea, though, and in 2022, a reboot launched on Amazon. 
Delta House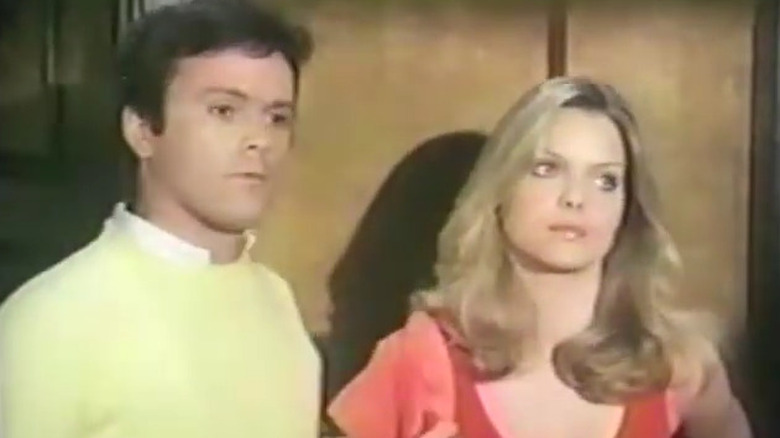 ABC
If you've never heard of the movie "Delta House," that's because the TV series by that name is actually a spin-off of the first National Lampoon smash-hit comedy, "Animal House." The 1978 classic came from the minds of Harold Ramis and Ivan Reitman, the team behind the "Ghostbusters" franchise, and was directed by John Landis ("An American Werewolf in London"). Starring John Belushi, John Vernon, Stephen Furst, Bruce McGill, Karen Allen, Kevin Bacon, and Donald Sutherland, among others, the film follows the misadventures and wild antics of a college frat house. Debaucherous and risque, it helped popularize the entire gross-out comedy genre.
One year later, "Delta House" landed on ABC — a sanitized spin-off without Belushi, but starring several of the other actors from the film including Vernon, Furst, and McGill, as well as a young Michelle Pfeiffer. Several episodes were written by future director John Hughes — years before his string of '80s teen comedies — while creator Harold Ramis helped pen the premiere. But despite all the talent, the show's network television home meant sucking much of the humor out of the premise. Without its raunchy comedy, the series fell flat. Ultimately "Delta House" got just 13 episodes, ending before the 1980s dawned.
Uncle Buck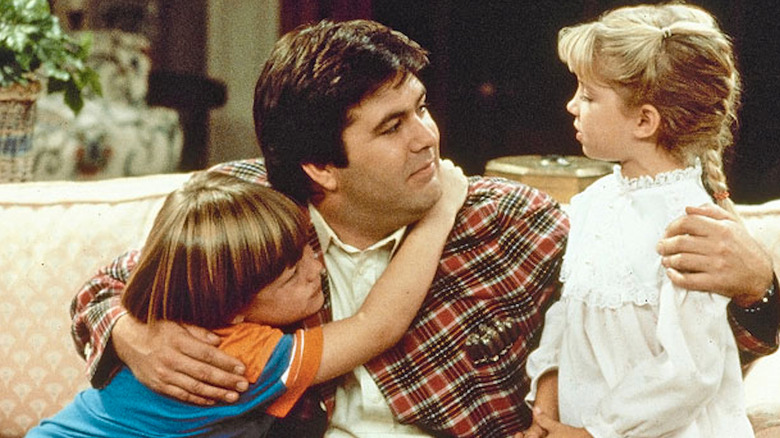 CBS
"Uncle Buck" was a major comedy hit in 1989. Written and directed by John Hughes, the film features star comedian John Candy in the title role as the sloppy, irresponsible Buck. Though his girlfriend chides him to settle down with her and start a family, Buck is reluctant to change his ways. But when his brother Bob (Garrett M. Brown) and his wife need a last-minute babysitter, they turn to the hard-drinking, chain-smoking gambler Buck, who must clean himself up in order to be a better role model to the kids. Along the way, he gets into all kinds of comical mix-ups and hits it off with Miles, the spunky 8-year-old played by Macaulay Culkin.
The "Uncle Buck" spin-off TV series from 1990 wasn't quite the success that the film was and severely missed its two biggest stars in Candy and Culkin. With a swapped-out cast and a reworked story, the small screen version stars Kevin Meaney as Buck — a similarly slovenly slob who becomes caretaker to his nephew and two nieces after his brother and his wife are killed in a car accident. Lambasted by reviewers, the series didn't last long. A reboot in 2016 tried again, and while it didn't kill off the parents this time, it wasn't much better.
My Big Fat Greek Life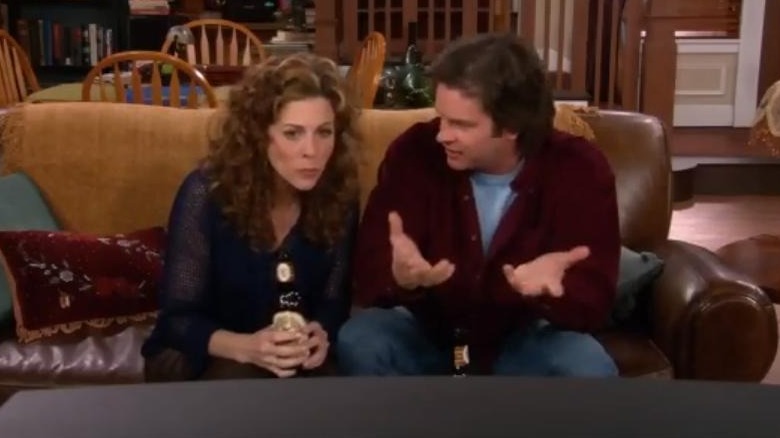 Sony Pictures Television
A low-budget indie comedy that became the most talked about movie of 2002, "My Big Fat Greek Wedding" shockingly became a blockbuster and one of the highest-grossing romantic comedies ever (per Entertainment Weekly). Written by and starring Nia Vardalos, the film features an ensemble cast that includes Lainie Kazan, Andrea Martin, John Corbett, and Joey Fatone, in a story about the members of an eccentric Greek family who've become increasingly concerned about daughter Toula (Vardalos) being over 30 and still single. When Toula meets a handsome bachelor named Ian (Corbett), she doesn't know if her family will be happy she's found love or infuriated that he isn't Greek.
Grossing more than $350 million at the ticket counter worldwide, the film naturally spawned a franchise. A TV series was commissioned in short order, and "My Big Fat Greek Life" debuted in 2003. Instead of a retelling, the series serves as a continuation, and the rare spin-off to bring back nearly the entire cast of the feature film. Oddly, though, the names of the two main characters are changed in the show. 
Beyond that minor alteration, however, the series had everything going for it on paper. Yet somehow, it didn't survive the translation to a half-hour format. Where the film had been a clever, fresh, and razor-sharp comedy, the series was lackluster and pedestrian, and it never saw a Season 2. Instead, it would be more than a decade before a feature film sequel, "My Big Fat Greek Wedding 2," hit theaters, with audiences mostly forgetting the short-lived TV spin-off in the interim.