The 13 Best Movies Like Me Time Fans Should Watch Next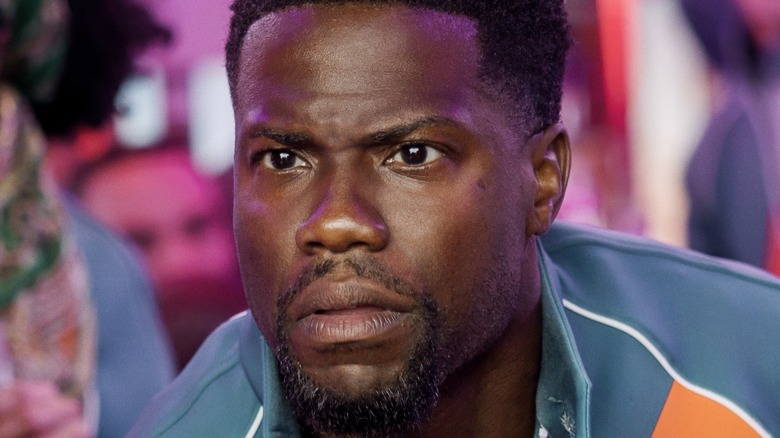 Saeed Adyani/Netflix
Netflix continues to dish out fresh new flicks with "Me Time," bringing together two comedic crowd-pleasers for a wild reunion like no other. The film sees stay-at-home dad Sonny (Kevin Hart) having some much-needed "me time" away from his family, and deciding to reconnect with his old friend Huck (Mark Wahlberg). Naturally, this kicks off a wild and unpredictable weekend. Despite some middling reactions from critics and audiences, "Me Time" managed to take the number one spot on the Netflix charts, proving to be a solid way for subscribers to spend a little "me time" of their own.
But once you've seen "Me Time," what should hit your queue next? From a group of friends reconnecting in Las Vegas for a bachelor party that doesn't go as planned, to some young friends looking to make their last night together special, there are plenty of great buddy comedies out there that provide some big laughs and genuine bonding. Here are some of the best.
The Hangover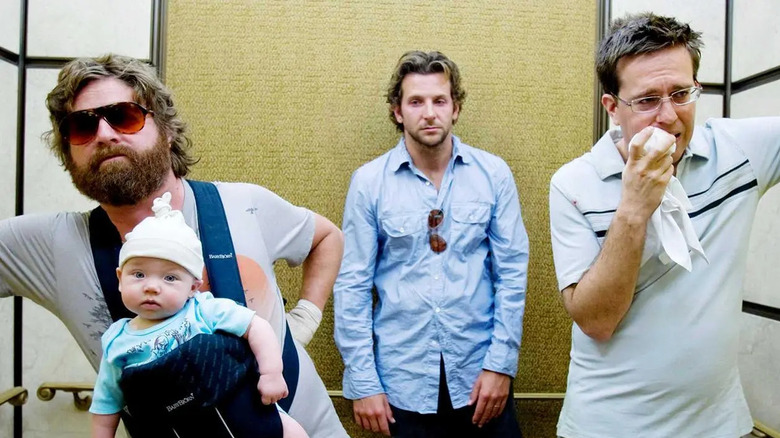 Warner Bros. Pictures
Before gaining acclaim with "Joker" and helming its highly anticipated sequel, director Todd Phillips was known for crafting "The Hangover" trilogy, with the first entry becoming one of the most beloved ensemble comedies in recent memory. The films follow the Wolfpack, a group of friends who find themselves in increasingly strange situations upon waking up after a night of hard partying. As they try to recount what happened, they face the rapidly escalating consequences of the previous night.
"The Hangover" movies deliver consistently great laughs through all the strange characters our dirtbag heroes come across, and it's always hilarious to see the group slowly start to learn about their wild antics from the previous night. There hasn't been a better comedic trio than Bradley Cooper, Ed Helms, and Zack Galifianakis in years, and Phillips' direction always manages to up the ante in hilarious ways. There's also a real bond that develops over the course of the three films that just might make you want to be a part of the Wolfpack yourself. If you haven't gotten around to seeing gang's misadventures, now is the time. 
This is the End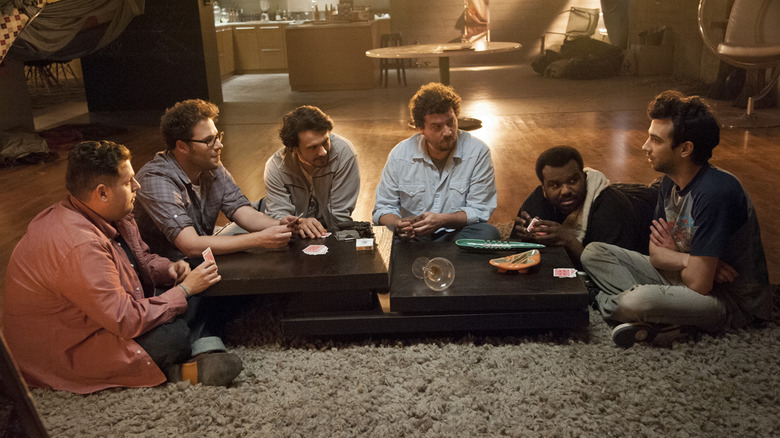 Sony Pictures
Now, if you're looking for a truly star-studded affair, look no further than "This is the End." This 2013 comedy from writer-directors Seth Rogen and Evan Goldberg sticks some of Hollywood's funniest people right in the middle of the apocalypse. After the good people of the world are raptured away, a group of famous celebrities and other "unworthy" people (all playing hilariously heightened versions of themselves) are forced to survive as the world turns into a fiery hell. "This is the End" is jam-packed with notable names that make up its central cast of comedic survivors, and there are some amazing cameos that'll leave you in stitches. The chemistry of the core cast is undeniably hilarious throughout, and watching them try to survive the horrors of the apocalypse (as well as each other) is endlessly funny. 
Whether they're performing a chaotic exorcism on Jonah Hill or getting lost in hilarious rants and arguments, this incredible comedic cast makes the end of the world a total laugh-fest. It's also just hilarious to watch the group try to survive the world crumbling around them, especially because there hasn't been a bigger or better cast of comedy stars assembled for a movie since. "This is the End" is an instant comedy classic that simply can't be missed, and will let you see some big names getting totally unhinged in hilarious ways. 
Girls Trip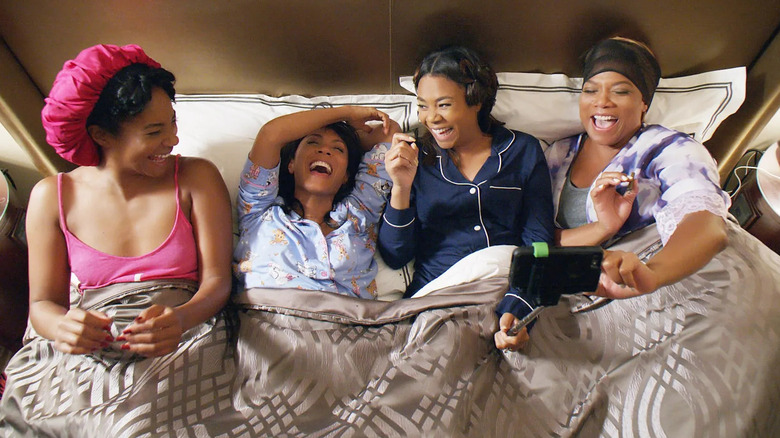 Universal
When looking at the biggest breakout comedies to catch audiences by surprise in recent years, none stand out as brightly as "Girls Trip." Released in 2017, it became a force to be reckoned with at the box office, grossing over $100 million internationally and becoming a certified hit with critics. The film sees a group of old friends, known as the Flossy Posse, trying to reconnect by attending a music festival in New Orleans together, only for their trip to go awry thanks to some personal issues and some wild mishaps. "Girls Trip" delivers the kind of raunchy bonding adventure we've seen in bro-centric movies like "The Hangover," but gives it to a talented ensemble cast of women. That's a big part of what makes it so special. 
The movie brings together an incredible comedic foursome in Tiffany Haddish, Jada Pinkett-Smith, Regina Hall, and Queen Latifah for a strong story of longtime female friends coming together after time apart. Plus, it really delivers laughs that any viewer can enjoy, and sees a lot of the cast doing some of their very best work. "Girls Trip" is truly another can't-miss comedy that might just have viewers of "Me Time" wishing that it was more like it. 
Bridesmaids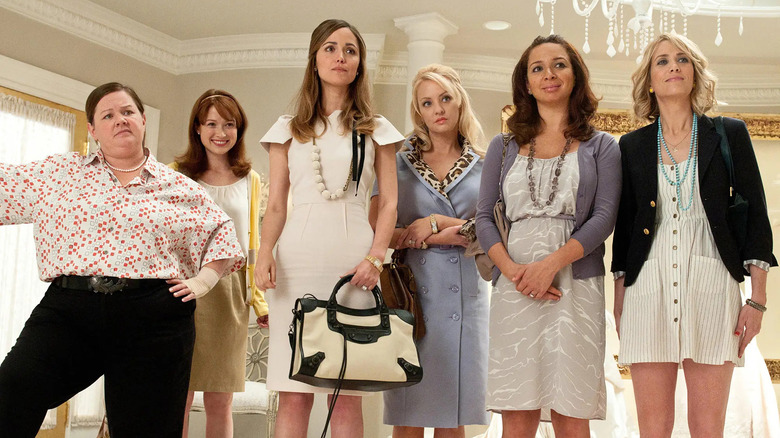 Unviersal
"Bridesmaids" is another female-led comedy that's a total must-watch, as it not only sees its cast of comedic titans at their finest, but also remains director Paul Feig's best movie. The film takes viewers on wild wedding trip as a group of friends reconnect for their friend's upcoming nuptials, and old tensions start to boil over. With a cast of comedic greats like Kristen Wiig, Maya Rudolph, Ellie Kemper, and Melissa McCarthy, "Bridesmaids" features one of the strongest ensembles you'll see on this list. 
The cast, along with Feig's great direction, perfectly delivers a lot of great gags and memorable sequences, and it's especially funny to see the group rag on each other like any old friends would. Best of all, though, is that "Bridesmaids" also displays some great heart, with deep personal character arcs that keep you engaged while some incredibly likeable characters keep making you laugh. "Bridesmaids" is the ultimate ensemble comedy in nearly every facet. 
Old School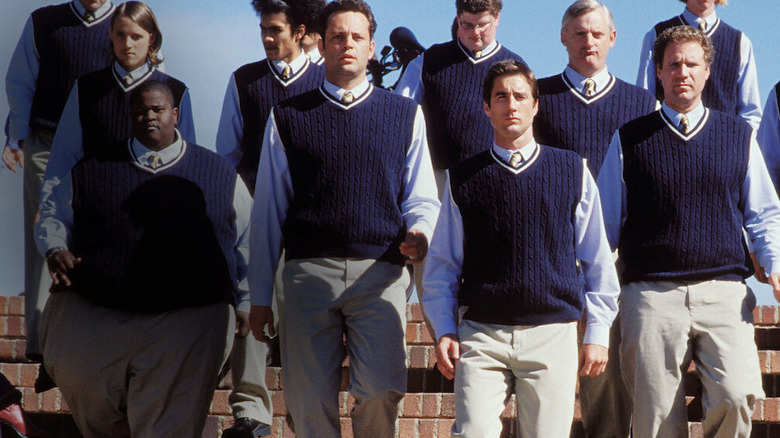 DreamWorks
Before Todd Phillips made "The Hangover" movies, he actually had another beloved comedy under his belt with "Old School." The film sees a group of depressed friends in their mid-30s looking to relive their college glory days, leading them to start their own fraternity and running into some absurd complications along the way. When you have a leading cast made up of Vince Vaughn, Luke Wilson, and Will Ferrell in a college party setting, you know you're in for a hilarious good time. 
It's a constant blast to watch these three try to jump back into the college party atmosphere and try to keep their fraternity afloat through some hilarious sequences that test their age in funny ways. "Old School" remains a classic Vince Vaughn and Will Ferrell movie that truly lets their comedic personas flourish. It doesn't hurt that there are so many easily relatable aspects of wanting to relive glory days, making all the film's antics even funnier. All in all, this is a comedy classic from Phillips that brings together some modern comedic greats for some old school laughs. 
Superbad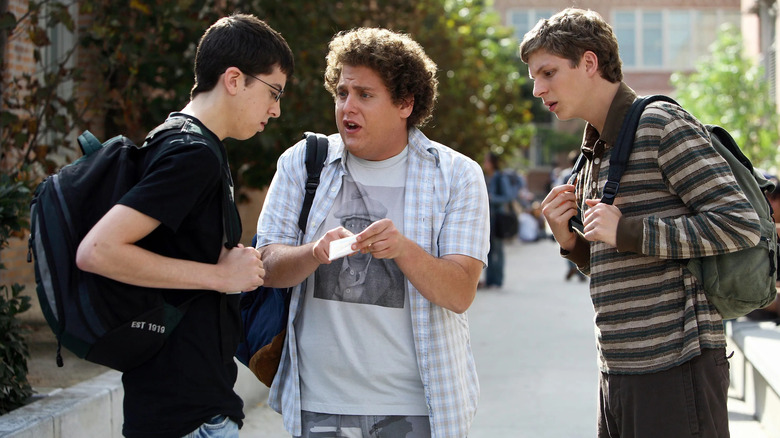 Sony Pictures
"Superbad" redefined the modern high school coming of age comedy when it hit theaters in 2007, resonating with audiences because of its hilarious trio of then-rising stars and adult-driven comedy. The film follows three friends as they attempt to cap off their senior year with a night of partying that'll give them last chances with their crushes. "Superbad" was the film that really introduced the likes of Jonah Hill, Michael Cera, Christopher Mintz-Plasse, Bill Hader, and Emma Stone to the big screen, and its breakout cast elevates an already hilarious script from Evan Goldberg and Seth Rogen.
There are so many quotable and memorable moments from "Superbad" that are just as funny today. From the whole saga of McLovin going on a tear with some cops to Evan (Cera) and Seth's (Hill) night of failed debauchery, there are plenty of hilariously unforgettable lines and sequences. Plus, the adult edge to it all makes things even funnier, and viewers can easily relate to the teen characters' desires to act older than they really are. It's a quintessential watch for those looking for a coming-of-age comedy with some good laughs and surprisingly strong character arcs that explore friendship and growing up. 
21 & Over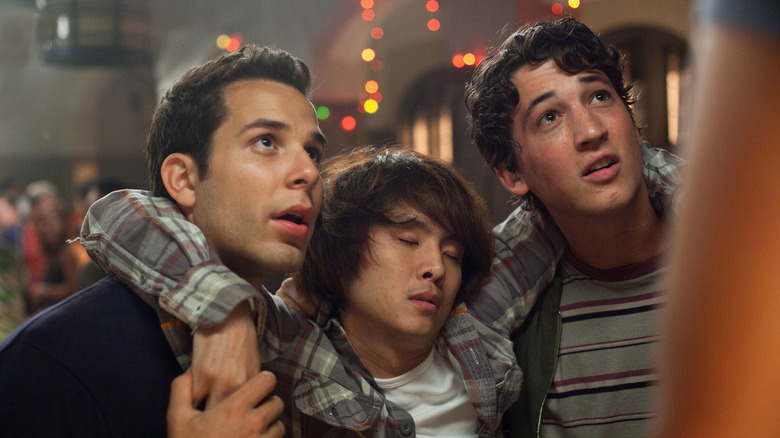 Relativity Media
In a similar vein to "Superbad," "21 & Over" dishes out a coming-of-age comedy concept with its own set of breakout stars. The film follows Miller (Miles Teller) and Casey (Skylar Astin) as they take their friend Jeff (Justin Chon) out for his 21st birthday before a big medical school interview. As you may have guessed, they end up dealing with a lot of unexpected obstacles throughout the night. It's a classic scenario of a group of friends attempting to celebrate a big milestone before everything goes awry in an escalating chain of some pretty funny challenges. As Jeff's amateur binge drinking lands him in trouble and his friends go through hell to find him, they also wind up dealing with some vengeful former foes.
"21 & Over" is a classic college comedy with some good modern trappings. Plus, it's all built on solid story beats and personal arcs (especially for Jeff) that make for some rewarding character moments. "21 & Over" doesn't change the game for college comedies, but it does nicely fit into the subgenre's legacy and makes its own mark in small but memorable ways. 
Good Boys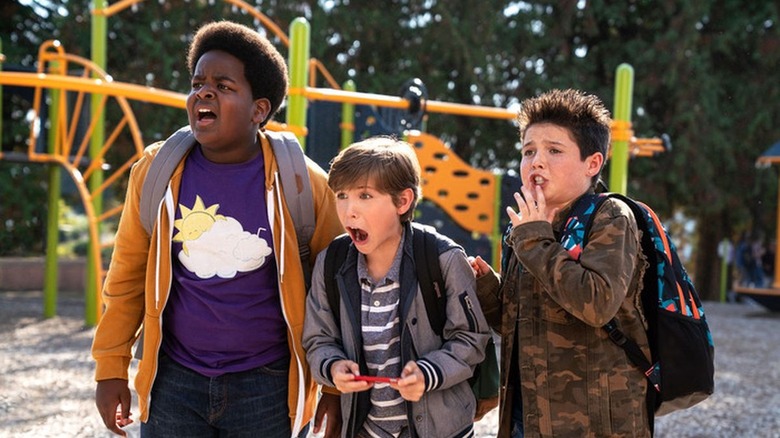 Universal
"Good Boys" basically takes all the raunchiness of "Superbad" and delivers it through a cast of middle schoolers, which ends up being an incredibly hilarious combination. The film follows a trio of best friends entering the 6th grade and looking to attend a party so that one of them can kiss their crush. Curse words and sex talk have never been funnier coming out of the mouths of children, and that's a key ingredient to the movie's coming-of-age hilarity. 
The incredible chemistry and charm of its trio of young stars (Jacob Tremblay, Keith L. Williams, and Brady Noon) is endlessly enjoyable, and the situations they find themselves in throughout the film are mind-boggling at times. The way they're on the run from older kids throughout the film is great, and the whole idea of them dealing with more adult situations never ceases to be funny. Also, like "Superbad," it excellently touches on surprisingly heartfelt explorations of growing up and dealing with new experiences, making it an engaging and connective watch. "Good Boys" might look like a younger "Superbad" clone on the surface, but it uses its formula well to create a comedy experience that's nostalgic and uniquely funny. 
Road Trip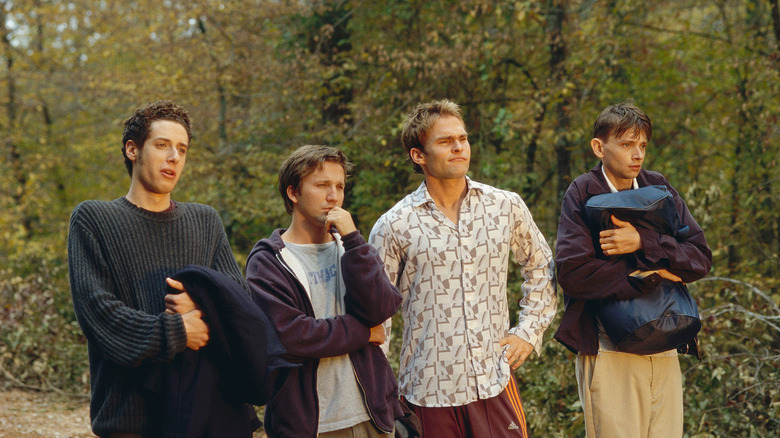 DreamWorks
Believe or not, we've got another Todd Phillips movie on our hands. It's an undeniable fact, though, that anyone who watched "Me Time" should definitely check out "Road Trip," a true cult classic of college movies. After sending a sex tape to his girlfriend by accident, Josh (Breckin Meyer) embarks on a cross-country road trip with three friends to retrieve it. On paper, "Road Trip" is your formulaic college road trip sex comedy full of stereotypical characters and wild escapades. But there's a reason those tropes are so dominant in the genre — it's a formula that works. 
The cast totally plays into the film's humor well, making memorable characters with some good chemistry among them. The antics of the main group can be incredibly funny at times, and feel like a time capsule of the early 2000s. Plus, you get Sean William Scott playing off his Stifler performance from "American Pie," and everyone adds to the humor in their own way. Phillips has definitely put together stronger comedy ensembles for better buddy college comedies since "Road Trip," but this remains a solid start that holds up as hilarious all these years later.
Tag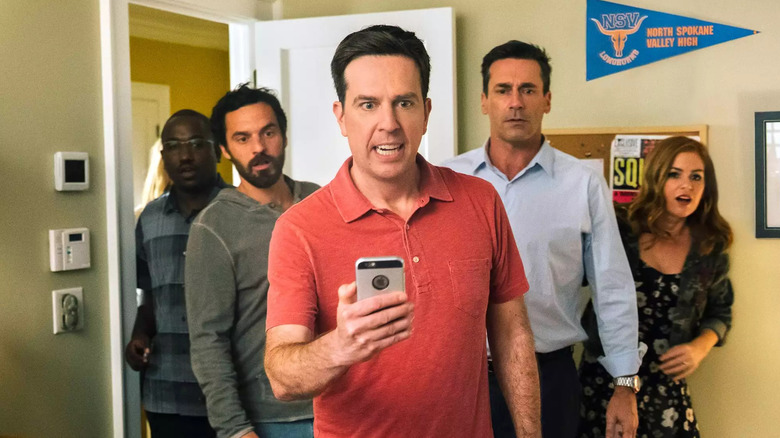 Warner Bros. Pictures
Based on a remarkable true story (per AMC), "Tag" aspires to bring out your inner child with its tale about a group of grown men continuing their childhood traditions and facing hilarious results. The film follows an ensemble who have a lifelong tradition of playing tag, and now they're looking to tag their seemingly untaggable friend at his wedding. With its central cast boasting a line-up of Ed Helms, John Hamm, Hannibal Burress, Jake Johnson, and Jeremy Renner, "Tag" is truly a star-studded comedy that thrives on the chemistry and charm of its characters. 
Renner's character Jerry is so much fun in the lengths he'll go not to get tagged, and watching the rest of the group miserably and hilariously fail to get him makes for a constantly funny viewing experience. Plus, the performances really make seeing this group of friends come back together feel real, and there are moments in the last act that really tug at your heartstrings. "Tag" really makes you want to be a kid again, and indulge in the same nostalgic antics of its characters as they reunite for some good old fun. 
Bad Moms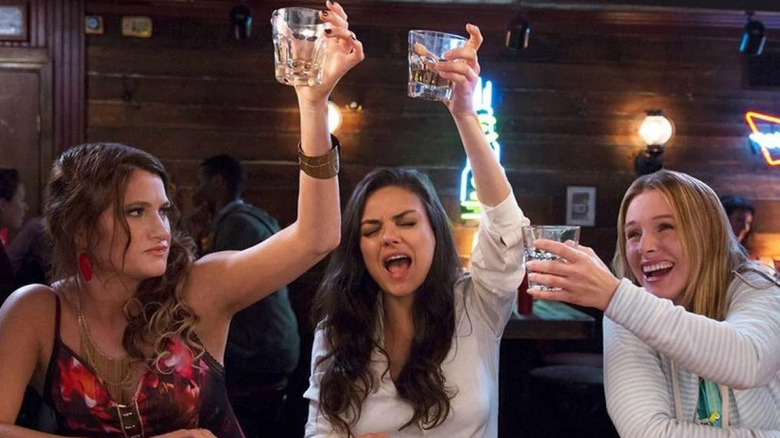 STX Entertainment
"Bad Moms" is yet another comedy about the raunchy good times that result when friends try to recapture their glory days. What sets it apart, though, is that this one is for all the moms out there. The film follows Amy (Mila Kunis), a distressed and overworked mom, as she joins two other moms (Kathryn Hahn and Kristen Bell) in letting loose against their dull suburban lifestyles. A trio like this shouldn't be passed up, as these leading ladies are a total blast from start to finish. 
Hahn delivers one of her most beloved performances as the wild single mom Carla, and the group's antics — particularly a hilarious tear through a grocery store — are simply a ton of fun. Plus, there's just something special about seeing this trio of moms come together to better themselves and each other that makes for an engaging plot with some real depth. Where "Me Time" is for the dads, "Bad Moms" is truly for the moms. 
Hot Tub Time Machine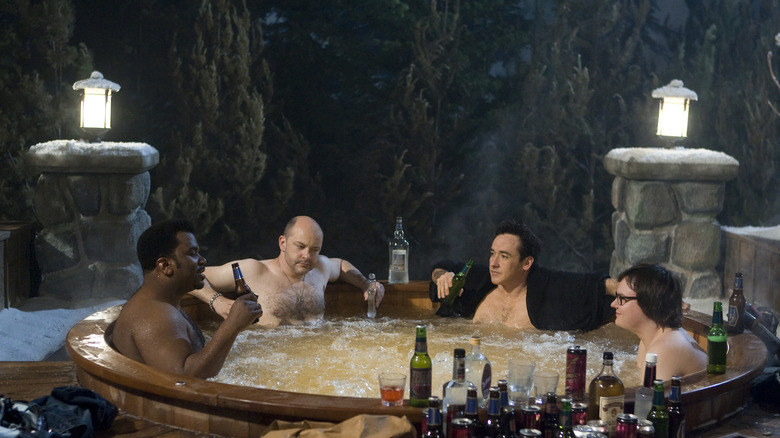 MGM
If you're looking for a classic ensemble comedy flick about friends reuniting and getting into some trouble, but with a time travel twist, then "Hot Tub Time Machine" should be your next watch. The film follows three friends who are unhappy with their lives, but end up getting a second chance after an accident involving an energy drink in their hot tub sends them back through time to relive their teenage years in the '80s. The ensemble cast of John Cusack, Rob Corddry, Craig Robinson, and Clark Duke is perfect throughout, showcasing just the right kind of chemistry.
Everything they're forced to do (and redo) is incredibly funny as the group relives their past — which isn't quite as good as they remember it — so that they don't risk changing the future. Even amongst all the big laughs, though, there's some real heart to these friends reliving big moments together. Corddry's Lou gets some particularly good moments of character development that might catch you off-guard amidst all the chaos. "Hot Tub Time Machine" is a charming time travel movie with some good comedic bits and a solid story, making it a worthwhile watch for fans of "Me Time."
The World's End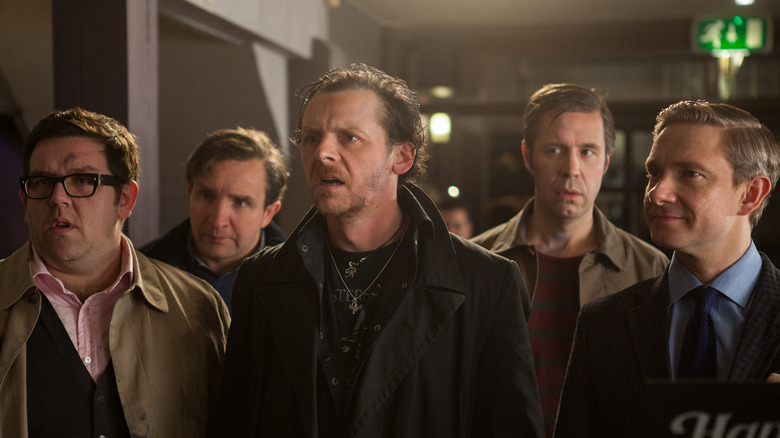 Universal
The final entry in Edgar Wright's "Three Flavours" Cornetto trilogy is a perfect next watch for those who want more of the comedic bonding of "Me Time." "The World's End" embodies the perfect blend of a classic "friends reuniting" story with Wright's signature brand of wordplay, slapstick, and high-concept plotting. The film sees a group of five friends returning to their hometown decades after high school to attempt at big pub crawl they failed to complete in their senior year. Just as old tensions start bubbling to the surface, the whole evening is upended by an alien invasion. 
The combination of Wright's direction and writing, combined with the pairing of Nick Frost and Simon Pegg, is always a treat for fans. Adding the likes of Paddy Considine, Eddie Marsan, and Martin Freeman to the ensemble only makes things better. The sci-fi turn in the middle of the movie takes the characters to some unexpected and personal places, and the group's chemistry is undeniably strong. And of course, there's no shortage of hilarious and heartfelt dialogue that really defines that feeling of trying to accomplish feats with friends, bringing a relatable and bittersweet undercurrent to a wildly funny sci-fi thriller.