Mark Hamill And Daisy Ridley Could Get Oscar Nominations For The Last Jedi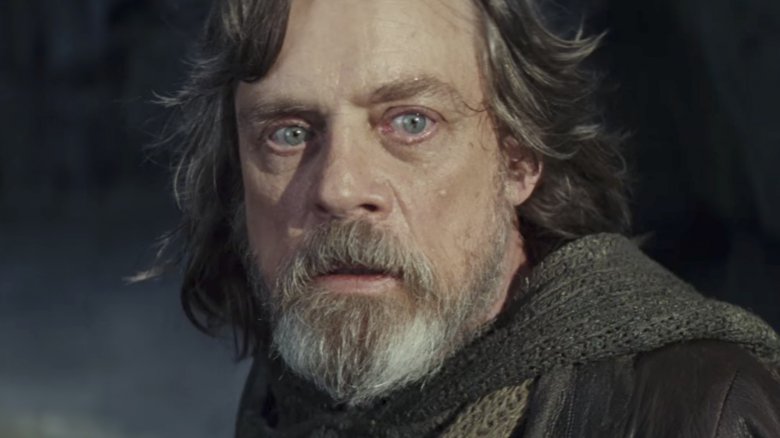 The Last Jedi could be movie to put Star Wars on the awards show map.
Although the franchise is a pop culture institution and basically defined the term "blockbuster," Star Wars doesn't get much consideration come Oscar night. True, Star Wars flicks are always up for sound editing, makeup, and special effects, but they're usually overlooked when it comes to the marquee categories like Best Picture and Best Actor.
But that could change this year. According to the Awards Circuit Twitter account, Disney and Lucasfilm will make a big Oscars push for the upcoming sequel to The Force Awakens. In addition to lobbying for Best Picture and a Best Director nod for Rian Johnson, both Luke Skywalker actor Mark Hamill and Rey actress Daisy Ridley will be positioned in the leading acting categories. 
The fact that Hamill is being touted as Best Actor and not Best Supporting Actor hints that he'll definitely be at the center of The Last Jedi. He's never gotten much notice from the Academy, but The Force Awakens director J.J. Abrams said "we are all going to be very upset if he does not win an Oscar."
Meanwhile, there's also a concerted effort to get Daisy Ridley in the mix. She was a relative unknown when she first played Rey in 2015's The Force Awakens, but Ridley has since become one of Hollywood's most sought-after actresses. Although we still know little about the plot of The Last Jedi, we know her character gets put through the wringer. 
Disney and Lucasfilm would also love nominations for plenty other actors. They're asking for consideration for Carrie Fisher, Adam Driver, John Boyega, Oscar Isaac, Benicio Del Toro, Andy Serkis, Domhnall Gleeson, Gwendoline Christie, Laura Dern, and Kelly Marie Tran. 
Of course, just pushing for Oscars doesn't necessarily lead to actual nominations. But the early buzz is that The Last Jedi is not your average Star Wars movie. We'll all find out when it finally hits theaters Dec. 15. 
Mark Hamill (@HamillHimself) will campaign in LEAD ACTOR for the #Oscars for "Star Wars: The Last Jedi!" Daisy Ridley will also campaign in LEAD ACTRESS! #StarWars #TheLastJedi #FYC pic.twitter.com/MJtXHqGys5

— Clayton Davis (@AwardsCircuit) December 9, 2017