The Lane Story Arc On Gilmore Girls That Completely Shocked Keiko Agena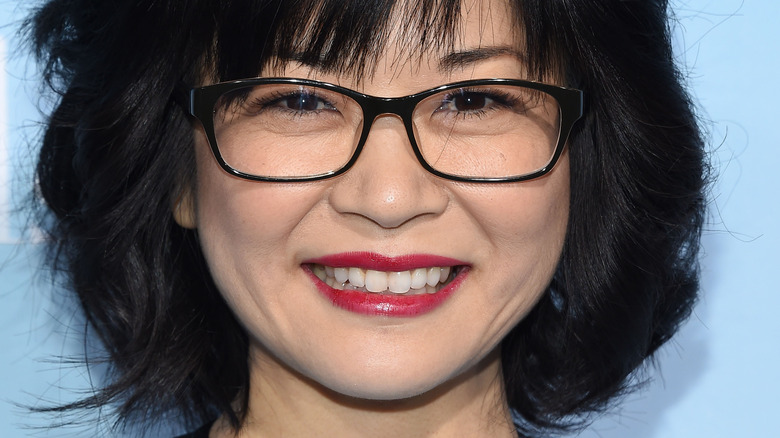 DFree/Shutterstock
Throughout the seven seasons of "Gilmore Girls," several of the main characters experience quite a surprising arc. A prime example is Rory Gilmore (Alexis Bledel), who transitions from an academics-focused pupil at Chilton to sleeping with a married Dean Forester (Jared Padalecki). In fact, many fans found Rory to be insufferable by the end of the series. On the other hand, there's Emily Gilmore (Kelly Bishop), who becomes more human and understanding.
Of course, no character enjoys as drastic an arc as Rory's best friend Lane Kim (Keiko Agena). When audiences first meet the Stars Hollow teen, she's trapped under the ever-watchful eye of her strict and religious mother, Mrs. Kim (Emily Kuroda). As a mini escape from her sheltered life, Lane stashes albums and other rock memorabilia in the loose floorboards of her bedroom. But after a while, she needs more. As "Gilmore Girls" progresses, Lane begins sneaking out of the house until the early morning hours for rock gigs. She also begins dating boys who, much to the shock of Mrs. Kim, aren't Korean. Eventually, she moves into a house with her all-male bandmates. Little by little, Lane starts to live as her true, authentic self.
Lane's journey includes many unforgettable moments, from her temporary stay at Yale with Rory to her romance with bandmate Zack Van Gerbig (Todd Lowe). However, there's one incident involving Lane that left Agena completely shocked.
Agena was surprised at how quickly Lane became pregnant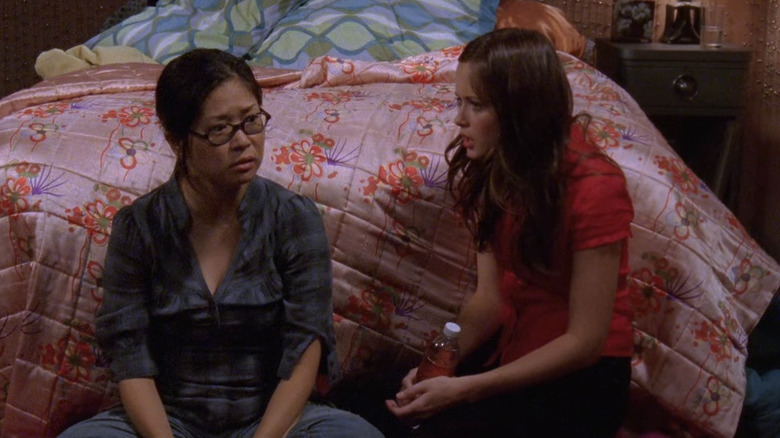 The CW
Compared to the drawn-out romance between Lorelai Gilmore (Lauren Graham) and Luke Danes (Scott Patterson), the relationship between Lane and Zack is extremely fast. The two begin awkwardly dating in Season 5 and by Season 6, Episode 19 ("I Get a Sidekick Out of You"), the two are married in dual religious ceremonies. They go on a honeymoon to Pedro's Paradise in Mexico, but it doesn't exactly go as planned. Not only is the place far from paradise, but Lane becomes pregnant after her first experience with physical intimacy. In fact, she's pregnant with twins, much to the joy of Mrs. Kim.
Keiko Agena revealed in an interview with Us Weekly that this storyline completely shocked her. "It was so sudden," she explained. "Everything that happened in Lane's life, especially at the very end, was really quick. She's fighting with Zack and then all of a sudden she's engaged to Zack and in an instant she gets pregnant after having sex for the first time during their honeymoon." In a way, Agena was a little sad to see Lane settle down so quickly after a lifetime of fighting for independence. "I wish she was able to do more with music," she added.
Thankfully, it's revealed in the 2016 follow-up "Gilmore Girls: A Year in the Life" that this husband-wife duo is still playing music while raising their twins, Steve and Kwan.
Keiko Agena was also shocked by Rory's pregnancy
Longtime fans were thrilled when Netflix released "Gilmore Girls: A Year in the Life," which picks up a decade later. In the miniseries' finale, a major bomb is dropped when Rory reveals to Lorelai that she's pregnant. Despite being in a relationship with Paul (Jack Carpenter), Rory is intimate with her old flame Logan Huntzberger (Matt Czuchry). She also bumps into another old boyfriend named Jess Mariano (Milo Ventimiglia), which means the father could be any one of them.
Just as viewers were stunned over Rory's news, so was Keiko Agena, who watched at home like the rest of the world. She told Us Weekly, "They kept it very under wraps on set so nobody knew ... And I was just shocked. I didn't know. I think there were rumors back and forth, but I never bought into anything. I wasn't invested in any of it so when it happened, I did not see that coming."
As for Alexis Bledel, this ending wasn't what she expected — or necessarily wanted — for her character. She told TVLine, "I had told [series creator] Amy [Sherman-Palladino] that I hoped Rory would end on a high note after all of her hard work. I wanted to see her succeed and be thriving. So it was a hard thing for me to digest."
At this point, there's nothing set in stone regarding a second season of the Netflix miniseries. But it's not out of the question. Palladino said during a 2020 Woodstock Film Festival panel discussion (via Us Weekly) that it could happen "if the time is right and the girls are where they need to be in their lives."