What Is The Song In Black Adam's Second Trailer?
We're not too far from the premiere date when one of DC Comics' most powerful beings will soar before our eyes in theaters. "Black Adam" will finally make his proper DCEU debut on October 20, 2022, with Dwayne Johnson starring in the titular role. Pulling from the comics, "Black Adam" may promise to bring a super-powered entity whose rough edges suggest a more anti-hero approach we're probably more used to from Gotham City. But we're not getting any street-level heroics. Black Adam is a massive force capable of going into super slugfests with other top-tier DC heroes such as Shazam and nearly coming out with the upper hand.
Warner Bros. released a second trailer for the upcoming film, and it only continues to whet the appetite of fans who have been starving to see Teth-Adam in action. The new trailer hints at Black Adam's tragic beginnings and involvement with Doctor Fate (Pierce Brosnan) and the Justice Society of America (JSA). Like previous trailers, the latest one is also full of incredible action. Black Adam faces off against a legion of tech-heavy soldiers, destructive explosions, and supposed interventions from the JSA. Yet what really helps propels the hype level of the new trailer is its featured song. Those who have caught an earworm from watching it might wonder where they've heard that song before. Fortunately, we've got the answer.
The trailer uses a Jay-Z and Kanye West collaboration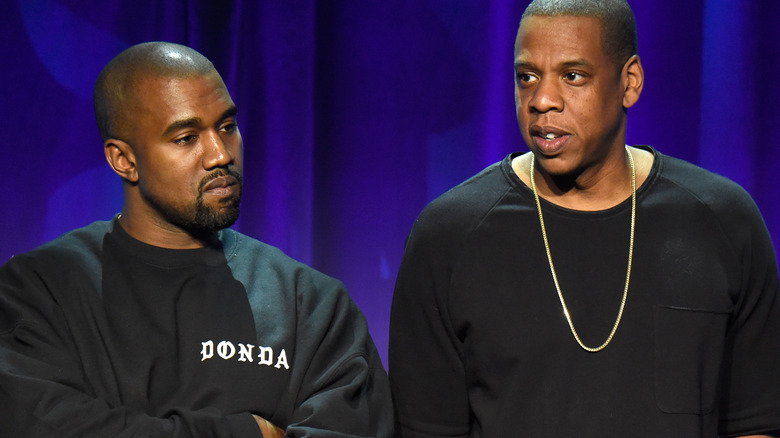 Kevin Mazur/Getty Images
A distinctive voice is one of the essential ingredients for a successful rap song, besides skilled wordsmithing and control of vocal flow. And there are arguably few as instantly recognizable as Jay-Z and Kanye West. Both their familiar voices are heard booming in the latest "Black Adam" trailer, thanks to its inclusion of their most notable collaborations. In 2011, HOV and Ye launched the album "Watch The Throne," which, bolstered by its numerous successful singles like "Otis," managed to achieve platinum status (via BET). Yet, the latest "Black Adam" trailer opted for a deep cut from "Watch The Throne."
The song it uses is called "Murder To Excellence," whose lyrics aim to consciously tackle Black people's societal experience in America both from negative and positive perspectives. Lyrically, the song covers heavy subject matter, but it all meshes well with its majestic-sounding beat that largely samples a traditional Romanian song called "Purtata fetelor de la Căpâlna." Surprisingly, despite his many production credits, West wasn't the one who made the song's beat. "Watch The Throne" pulled in a lot of notable producers, including S1 and Swizz Beatz, who both produced "Murder To Excellence."
"Murder To Excellence" is a fantastic song for the latest "Black Adam" trailer, but we're a little surprised Johnson didn't try to go for a bit of creative synergy. In 2021, the actor dropped his rap verse along with Tech N9ne for the song "Face Off." The moment caught many fans off-guard as Johnson closed the aggressive music with an intense verse. As he noted in an interview with Billboard, while Tech helped him with the technical aspect of writing the song, Johnson's lyrics came straight from the gut and heart.