Dwayne Johnson Assures Fans That Black Adam Will Be Nothing Like His Other Films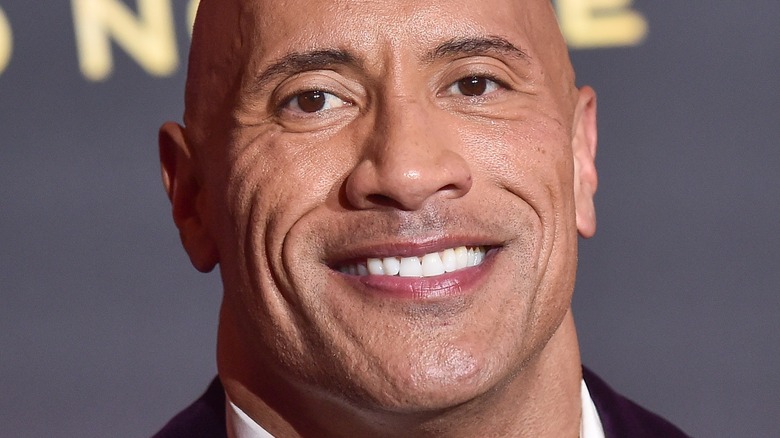 DFree/Shutterstock
Dwayne Johnson is finally on track to debut as the titular character in "Black Adam" later this year. The actor has been circling the role for over a decade, though he only became formally attached in 2014 (via Variety). The highly-anticipated DC film sees the box-office juggernaut reuniting with his "Jungle Cruise" director Jaume Collet-Serra. "Black Adam" will also serve as the live-action debut for the Justice Society of America and its various members, including Dr. Fate (Pierce Brosnan) and Hawkman (Aldis Hodge). Seeing as the film has been in development since the inception of the DC Extended Universe, anticipation is at a high for "Black Adam."
Those expectations aren't lost on Johnson, whose films have grossed over $5 billion at the global box office (via The Numbers). Taking to Twitter, the "Pain & Gain" actor opened up about how invested he is in the character. "I got one shot here with #BlackAdam. It's been with me for almost 15 [years] and [I've] push[ed] all my chips in. Give it all I got," Johnson tweeted out on August 16. With the marketing for the DC film slowly ramping up ahead of its October release, Johnson has opened up about how "Black Adam" will be a unique entry in his expansive filmography.
Dwayne Johnson says people will debate Black Adam's actions
While speaking with Total Film Magazine (via GamesRadar), Dwayne Johnson candidly opened up about how "Black Adam" will be a different cinematic outing than what his fans are used to. "I think Black Adam is going to be a departure from what people have seen of me onscreen over the decades." Though the "Fast and Furious" star is mostly known for saving the day in films like "San Andreas" and "Red Notice," he hasn't shied away from dancing with the dark side with projects like "The Mummy Returns" and "Get Smart."
With "Black Adam," Johnson thinks that's about to change. The character is mainly known for being an anti-hero who doesn't play by the rules, and the character's debut film is going to run with that idea. "I wanted to make sure that I brought Black Adam to life [ ... ] because there's a lot of elements about Black Adam that are dependent on your perspective," Johnson revealed. The "Rampage" actor went on to debate how some might find the character to be a supervillain, while others could suggest he's an outright superhero.
And while Johnson hasn't shied away from being autobiographical — he produces "Young Rock," a sitcom that highlights his early days as a wrestler — the actor says there's a bit of Black Adam in him. "There are just natural elements, I think, in me, that are part of my DNA that we see in the character of Black Adam."