Dallas Dupree Young Talks Kenny's Evolution On Cobra Kai Season 5 And More - Exclusive Interview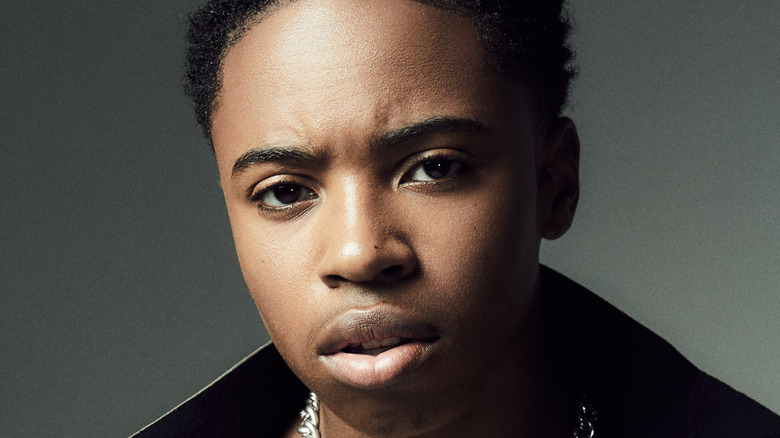 Jonny Marlow
To say actor Dallas Dupree Young is getting a kick out of being a part of the smash Netflix series "Cobra Kai" is a monolithic understatement. Having racked up more than 20 screen credits in his six years in showbiz, the "Karate Kid" trilogy spin-off series is easily Young's most high-profile project to date, especially considering that he was promoted from a recurring player in "Cobra Kai" Season 4 to a series regular for Season 5.
In "Cobra Kai" Season 4, Young — whose credits include guest appearances on such series as "Shameless" and "9-1-1" and one of the lead roles in the Nickelodeon series "Cousins for Life" — was introduced as Kenny Payne, a new kid at school who was bullied, oddly enough, by Daniel LaRusso's (Ralph Macchio) son, Anthony (Griffin Santopietro). But in a twist from the original "Karate Kid" movie, Kenny learns to defend himself by joining the Cobra Kai dojo, led by the corrupt senseis John Kreese (Martin Kove) and Terry Silver (Thomas Ian Griffith). Quickly adapting to Cobra Kai's unforgiving ways, Kenny turns the tables on Anthony, only to become a bully himself. The season ended with Kenny losing a match at the All Valley Tournament to his mentor, Robby Keene (Tanner Buchanan), which causes a major rift between the two characters in Season 5.
In an exclusive interview with Looper, Young discussed the thrill of having a fulfilling character arc on "Cobra Kai" and his work with the likes of Macchio, Buchanan, Kove, Griffith, and William Zabka, who is back in the co-lead with Macchio as Johnny Lawrence. Young shared how his role as Kenny has affected him personally, and he also discussed his small turn in the Steven Spielberg film "Ready Player One" and his encounter with the legendary director.
Cobra Kai is Young's 'happy place'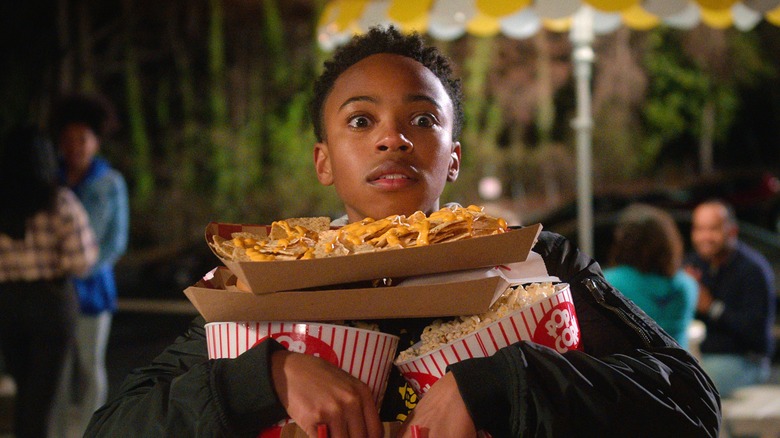 Netflix
How did your casting of Kenny in "Cobra Kai" Season 4 come about? Did it feel strange because the show had so many established characters, some of them going back more than 30 years?
To get the opportunity to audition for "Cobra Kai" was a thrill at the beginning. Unfortunately, I didn't watch this show whenever it was on [YouTube Red], but I saw it before I had the audition. I was like, "This seems like it's really cool. It's a great opportunity. Go to it, show what I got and have fun with it." The next thing you know, I got the callback for it, and then I booked the role.
Being a part of an established cast is nerve-wracking at the beginning. But after that, the initial nerves, you realize, "This is my happy place. I feel like I'm where I belong." It is such an unbelievable journey that I've been on, especially working with Ralph Macchio and Martin Kove and William Zabka. Everything's been incredible.
And Thomas Ian Griffith — can't forget that guy.
Ooh, can't forget Thomas Ian Griffith. He's the man! He's awesome!
Buchanan has been a great mentor for Young on and off screen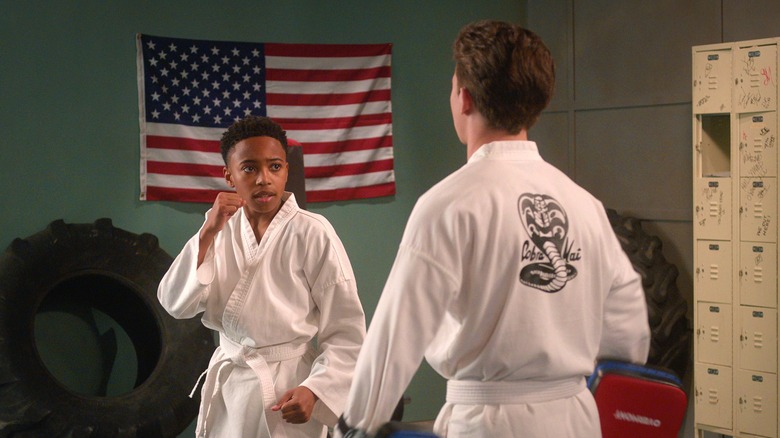 Curtis Bonds Baker/Netflix
Judging by the tone of "Cobra Kai," it seems to me that it'd be such a welcoming atmosphere when you get to set. Did you feel like you were a part of the family right away?
Right away, my first day on set, they welcomed me with open arms. The first person that I met on the show was actually Tanner Buchanan. I was doing some karate training with the stunt choreographer. He walked over by me and introduced himself. He pretty much gave me the rundown of everything that I need to know about "Cobra Kai" shooting and how we're going to film and the pace that we move at. He was talking to me like I was his little brother. I was like, "They're welcoming me with open arms. This is a great environment, great atmosphere to work."
Tanner Buchanan is an incredible person. He welcomed me with open arms from the beginning. He was so respectful of me. He helped me out because he saw that I was struggling with a lot of nerves, especially the first scene that day.
I remember I messed up my line. It was a funny moment that we had, because he was like, "Oh, I forgot the line to lead you in," even though he didn't. He had his lines right. I was struggling with nerves and everything. He was like, "Hey, just know, everything's good. That happens." I'm like, "I really appreciate you." He's such a great person and a great actor. He knows how to definitely have that transition with his characters.
Getting into the swing of Cobra Kai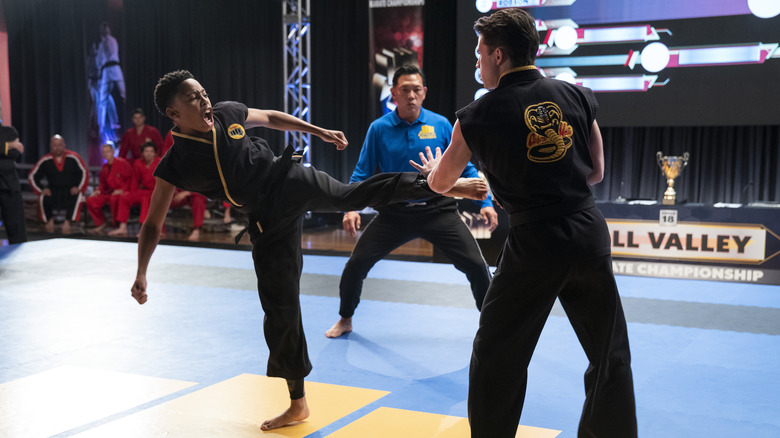 Curtis Bonds Baker/Netflix
You said you didn't watch the series initially. Were you a quick study? Did you go back to the "Karate Kid" movies to start and go on to watch the series? How did that process work?
It's interesting, my path for it. I pretty much watched "Cobra Kai" in a matter of two weeks. It was Seasons 1, 2, and 3. I watched all of that, and then I decided to go back and watch [the first] "The Karate Kid," because here's the thing: I watched the first movie about 10, 11 years ago, because I had to do that for my karate training, whenever I was doing karate, Taekwondo, when I was about 4 years old. I didn't really remember the movie, but I had to watch it again. I'm like, "This is an incredible movie. There's no way that I'm a part of this cast."
You did have some karate training coming into this. It certainly had to have helped with the audition, that's for sure.
Yes, it did help with the audition, even though my karate training went back to whenever I was a young kid. The karate training definitely helped. It was muscle memory for me. As soon as I got on the set, I was able to rehash everything that I went through back in the day and all of my moves, all the basics. Then [fight coordinator] Don Lee and [stunt coordinator] Ken Barefield helped me out with that.
Kenny's Cobra Kai storyline somewhat mirrors what Daniel went through in The Karate Kid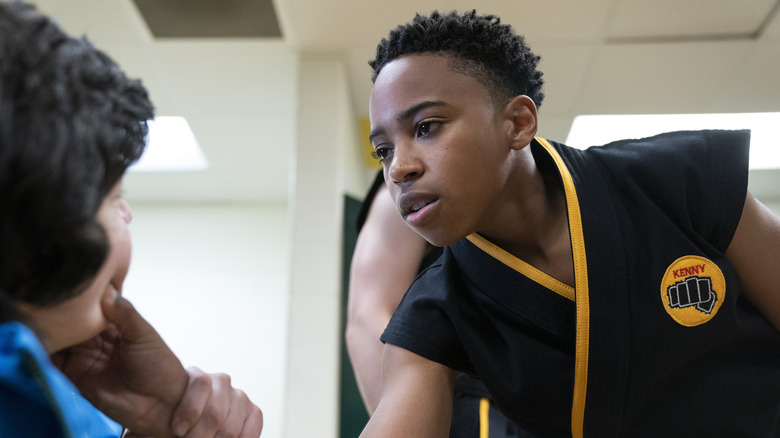 Curtis Bonds Baker/Netflix
Kenny is an interesting character in that he starts out getting bullied — like Ralph Macchio's Daniel LaRusso was in the original "Karate Kid" movie — and ironically, one of the bullies is Daniel's son, Anthony. Like Daniel's storyline in the movie, you start to learn karate, but then you go to John Kreese and Terry Silver at the Cobra Kai dojo instead of Daniel and Johnny Lawrence. You must've thought, "Wow, this is a cool twist on the original 'Karate Kid' story."
Yeah. The whole entire twist was so well executed from the creators of the show, Jon [Hurwitz], Josh [Heald], and Hayden [Schlossberg]. Whenever they gave me the layout of the whole entire season with my character's arc, I was mesmerized. You could tell the arc was going to be special, and it was going to have a lot of purpose in it and a lot of meaning. [The creators wanted the story to reach] every single kid who's struggling with bullying. It's cool that my character has moments that are direct homages to Daniel LaRusso and his journey, pretty much. It's cool how my character goes from a kid — who's the sweetest kid — and then toward the end of Season 4, you see me beat up Anthony LaRusso.
It reminds me of when Daniel was trained with Mr. Miyagi, and then Terry Silver got Daniel [in "The Karate Kid Part III"]. He turned to that side for a little bit. Ultimately, he went back to Miyagi, but still, he went through that phase of going to the bad side. I thought that was so well planned by the creators and writers of the show.
Young says watching Season 5 unfold was 'mind-blowing'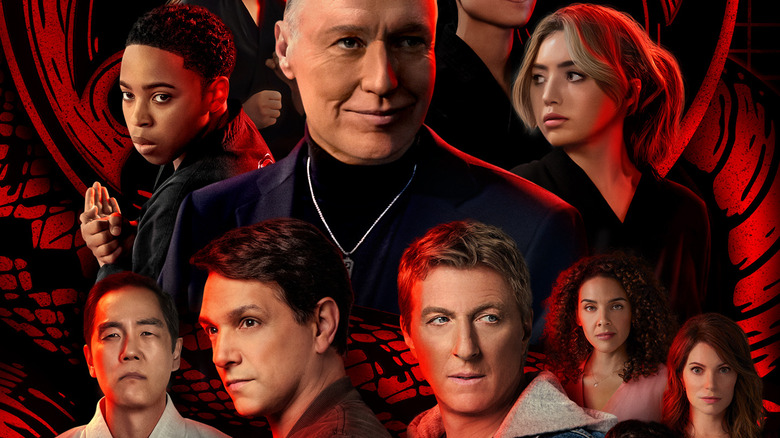 Netflix
I certainly love the setup of this season, and I don't think we're going into spoiler territory here to say Daniel and Chozen Toguchi are trying to figure out a creative way to stop Terry Silver from turning Cobra Kai into this karate empire. How exciting was it to see this season's main storyline unfold?
It was extremely exciting to see this whole story unfold and for them to incorporate Chozen's character again at the end of Season 4 and then continue along in Season 5. To have the opportunity to meet Chozen [Yuji Okumoto] was an incredible moment for me. It's something that I'll never forget, for sure.
As we go along in the entire fifth season, people are going to see the evolution of everybody's character, and the storylines continue to grow. But every time I read the scripts, I was on the edge of my seat, thinking, "I'm interested. I'm engaged." I think that's exactly how every single fan of the show will be. That's really cool for people that love those original movies.
It shouldn't be a surprise to fans that some characters from the original movies like Chozen emerge and some characters from previous seasons come back. Without going to get into spoiler territory, that, to me, is why the series is so great, as you see the old stuff and the new stuff is woven together. There are so many layers. You must say as an actor, "God, this is ingenious stuff."
It is so genius of them. For them to incorporate all of these different characters from past seasons or from the movie, it's mind-blowing, because that's the uniqueness of "Cobra Kai." Not a lot of shows have the ability to do that. The way they incorporate each character, each storyline, is so well executed. You could tell they have everything planned. They have a very nice vision for the series and where it's going.
Kenny evolves into a man in Cobra Kai Season 5, Young says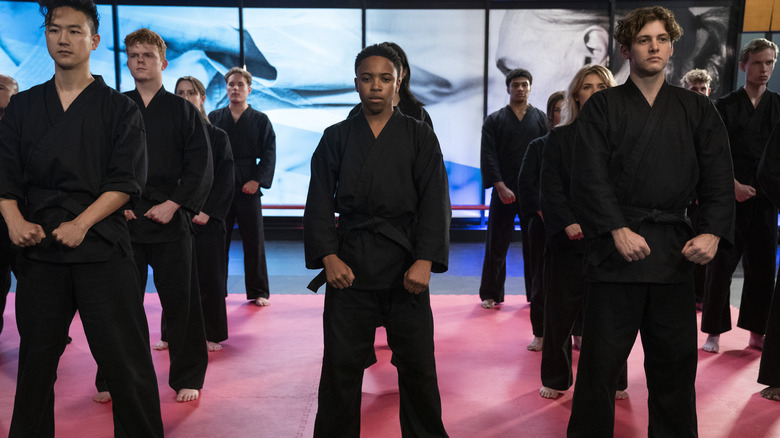 Curtis Bonds Baker/Netflix
Without being too revealing, what happens with Kenny's storyline this season?
You'll see my character, Kenny, evolve. Pretty much in Season 4, he was a boy. You can see him evolve into a man [in Season 5], because yeah, he's a competitive kid. You'll see him continue to grow as a martial artist, a student, and also as a kid in Cobra Kai. People are going to be so excited to see this growth from my character. Everybody's going to like him, I think.
When you were filming Season 4, did you have any idea that Kenny would have such an impact on viewers because of the bullying storyline?
I didn't imagine it, honestly. I remember getting the call about getting cast for the role. I thought my character was going to be a small, recurring role, who's going to be there on maybe three or four episodes. The first script that I received was Episode 2 ... I saw that it was pretty much directed toward Kenny. I was like, "That's so interesting that they're going into Kenny's storyline like that."
Once they gave me the layout of my character and where he is going to go, I started to realize, "I can make an impact on a lot of kids who are struggling with bullying." You see my character grow. The character arc is so special, and I realized, "Okay, this character might be a little bit bigger than I thought at the beginning before reading the script."
Young says he's learned about life from Kenny's storyline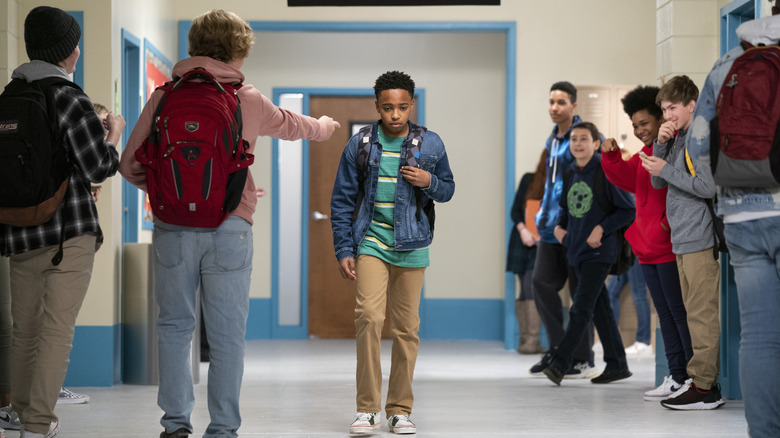 Curtis Bonds Baker/Netflix
It's such a unique opportunity to step into Kenny's shoes. What you think you've learned about yourself personally and what you've learned about yourself as an actor from playing Kenny on "Cobra Kai"?
What I've learned from my character, Kenny, is pretty much to be yourself. Especially at the beginning of the season, Kenny was himself. He just wanted to be loved and appreciated. That's my biggest thing that I learned, is to be yourself, be kind, and be true to who you are. Don't change from that.
As an actor, I continue to learn how to establish relationships with all the other characters and have fun with them ... I know what it feels like to be in a cast that is so welcoming and so appreciative of me. They respect everybody's work. I learned to "be yourself" and also to interact with peers. Even when times are tough, you still know that you have a community to be around.
Young loved working with Kove and Griffith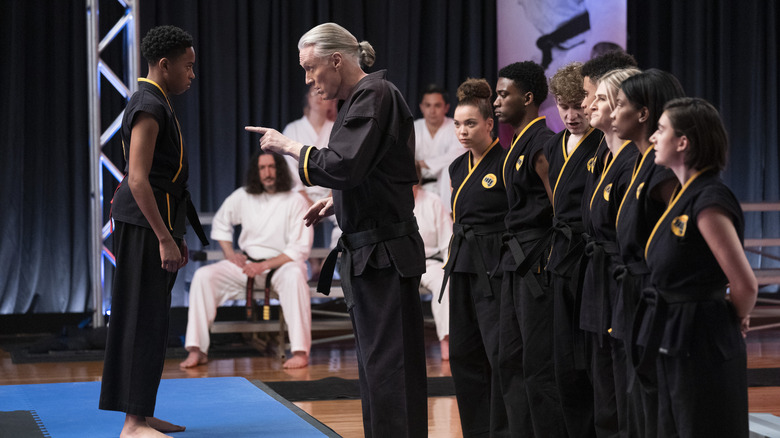 Curtis Bonds Baker/Netflix
The show has John Kreese and Terry Silver played by Martin Kove and Thomas Ian Griffith. They give off that vibe that they're bad dudes because they're great villainous characters. But when the camera stops rolling, what are they like? They both seem like great guys off camera.
I'll start off with Mr. Marty, Martin Kove. Our interaction at the beginning — I remember my first scene with him, I was so intimidated, because he's such a strong and powerful figure, looking at him. I was like, "Oh, my gosh, I don't want to go up to him. What am I going to do?" He saw that I was really nervous to talk to him. He comes up to me, he's like, "Hey, I'm Martin. Nice to meet you. Happy to have you on the show." I was like, "Oh, nice to meet you too, sir. Can't wait to go on this journey with you." I was so giddy and excited. I could say he's a gentle giant because he looks so intimidating, but he's one of the nicest people you could meet. He's so full of energy.
Then Mr. Thomas Ian Griffith — having the opportunity to work with him has been unbelievable. He played such a prominent role in my character development. He is such a nice person. He is very serious about his work, too. That's so important in that environment.
The good thing is, he's really good at karate. He's been doing karate since the "Karate Kid" days. He also got to teach us a little bit while we were on the set for Season 4. That was really cool.
Young was encouraged by Macchio and thinks Zabka is hilarious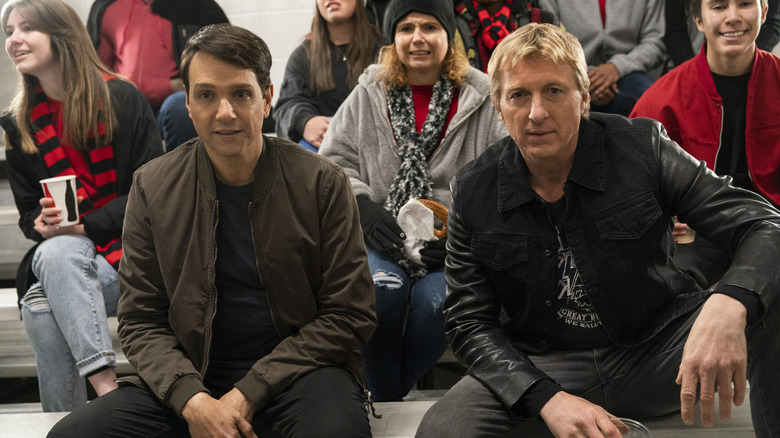 Curtis Bonds Baker/Netflix
While the majority of your scenes have been with Martin Kove and Thomas Ian Griffith in Seasons 4 and 5, have you had encounters with William Zabka or Ralph Macchio?
I have had the opportunity to talk to both William Zabka and Ralph Macchio. They were very intuitive conversations. They gave me the layout of the season and my character and everything ... When I talked with William Zabka, being in his presence was a great environment for me. He was so respectful and nice. He has this great energy to him every single day he comes to set. I also remember having a conversation with Ralph. We were actually doing the All-Valley scenes [in Season 4] and I remember he said something that I'll never forget.
It was after the scene that I just did with Robby. He was watching it, and I had no idea he was there. He came up to me and said, "Hey kid, I want to let you know, you just got us another season with that." I was like, "Oh, I appreciate it. Thank you." He was like, "No, for real. That was incredible work." Same thing for William. He grabbed me and said, "That was something special." It's been great.
This season, as a viewer — and I don't know if you've had the opportunity to watch all the episodes yet — but William Zabka is so funny. Johnny is still stuck in the 1980s, and it never gets old.
Oh, I love it ... The funny thing about it is, that's literally William in real life — his energy is like that, his humor. He's so humorous. He's hilarious in real life, so it definitely plays well on camera.
Young and Santopietro are buddies in real life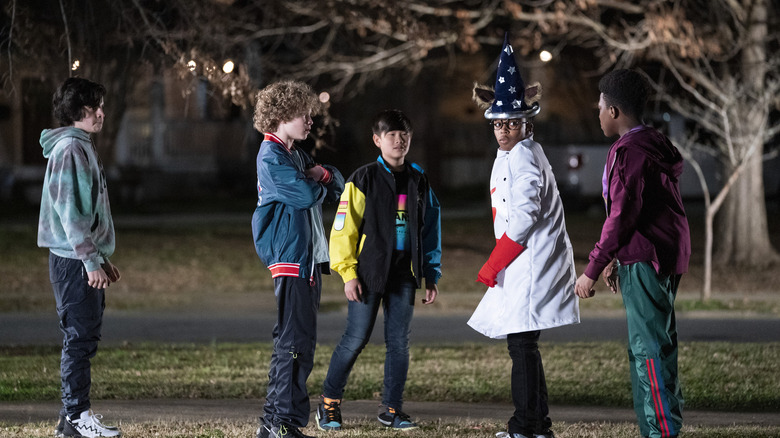 Netflix
I talked with Griffin Santopietro about playing Anthony LaRusso last season and how remarkable it was that his character was bullying Kenny. Obviously, you are adversaries on screen, but I would imagine that takes a great working relationship, and I'm sure you guys are buddies, too.
The funny thing about our relationship is that — a lot of people don't know this, even — behind the scenes of "Cobra Kai," he would come to my house. We played video games and everything. We'd hang out after the scenes. We actually would collaborate and talk about the different scenes that we could do and the different emotions that we could portray. Having that environment and having that friendship there was special to me, and it helped us with our on-screen chemistry.
Even though we hated each other on camera, we were really good friends off camera. But it's little moments in the show that you'll see how our friendship and what we worked on behind the scenes helps. Our relationship is great on and off camera.
Young hopes his role of Kenny will encourage young viewers to be themselves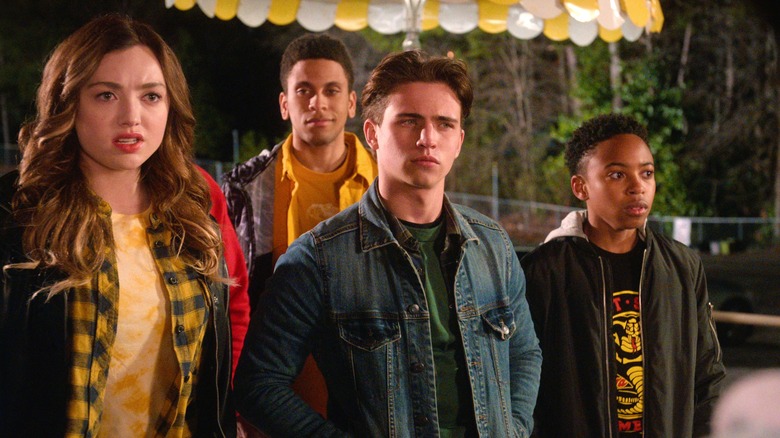 Netflix
What do you want viewers to take away from Kenny from what they've seen so far with "Cobra Kai" Seasons 4 and 5?
Even though bullying is tough sometimes, you should know that you have a community to be with. You have people around you that can help you and mend the pain. My advice to y'all, if y'all are struggling with bullying — tell an adult instantly. Even though my character in "Cobra Kai" Season 4 went to the dark side in a sense, he had a community. He had people that he could be with and talk about his pains, especially with Tanner Buchanan, Robby, the whole situation there. He talked about his situation, and then Robby told him what he had to do.
My advice to y'all [is to] definitely tell an adult if you're struggling with bullying and then be yourself. That's the biggest thing with Kenny: "Be yourself." It's not bad to be yourself. Be who you are.
The interesting thing to point out about Kenny's and Robby's relationship in Season 5 is that Robby tries to talk with Kenny, but Kenny doesn't want to listen. I think it's important for people to listen to others, especially when they see something that could go wayward unless they do something about it.
Yeah. I'm so happy that you said that. People need to definitely listen to a trusted adult, especially Robby Keene, in this situation. You'll see. I'm not listening to what he's saying. That'll affect my character. I can't talk too much about that — it's Season 5, so y'all are going to have to watch it.
Although his time on Ready Player One was brief, Young will never forget meeting Spielberg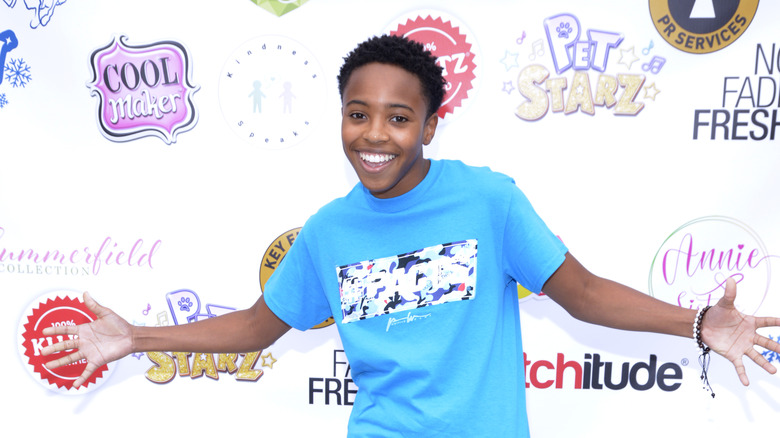 Michael Tullberg/Getty Images
You've done a lot of work in the last six years, including the film "Ready Player One." It was a smaller part — they gave you a "Classroom Kid" credit or something like that.
Yes.
Nonetheless, it was a big deal since it's a Steven Spielberg movie!
Even though it was a "Classroom Kid" role, I was proud of my title as "Classroom Kid No. 5." I was so happy with that title. I remember being in that classroom. Next thing you know, Mr. Steven Spielberg walks in. All the kids are like, "Oh, my gosh. It's him!" We were trying to go through the scene and be professional and everything, but he's in our presence.
Once we were done with the scene — it was pretty quick — I went out and introduced myself and took a nice picture with him. Then he gave me some advice to keep working hard and keep doing this thing. "You never know. We could work again on a project." I was like, "Thank you so much. I really appreciate that."
"Cobra Kai" Season 5 is streaming exclusively on Netflix.
This interview was edited for length and clarity.