Shawna Perrin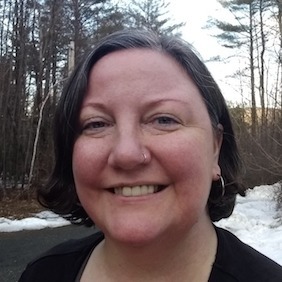 School
Southern New Hampshire University, Keene State College
Expertise
Music, Haunted Places, The Strange & Unusual
Shawna has always been fascinated with what makes a good story; from analyzing the lyrics of her favorite songs as a kid, to earning her Master's in Fiction writing, she's always trying to see why a piece is effective so she can apply it to her own writing.

She's tenacious when she needs to prove a point, and exhausts all informational resources at her disposal to do so.

She enthusiastically concurs with Grunge's statement that "The world is pretty weird...in fact, it's a whole lot weirder than you think," and strives to prove it whenever possible.
Experience
Shawna is a writer with a debut novel called "Radio Waves," which is all about connecting to music in such a way that it can change the course of one's life. In addition to music, she also loves stand-up comedy, proverbial rabbit holes, and desolate lighthouses. She's a lifelong New Englander.
Education
Shawna earned her B.A. in English, took a couple of decades away from academia to accumulate further interesting experiences to write about, then enrolled in a low-residency MFA program to focus on learning how to start telling some of those stories. She applies what she learned to efficiently inform and delight the readers of Grunge.
Looper Editorial Policies
Looper's content is a collaboration between a core group of experienced entertainment editors and a vast team of writers, graphic designers, interviewers, and experts in all things entertainment and pop culture. Our goal is to provide up-to-the-minute breaking news coverage as well as original and engaging opinion and editorial content that serves fans of movies, television, and genre media in general.
Our team of editors and advisors constantly updates and reviews articles to ensure they're current, comprehensive, and informative. Additional information on our editorial process available here.
An improbable rom-com out of Poland is currently crushing it on Netflix, and just in time for Valentine's Day!