The Meaningful Wrap Gift Ralph Macchio Hand-Delivered To His Cobra Kai Co-Stars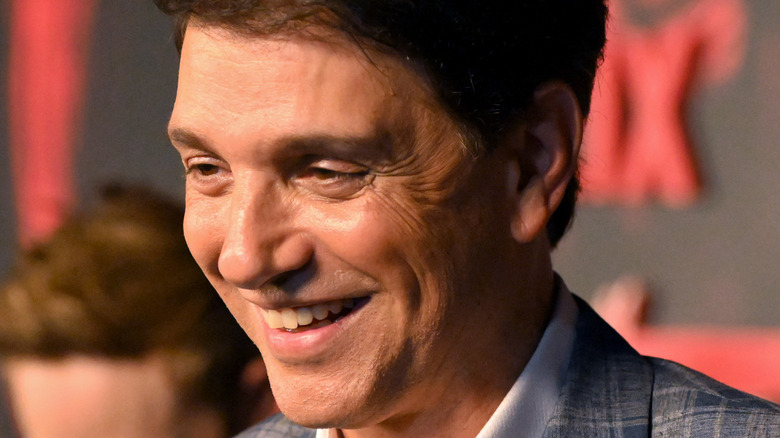 Charley Gallay/Getty Images
Ralph Macchio is undoubtedly having the time of his life and career thanks to the massive popularity of the Netflix streaming series "Cobra Kai," which, of course, is rooted in the stories of his three "Karate Kid" movies from 1984, 1986, and 1989. His gratitude is reflected not only in the reprisal of his role as Daniel LaRusso but also in the bonds he's formed with his castmates off-screen and his poignant gestures at the end of each season.
Created by Josh Heald, Jon Hurwitz, and Hayden Schlossberg, "Cobra Kai" kicked off in 2018 on YouTube Red and ran another season on the YouTube channel before Netflix picked it up. The initial premise found the once-rich kid Johnny Lawrence (William Zabka) living a broken-down life as the former karate champion and divorced father of one struggling to get by, while Daniel was enjoying a happy marriage with two kids and the success of his car dealership. In the ensuing seasons, more allies and nemeses connected to Daniel and Johnny from the "Karate Kid" movies began to turn up, including former Cobra Kai senseis John Kreese (Martin Kove) and Terry Silver (Thomas Ian Griffith) and former love interests Ally (Elisabeth Shue) and Kumiko (Tamlyn Tomita).
Several new cast members have been introduced to the Miyagiverse — named for Daniel's "Karate Kid" sensei Mr. Miyagi (the late Pat Morita) — over the run of "Cobra Kai," the bulk of them teen cast members who play karate students. Among them is Peyton List, who trains under Kreese and Silver in the Cobra Kai dojo, and she shared a story about Macchio's generosity when Season 4 wrapped up.
List and her castmates received a wrap gift that hearkened the first Karate Kid movie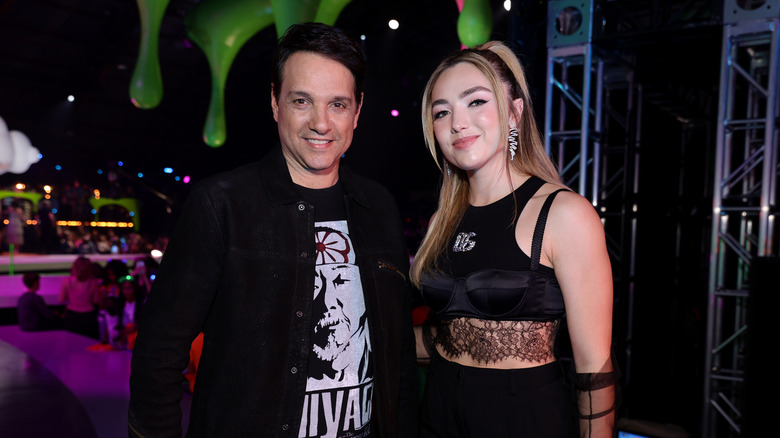 Emma Mcintyre/Getty Images
Peyton List, who has amassed more than 60 screen credits in the past 20 years — including the Disney Channel series "Jessie" and the Hulu series "Light as a Feather" — joined "Cobra Kai" in Season 2 as Tory Nichols, a scrappy teen from a broken home who eventually falls for the negative influences of the Cobra Kai dojo. Off-screen, though, List's experiences have been positive, especially when it comes to the kindness of Ralph Macchio, who executive produces "Cobra Kai" in addition to starring in it.
In an interview with Collider about "Cobra Kai" Season 4, List recalled her warm memory of Macchio handing her a wrap gift as filming was nearly finished for the season. "I've received some memorable wrap gifts, especially on 'Cobra Kai' — people go so hard on wrap gifts, and each of the cast members does something individual and different," List said "This year, Ralph gave us a cup that was identical to the one he received on the first 'Karate Kid.' It was basically a replica, and he just hand delivered it to my trailer, and I think he did that for everyone."
List added that Macchio is "the most thoughtful guy," and his wrap gift and the manner in which he gives them out is a reflection of that: "He hand delivers everything and makes sure he has his touch on everything, and he thinks about each little gift and each little piece of memorabilia he's going to give ... his heart is really in the show," List said.