Geppetto's Shop In Pinocchio (2022) Is A Whole Basket Of Easter Eggs For Disney Fans To Discover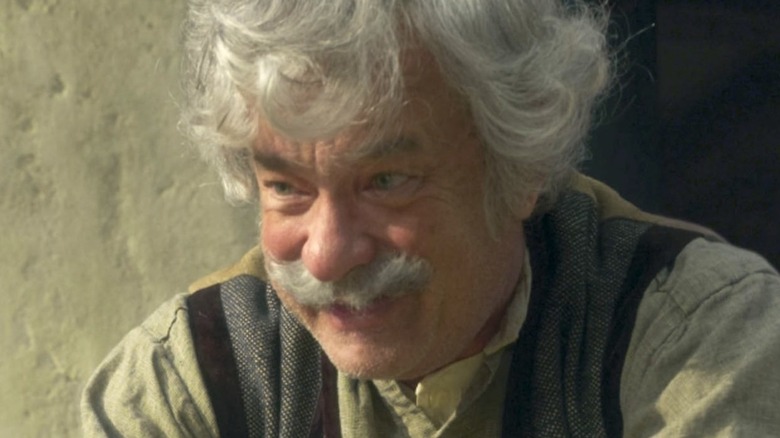 Disney
Disney has once again raided its treasure chest of animated classics, and its latest endeavor from the workshop is Robert Zemeckis' live-action remake of the 1940 film "Pinocchio," which the American Film Institute deemed the second greatest animated movie ever made. Many years have passed since Disney's original take on the story of a puppet that wanted to be a real boy. Since then, we've had singing lions and tigers and bears (oh my) take to the big screen, most of which have since been given CGI treatment themselves.
With such a lineage of family-friendly gems under its belt, it's no surprise that Zemeckis was given the chance to reflect on some of the most influential films to come out of Disney's gates over the years, some of which he contributed to. Zemeckis has helmed the likes of "The Polar Express" and the Jim Carrey-led adaptation of "A Christmas Carol," so applying a digital layer over a much-loved story is nothing new for him. However, he gave the clocks in Geppetto's (Tom Hanks) workshop an extra special touch in the form of some special nods to popular Disney hits.
Two perfectly timed clocks honor Tom Hanks and Robert Zemeckis with Woody and Roger Rabbit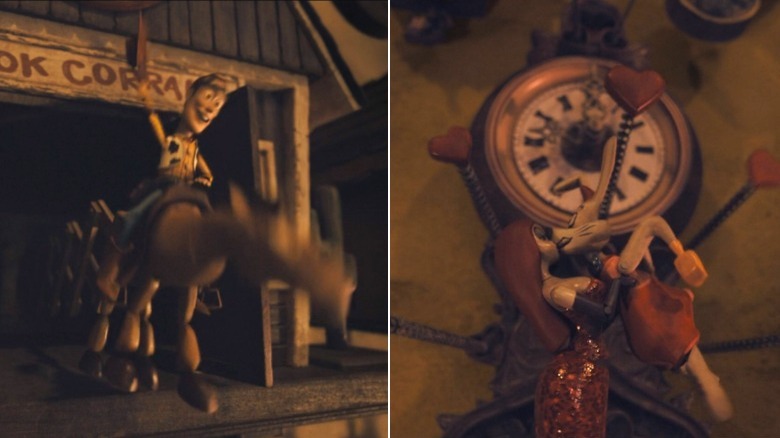 Disney+
A standout moment in the original film sees conscience-to-be Jiminy Cricket (Joseph Gordon-Levitt) getting startled by the workshop owner's vast collection of clocks that all home a unique feature. From ducks feeding to a turkey narrowly escaping death, a wild array of animated wall accessories stand out in the classic version. It makes perfect sense for a pair of them to pay homage to the film's star and director in this new take.
Among the first clocks we see chiming is one that homes none other than Tom Hanks' leading cowboy from the world of "Toy Story," Woody, and his trusty steed, Bullseye. That unmistakable outfit and dangling frame dancing around will certify a smile, just as much as seeing the wild rabbit from Toontown that Robert Zemeckis roped in back in 1988. Seen on another timepiece getting a smooch from his loving wife, Jessica, Roger Rabbit is just as smitten as he was in the original film. It's a fitting and impressive nod to the groundbreaking work of both parties, littered among a collection of others that hold a specific rank in Disney's most recent results.
Some clocks chime into Disney's past, present, and future live-action adaptations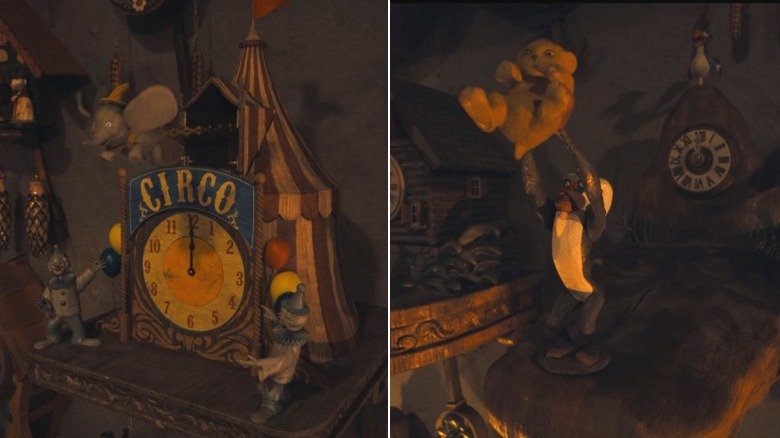 Disney+
Besides two significant animated entries from Tom Hanks and Robert Zemeckis, many of Geppetto's creations are inspired by entries either already adapted into live-action films over the past few years or scheduled for the same treatment. Excluding Donald Duck going quackers, we see a clock homing Maleficent and Sleeping Beauty (which was brought to live action via Angelina Jolie), Dumbo (which Tim Burton brought to life), and Rafiki and Simba from "The Lion King" (the 2019 CGI version of which was directed by Jon Favreau).
Beyond that, there's also the appearance of Disney's 1937 film "Snow White and the Seven Dwarfs," which is also being adapted into live action and set for release next year. Titled "Snow White" following Peter Dinklage's comments on the original's stereotyping of people with dwarfism, the new film stars Rachel Zegler as Snow White and Gal Gadot as the Evil Queen. Besides these, there are also a couple more time-checkers on Geppetto's wall that hark back to the original "Pinocchio."
Classic models from the original Pinocchio get their time to shine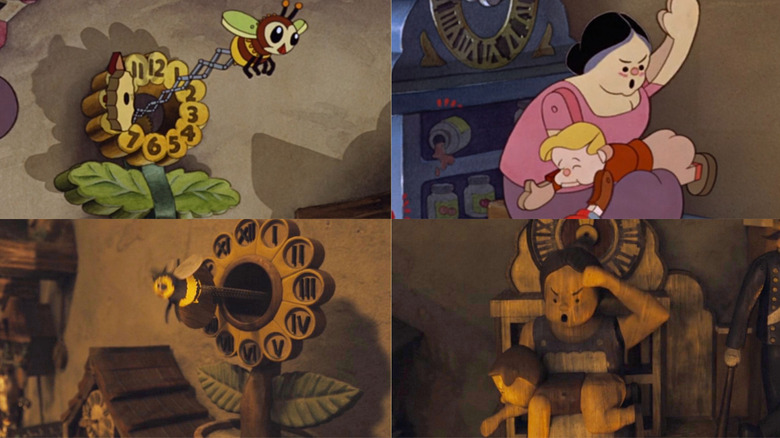 RKO Radio Pictures/Disney+
After you've completed both rounds of spotting the Disney movie-inspired bits of woodwork, some other clocks will stand out for fans of the original "Pinocchio" as much as the rest. Among raised lion cubs and dancing cowboys, two notable clocks that go off in Geppetto's workshop are modeled on a bumblebee buzzing on the hour and a mother spanking her son while an angry policeman looks on. While the design of the latter might be a bit questionable, both hold significance since they resemble two seen in the sequence from the 1940 film.
In a movie crammed with scenes replicating notable ones from the original, it's interesting that these two clocks were chosen over the rest to be re-created in live action. The bee-based ornament is shown in the first batch we see, while the angry mother design is in the second slot of clocks. Take the time to try to spot them for yourself. "Pinocchio" is available to watch on Disney+ now.