Stingray's New Theme Song In Cobra Kai Season 5 Means More Than You Think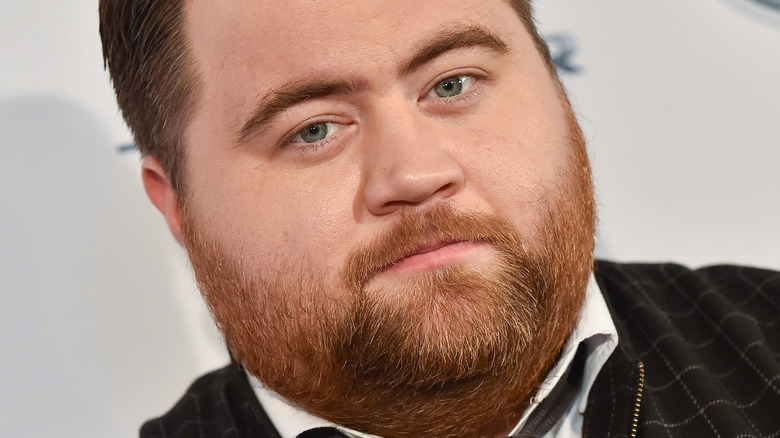 DFree/Shutterstock
Contains spoilers for "Cobra Kai" Season 5
One of the most monumental Terry Silver (Thomas Ian Griffith) scenes in "Cobra Kai" Season 4 is his ruthless deal with rejected Cobra Kai student Stingray (Paul Walter Hauser). After Silver beats Stingray up and the blame falls on John Kreese (Martin Kove), the millionaire alone is in control of the Cobra Kai dojo. In "Cobra Kai" Season 5, we find out that Stingray received bragging rights, Terry-enforced Cobra Kai respect, and a hefty material compensation for his role in the betrayal. However, as the season proceeds, it becomes clear that Stingray's cool new crib and even cooler new ride haven't been able to extinguish the burning shame that hides underneath his confrontational demeanor. 
Kreese might be in prison, but he's intent on proving that he's innocent — and, as always, he isn't above using underhanded tactics to achieve his goals. Knowing that Daniel LaRusso (Ralph Macchio) and his allies wouldn't give him the time of day if he contacted them, Kreese enlists Tory Nichols (Peyton List) to give Daniel a nameless tip about the situation. Desperate to get a win over Terry, Daniel decides to pay Stingray a visit. When the duplicitous Cobra Kai student eventually makes an appearance, he's behind the wheel of the cool Cobra Kai Dodge Challenger that used to belong to Johnny (William Zabka), rocking out to "Judas" by Fozzy. 
The hard-rocking song about becoming a Judas is an extremely good fit for the traitorous character, who blasts it on full volume and sings along to the lyrics. However, as it so often does, "Cobra Kai" adds some seriously dark undercurrents and deeper meanings in this deceptively simple scene. In fact, Stingray's new "theme song" just so happens to mean much more than you'd initially assume.  
Like Stingray, Fozzy's Judas regrets everything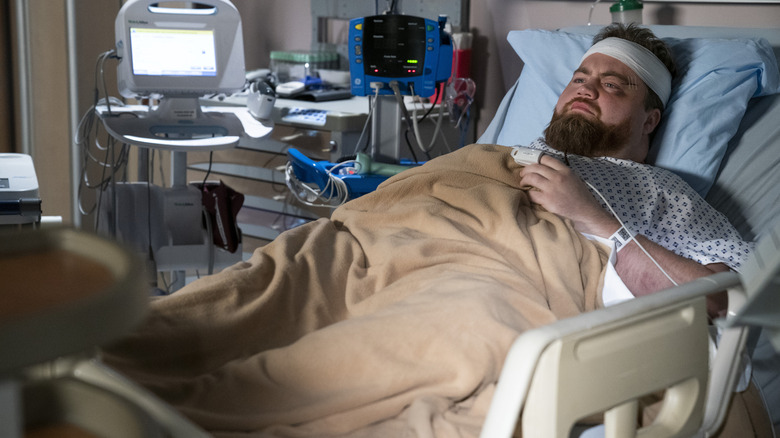 Curtis Bonds Baker/Netflix
Sure, having the show's biggest Judas character rocking out to a song called "Judas" is pretty obvious, but there's a twist. The Judas in the song's lyrics is absolutely horrified of what he's done, and hopes to find a way to right his wrongs. This telegraphs Stingray's deep regret for his actions, and his eventual redemption in the season finale. As the chorus of the song goes: "What have I become, now that I've betrayed / Everyone I've ever loved, I pushed them all away / And I have been a slave to the Judas in my mind / Is there something left of me to save in the wreckage of my life." These few lines sum up Stingray's "Cobra Kai" Season 5 arc in an eerily efficient fashion. 
Don't think that the song's hidden meanings end there, though. The singer of Fozzy is none other than Chris Jericho, the famed pro wrestler who works with the AEW federation, and uses "Judas" as his entrance theme. This isn't Jericho's first time in the "Cobra Kai" limelight. The man himself has thanked the show for a name drop in Season 3, Episode 6 (via YouTube). Jericho also seems to be in good terms with Martin Kove. The actor has appeared as a guest on Jericho's "This Is Jericho" podcast, and he's also turned up in "AEW Dynamite" as wrestler Dr. Britt Baker's sensei. 
The lighter moments of "Cobra Kai" and professional wrestling scratch a pretty similar itch, so they seem like a pretty natural match. Since "Cobra Kai" Season 5 only strengthens Jericho's ties to the show, it could be just a matter of time before the hard-rocking wrestler appears in "Cobra Kai" in the flesh. Perhaps he could turn up as rival senseis in the grand tournament of the hopefully inevitable "Cobra Kai" Season 6?