Jessica Jones Season 2 Photo Teases Kilgrave's Return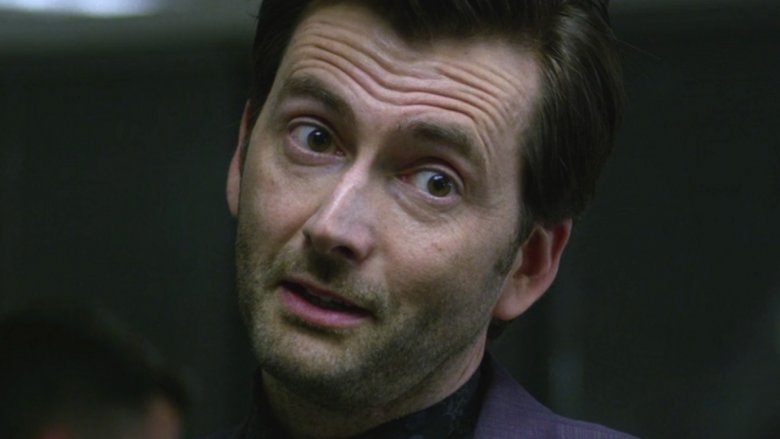 Kilgrave (David Tennant) will be back to taunt Jessica (Krysten Ritter) in Jessica Jones season two. A new photo from the upcoming sophomore outing of the Marvel series shows the deceased purple man giving the titular hero an earful, showing that he'll still be haunting her thoughts, even from the grave. (via Entertainment Weekly)
Kilgrave is set to be a recurring guest star throughout the show's second season, and although it's not clear what capacity he will return in, the new photo suggests that he'll be a figment of Jessica's imagination. "He's such a part of her construction and her dilemma," said showrunner Melissa Rosenberg of Kilgrave. "I think just having him come back and be that mirror again is really important." 
Despite vanquishing her longtime tormenter and joining up with the rest of the Defenders to fight against the Hand, Jessica won't be ready for full-time heroics when the show returns. "Jessica is in a pretty dark headspace when we meet her at the top of season two," Ritter said. "What we've done again is kept the story very personal. If season 1 was in her head and in her mind, then this season will be more in her heart. It's still a psychological thriller, but it's more of an emotional thriller this time."
Rosenberg added that Jessica was "somewhat of a mess" before she met Kilgrave, and she'll continue to be dealing with her own personal demons in season two. The creator says the new season will be "about digging deeper into that chaos and peeling back those layers, just going to the core of her being." Although Rosenberg and Ritter declined to give specific plot details, Ritter did reiterate that they've kept Jessica's story "very personal," while still giving some of the side characters their own stories.
Jessica Jones' second season will bring in in The Twilight Saga: Eclipse star Leah Gibson as a book-smart and street-wise nurse, Arrow's J.R. Ramirez as the new superintendent of Jessica's building, and two-time Academy Award nominee Janet McTeer in an undisclosed role. Mike Colter's Luke Cage, Rachael Taylor's Trish, Carrie-Anne Moss' Jeri Hogarth, Eka Darville's Malcolm, and Wil Traval's Will Simpson are all likely to return for season two.
Jessica Jones will return for season two in 2018. You can view the new photo below.