Zac Efron Dishes On The Smoke And Mirrors Behind His Baywatch Body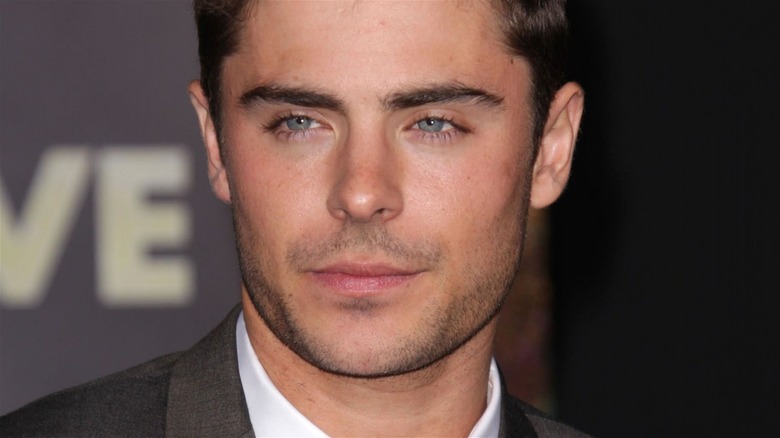 DFree/Shutterstock
Zac Efron has been a star ever since he made his breakout turn as Troy Bolton in "High School Musical." While Troy may now be the role Efron regrets the most, his work in that film catapulted him into Hollywood stardom, and his performances in movies like "Hairspray" and "17 Again" only further endeared the actor to all his fans around the world. However, it was the performances he gave throughout the mid-to-late 2010s in films like "Neighbors" and "The Greatest Showman" that cemented Efron as a versatile star whose career could continue on long after his time with the "High School Musical" franchise came to an end. 
2017, in particular, proved to be a major year for the actor. Not only did that year see Efron do his own stunts in "The Greatest Showman," but he also headlined "Baywatch" alongside Dwayne "The Rock" Johnson. The latter film wasn't received well by critics (via Rotten Tomatoes) when it was released, but Efron earned a lot of attention for the physical transformation he underwent for the 2017 comedy.
While Efron's "Baywatch" body became the topic of numerous conversations leading up to and following the film's release, the actor made it clear in a new interview that not only does he have no desire to ever look like he did in that film again, but he doesn't want anyone else to try to either.
Zac Efron doesn't believe his Baywatch body is 'really attainable'
During a recent interview with Men's Health, Zac Efron opened up about how his physical fitness routine has evolved over the years. The interview, therefore, inevitably led to Efron briefly discussing the shape he got into for "Baywatch." In specific, Efron revealed why he's not interested in ever trying to replicate his "Baywatch" body.
"That 'Baywatch' look, I don't know if that's really attainable," Efron said. "There's just too little water in the skin. Like, it's fake; it looks CGI'd." The actor added, "That required Lasix, powerful diuretics, to achieve. So I don't need to do that."
In the same interview, Efron also revealed that the workout routine he developed for "Baywatch" resulted in him training too much and not getting enough hours of sleep."I started to develop insomnia," Efron admitted. "I fell into a pretty bad depression, for a long time. Something about that experience burned me out."
Efron's comments may, of course, come as a bit of a surprise to fans of his, but it's clear that the actor is glad to have "Baywatch" in his rear-view mirror. In fact, he's going out of his way to caution his fans against attempting to do what he did for that film, which should make his current attitude about his "Baywatch" body unavoidably clear.