Carl Weathers' Profound Comment On The Mandalorian's Minimal Dialogue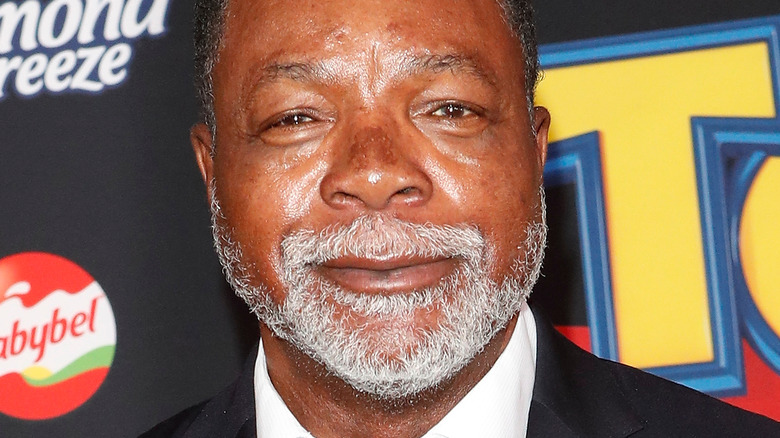 Kathy Hutchins/Shutterstock
The present of the "Star Wars" franchise is all about the TV shows, and "The Mandalorian" is the primary reason for that. It's arguably the most popular "Star Wars" property since Disney purchased Lucasfilm in 2012. Yes, it's the most-watched TV series on Disney+, with viewers watching the series for 14.5 billion minutes over the course of 2021 (via The Hollywood Reporter). But even when comparing the "Star Wars" TV series with the recent movies, "The Mandalorian" is the clear favorite. It boasts an 8.4 rating among almost 1,000 user ratings on Metacritic, which qualifies for "universal acclaim." Of all the post-Disney purchase "Star Wars" movies, "Rogue One" comes closest to that mark with a 7.6 audience rating on Metacritic.
Given that popularity, it's natural to wonder what exactly makes "The Mandalorian" so beloved. There are many factors that make the show successful, but one primary reason is its characters. "The Mandalorian" has introduced a colorful array of folks, from fearsome bounty hunters to chatty Tatooine mechanics, and of course Baby Yoda aka Grogu.
A poll conducted by Looper revealed that the most popular "Mandalorian" character is none other than the Mandalorian himself, Din Djarin (Pedro Pascal). As a character, he's a man of few words and a stoic adherent to the Mandalorian philosophy. All of that changes when he meets and adopts Grogu. He develops fatherly feelings for the creature, to the point that he's willing to take off his helmet so he can see his face–an unforgivable transgression in Mandalorian culture.
Obviously, fans find Mando endearing. However, "The Mandalorian" star Carl Weathers, who plays his occasional employer Greef Karga, has his own idea for what makes the character so compelling.
Carl Weathers knows what makes The Mandalorian tick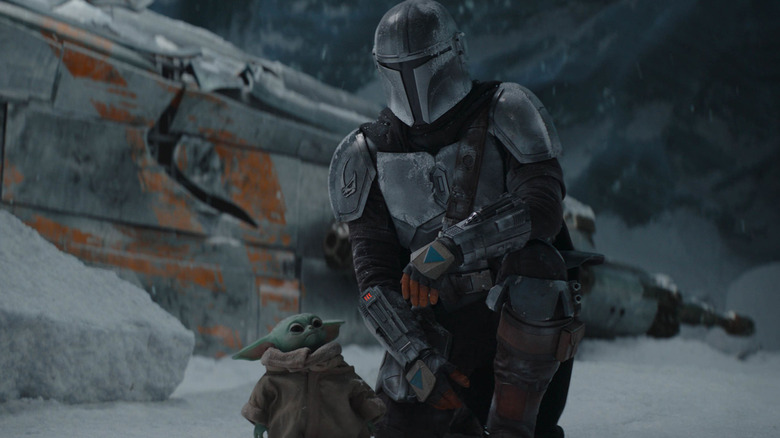 Disney+
Weathers, Pascal, and their fellow castmate Gina Carano were asked about Din Djarin's minimal dialogue in a 2019 interview with Collider.
"There's something about the character that is very ancient in his monk-like way," Weathers said. "You know, moving from town to town, village to village, universe to universe, planet to planet, whatever that thing is doing...why would he say a lot? He's an observer and he responds and he has a course of action based on this little one that he has kind of adopted. So I just find the character to be one of the kind of seminal characters in every genre that is dramatic in its own way. He's a lone wolf."
Weathers is correct in his assessment that the Mandalorian is an archetypal character. Co-creator Jon Favreau has said that the character is specifically based another archetypal character who's famously taciturn.
"I like the image of the Mandalorian because it really hearkened back to the Westerns and samurai films that had originally influenced Lucas," Favreau told ABC News in 2019. "It's a deconstructed version of Clint Eastwood in 'The Man with No Name.' That's a great, mysterious, fun character to see the world through."
That part about Westerns and samurai films is key. Rather than use "Star Wars" films as their primary inspiration, which might have been derivative, Favreau and Filoni made the wise choice to use the same inspiration that Lucas did. The result is one of the most memorable characters not just in "Star Wars" but in pop culture, period.