The Unexpected Way Sidney Poitier's Dishwashing Job Rerouted His Acting Career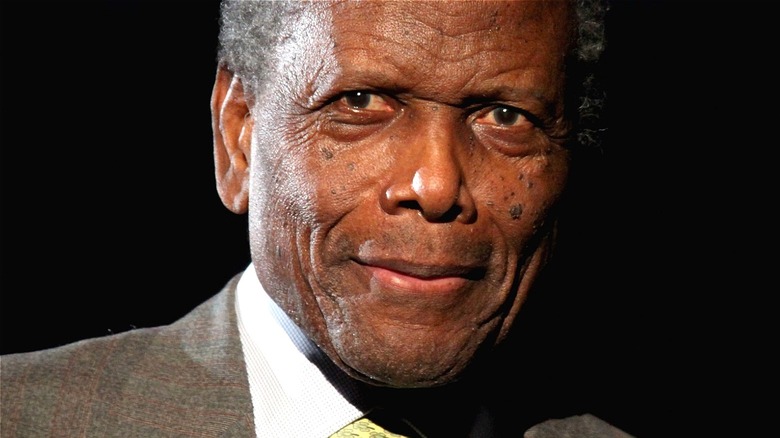 Tommaso Boddi/Getty
When Sidney Poitier died in January 2022, he left behind an inimitable legacy. Throughout his storied career, Poitier performed in riveting and classic works like "A Raisin in the Sun," "Guess Who's Coming to Dinner," and "In the Heat of the Night." In 1964, he became the first Black actor to win the Academy Award for Best Actor for his appearance in "Lilies of the Field." "I'll always be chasing you, Sidney," Denzel Washington said upon receiving his own Best Actor Award in 2003. "I'll always be following in your footsteps. There's nothing I would rather do, sir."
Poitier's rise to stardom was filled with challenges. The actor was born in Miami in 1927 and raised on the Bahamas' Cat Island until he was 10 when his family moved to Nassau. That's when he encountered motion pictures for the first time, according to what he told NPR. At 15 he returned to Miami to live with an older brother, but, disillusioned by Jim Crow era Florida, by age 16 he left for New York City, according to CBS Sunday Morning (via YouTube). 
With only $3 and change in his pocket upon his arrival, he hustled and worked a string of odd jobs before joining the Army by lying about his age. He didn't go far and ended up working as an orderly at a Veteran's hospital on Long Island. After about two years he lied his way back out of the Army by faking a mental deficiency, according to The New York Times. He went back to the city and after a failed attempt at acting at the American Negro Theater, he ended up working as a dishwasher — but that job left an indelible impact on Poitier's acting career.
When Poitier was working as a dishwasher, a waiter taught him to read
The problem was when Sidney Portier auditioned at the American Negro Theater in Harlem, he was barely able to read the script and was still speaking with a thick Bahamian accent. In an interview with CBS Sunday Morning, Poitier recounted how an elderly Jewish waiter at his job gave him a great gift. "He walked over to me and he looked at me and he said, 'What's new in the paper?' And I looked up at this man and I said to him, 'I can't tell you what's up in the paper because I can't read very well.'"
Every night, Poitier told the Academy of Achievement, the man would sit with him and read the papers. "He would come over and sit with me, and he would teach me about what a comma is and why it exists, what periods are, what colons are, what dashes are. He would teach me that there are syllables, and how to differentiate them in a single word, and consequently learn how to pronounce them — Every night." The act of kindness paid off. Soon, Poitier landed an apprenticeship with the American Negro Theater, where he worked as an understudy for a little-known actor named Harry Belafonte.
Poitier's only regret is that he was unable to extend his gratitude to the kind stranger. "I went on to be a very successful actor, and one day I tried to find him, but it was too late," said Poitier. "One of my great regrets in life is that I never had the opportunity to really thank him."