C. Thomas Howell Isn't Afraid To Share His True Thoughts On The Outsiders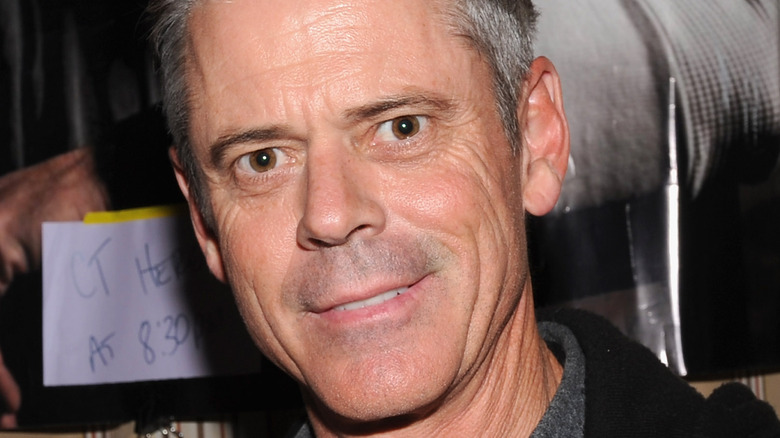 Bobby Bank/Getty Images
As the age of fandom (toxic and non) continues to remind us, legacies can be a very tricky thing in the cinematic realm. While the discourse has largely been relegated to the likes of "Star Wars," superheroes, and all the remakes, reboots, and sequels therein, it has on occasion also included beloved modern and classic flicks of the non-fantasy sort (per Variety). However, one classic whose legacy remains unimpeachable is Francis Ford Coppola's 1983 social drama "The Outsiders." And as things stand, that film's legacy will likely remain intact for all eternity.
That is in large part because "The Outsiders" — based on S.E. Hinton's iconic novel of the same name — remains every bit as incisive and painfully relevant in its study of socio-economic divisions as maybe any film to emerge from the '80s. The stylishly grounded period piece, of course, also marked a welcome return to form for legendary filmmaker Francis Ford Coppola and happened to front a jaw-dropping collection of young talent on the cusp of becoming major movie stars. Said list includes C. Thomas Howell, who earned his second screen credit portraying the soulful, central protagonist Ponyboy Curtis in "The Outsiders."
Like most of his co-stars, Howell went on to bigger things after "The Outsiders" that made him a star, and he's never been particularly shy about his feelings for the film. Here's how C. Thomas Howell really feels about "The Outsiders." 
Howell is quite proud to have been part of The Outsiders ensemble
In case there was any question, C. Thomas Howell could not be prouder of having been part of "The Outsiders." The actor spoke glowingly of the film, its legacy, and its cast in a 2013 interview with AV Club, stating, "What an amazing thing to be a part of and to cut your teeth on. I'm so proud to have played Ponyboy Curtis and to have worked with Francis Ford Coppola and shared that with the cast that was put together." Howell listed some of those impressive co-stars, including Tom Cruise, Rob Lowe, Matt Dillon, Emilio Estevez, and Diane Lane.
The actor listed Patrick Swayze separately, noting the late star played a significant role in his career after "The Outsiders" as they appeared in two more films together in 1984's "Grand View, USA" and 1985's "Red Dawn." Howell is also quick to point out that most of his old cast mates (including Rob Lowe, according to People) have shown just as much love for "The Outsiders" over the years, noting, "We're so proud to have come from that cut, and to have shared that together, it affected all of our lives so deeply."
Howell has no pretension about how big the film's legacy is to his own career, admitting much of his social media following consists of fans young and old who've come to adore both "The Outsiders" and his character Ponyboy Curtis. Regarding cinematic legacies, one could do a lot worse than fronting what's arguably one of the best-loved movies from the 1980s.