Elaine Almost Had A Different Name On Seinfeld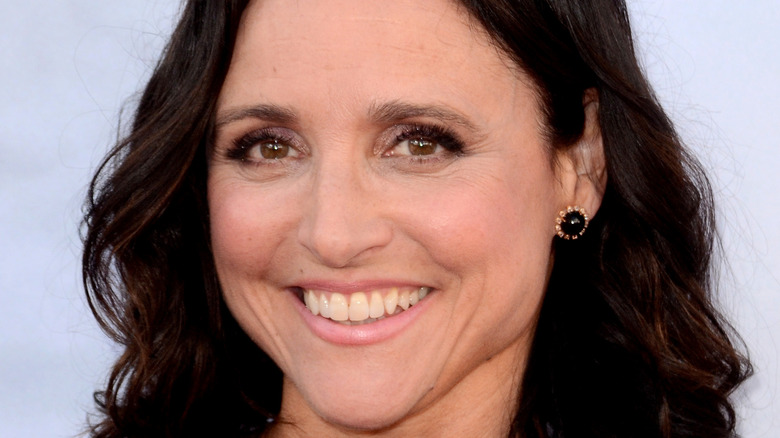 Kathy Hutchins/Shutterstock
Despite being a self-proclaimed show about "nothing," "Seinfeld" is one of the most prolific shows of all time where the characters are always doing something. Considered by many to be one of the funniest sitcoms in TV history, "Seinfeld" is best remembered for its diverse set of characters who continue to have a hold over pop culture to this day. At the heart of the show is the fictional Jerry Seinfeld, an up-and-coming comedian who is depicted as the show's straight man. Joining him on his various adventures through New York City are his friend George Costanza (Jason Alexander) and Elaine Benes (Julia Louis-Dreyfus).
Dubbed by Rolling Stone as "the show's most complex, quirky and ultimately hilarious character," it might be confusing to learn that Elaine wasn't a part of the original "Seinfeld" pitch. NBC executives picked up the show after they demanded that creatives Seinfeld and Larry David added a woman to the all-male cast (via Marie Claire). This led to the creation of Elaine, one of the most complex and beloved characters on "Seinfeld." It's hard to imagine the series without Louis-Dreyfus' impeccable comedic timing and sharp wit as Elaine. The character of Elaine, however, wasn't created as we know her immediately. A series of changes were made, including her name.
Elaine's original name was similar
Seeing as outlets like Vulture have ranked the pilot episode of "Seinfeld" as one of the lowest-rated, it's hard to remember that Elaine (Julia Louis-Dreyfus) wasn't around for the sitcom's initial showing. The intelligent and curious Elaine wouldn't be introduced to viewers until the show's second episode, titled "The Stake Out." The sophomore episode starts off with Jerry and Elaine calling it quits with their relationship and trying to remain friends. Since the series started, Dreyfus' character has emerged as one of the most likable "Seinfeld" characters, making her a series favorite. But the acclaimed character went through many changes before she was broadcast to millions of viewers.
One notable change was that Elaine almost wasn't Elaine. In a behind-the-scenes look at the first season of "Seinfeld," casting director Marc Hirschfeld revealed that Dreyfus' character was originally named Eileen. Though it's not known why the "Seinfeld" creatives changed the character's name, rumors have suggested for years that Elaine is likely named after comedian Elayne Boosler. However, the actual inspiration behind the character appears to be muddied, with comedian Carol Leifer suggesting in a Reddit AMA that she, alongside many other women, inspired the character. " [Jerry Seinfeld] has mentioned that I was a bit of an inspiration in coming up with the character when he and Larry were creating the characters, but then I've also heard Larry David mention a couple of other women as his inspiration for Elaine," Leifer wrote.