Biggest Unanswered Questions In Cobra Kai Season 5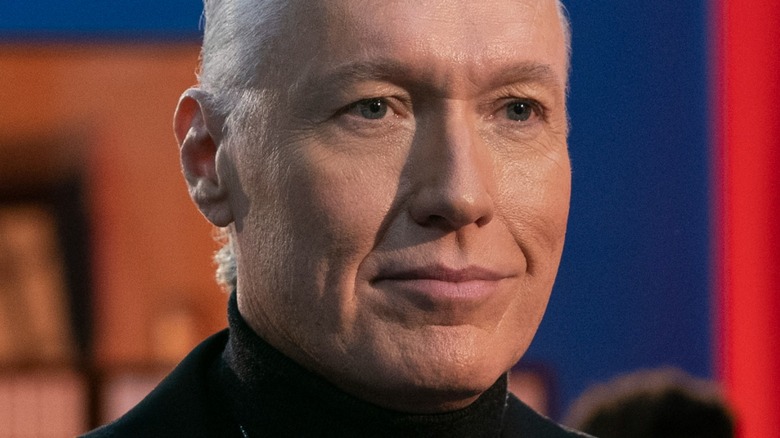 Curtis Bonds Baker/Netflix
This article contains major spoilers for "Cobra Kai" Season 5.
Season 5 of "Cobra Kai" is here, and the feuds between rivals are as strong as ever. The villainous Terry Silver (Thomas Ian Griffith) shows his hand at the ending of Season 4 and is positioning himself to lead Cobra Kai well into the future. Meanwhile, Daniel (Ralph Macchio), Johnny (William Zabka), and their students are licking their wounds after their defeat at the All Valley Tournament. Of course, it was all a sham thanks to Terry's behind closed doors dealings to bribe the referee. Still, Daniel and Johnny live up to their part of the agreement by closing the doors of Miyagi-do dojo for good.
Terry represents the greatest threat to the youth of the valley yet. While John Kreese (Martin Kove) may have taught his students to harness their aggression, Terry teaches the dojo that shortcuts are a necessity. When Kenny (Dallas Young) asks him why one should apply extra damage when they're already scoring a point Terry explains, "Because the shortest distance to victory in a fight is to take out your opponent with one shot."
Thankfully, Miguel (Xolo Maridueña), Robby (Tanner Buchanan), Sam (Mary Mouser), Eli (Jacob Bertrand), Demetri (Gianni DeCenzo), and the rest of Miyagi-do manage to reveal his cheating ways to the rest of Cobra Kai. Now, Daniel and Johnny feel they can rest easy — but a new threat is on the horizon, paving the way for Season 6. Let's digest the events of Season 5 by examining some of the biggest questions that "Cobra Kai" still has to answer.
Where do the Cobra Kai dojos stand following the finale?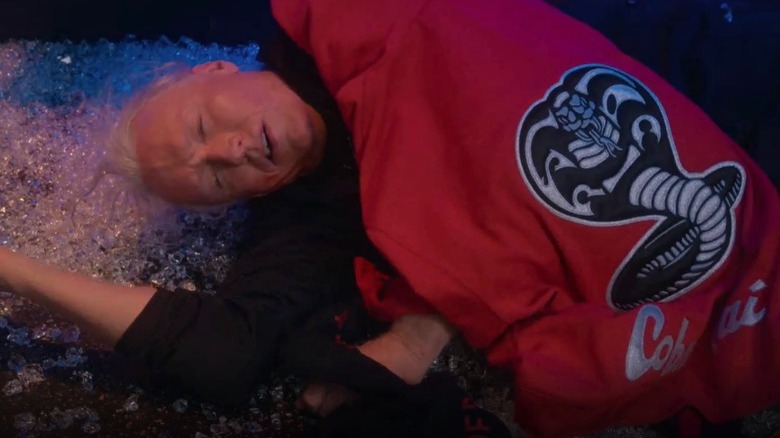 Netflix
In many ways, the Cobra Kai brand is at an all-time high. Terry Silver infused plenty of capital in order to give the Cobra Kai dojo a modern facelift. Furthermore, he expanded marketing and began acquiring other dojos to create a karate monopoly in the Valley. Terry's ultimate goal is to go global after a stellar win at the Sekai Taikai world tournament.
Of course, now that Stingray (Paul Walter Hauser) has altered his statement of events concerning the assault he suffered from Terry — alongside all of his other misdeeds coming to light — Terry is now looking at time behind bars. Or is he? Terry is, after all, a wealthy man who likely has connections to the finest lawyers in the Valley. Still, Cobra Kai is leaderless for the time being. Furthermore, the main dojo sees a mass exodus of karate students after Terry is revealed as a cheater. However, the other dojos Terry acquired are still standing. 
Who will operate them? Will they shut down with their owner facing legal troubles? Only time will tell.
Does Kim Da-Eun take control of Cobra Kai?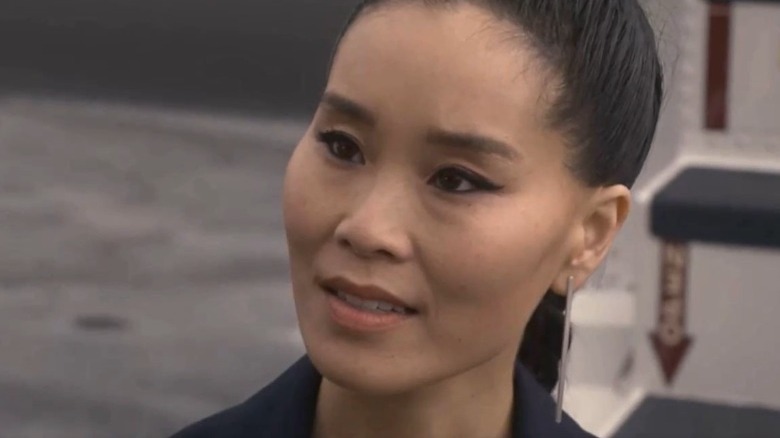 Netflix
Terry must have spent a king's ransom on Cobra Kai, and he seemingly went to the ends of the Earth to find the best leaders to train his students. At one point, Terry ropes in Kim Da-Eun (Alicia Hannah-Kim), the granddaughter of the man who taught Terry everything he knows. She is a formidable woman dead set on proliferating her grandfather's legacy and teachings. Kim enforces harsh discipline on all of her students. In one horrific challenge, she orders Tory Nichols (Peyton List) to train by striking stone tablets that ultimately leave her with a bloodied, fractured wrist.
Terry doesn't only offer Kim Da-Eun a position as a sensei with full autonomy to teach as she sees fit. He also grants her half of the business. In effect, the two are business partners. With Terry now removed from the equation for a time, will Kim Da-Eun take full control of Cobra Kai? Perhaps she will be an even more significant threat to the Valley simply because her goal is entirely about establishing her family's legacy, meaning that she won't simply walk away from the opportunity that Terry afforded her. So how will she proceed following Terry's arrest?
Will Cobra Kai still compete in the Sekai Taikai tournament?
Netflix
For a moment, it seemed like everything would end with a grand face-off in yet another tournament — only this time, the combat would play out on the world stage. Terry Silver courts the tournament officials to have his dojo accepted as a participant. The endgame? Terry has his sights set on global domination, as his goal is to establish a dojo that will become an empire. To achieve this, he would need the clout that comes with winning the Sekai Taikai tournament.
Through a bit of manipulation on Daniel's part, the heroes learn from John Kreese exactly what Terry's ambitions are. Daniel, Johnny, and Chozen (Yuji Okumoto) interrupt Terry's meetings with the Sekai Taikai officials in an effort to become participants themselves. The match-up ends with both dojos securing a win and being granted entry into the tournament. As this season ends with the takedown of Terry Silver and most of the main Cobra Kai dojo's membership disbanded, their entrance into the Sekai Taikai tournament hangs in the balance. 
However, it's possible that Kim Da-Eun takes charge and leads a crew of fresh-faced fighters into the challenge. After all, winning the global tournament lines up with her own goals of spreading her grandfather's legacy.
Is Kreese's sentence commuted given Stingray's testimony change?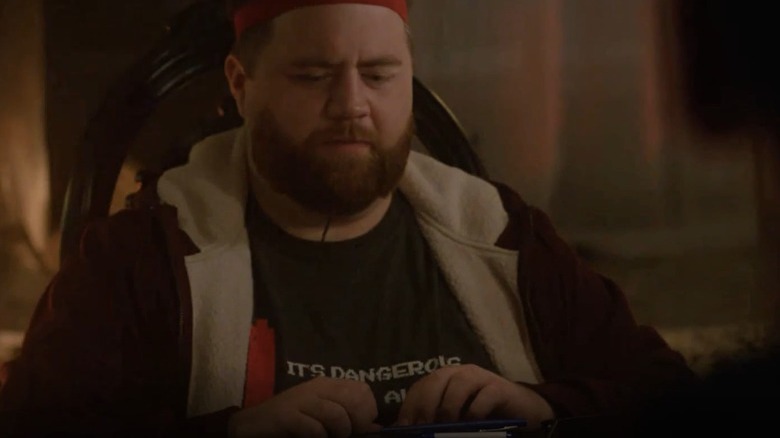 Netflix
No one may like John Kreese for the torment he inflicted on those who challenged him, but he has technically been jailed unjustly and doesn't belong in prison. He is framed for a crime he didn't commit by his longtime friend, Terry, the same man who assaults Stingray and nearly beats him to death. He then uses a combination of fear and bribery to ensure that Stingray accuses Kreese of the assault. However, the charges aren't limited to assault. Kreese is also charged with attempted murder. While some might've seen Stingray as a two-time scheming weasel, all of that changed in Season 5.
When the students of Miyagi-do visit Stingray to learn the truth about what happened, he eventually tells them the truth, but through the lens of a fantasy story. While some may have harshly judged him for attempting to reap the benefits of Terry's wealth, Stingray quietly reveals his anguish over his near-death experience and the fear he feels every time Terry becomes the topic of discussion. Using that perspective, it's easy to empathize with Stingray's decision, which was definitely made under duress. 
In the final moments of Season 5, Stingray explains to the authorities that Terry was the actual perpetrator and that his original accusation was made under the threat of reprisal from Terry. Now that Stingray's testimony of the incident has changed, will John's sentence be commuted?
What's Kreese's big plan?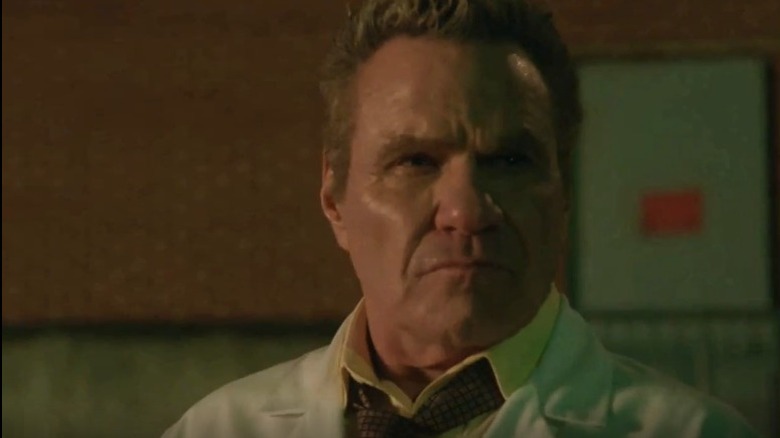 Netflix
Whether John's sentence is commuted or not, he just broke out of prison, which carries its own set of consequences. If John would've just waited a little longer, he might've gotten out legally. Now, John is an escaped convict. Still, he seems to have his eye on a prize. What is that prize exactly? Freedom? Cobra Kai? Certainly, he can't just waltz into a Cobra Kai dojo and take over again like nothing ever happened. For one, he'd be reported as a fugitive. Second, no one would give him the time of day after what Terry has done to the dojo's students and affiliates.
However, Kreese seems to have some tricks up his sleeve. Daniel and Johnny don't do themselves any favors when they drive a wedge between themselves and the former sensei. Daniel promises Kreese the use of his lawyer should Kreese reveal Terry's endgame. Kreese lives up to his part of the bargain, but Daniel doesn't honor his word. Kreese won't make that mistake again. Everything Kreese does from here on out will likely be illegal and aggressive, given that he's a wanted man. So just what, exactly, is Kreese planning next?
Will Chozen and Kumiko become an item?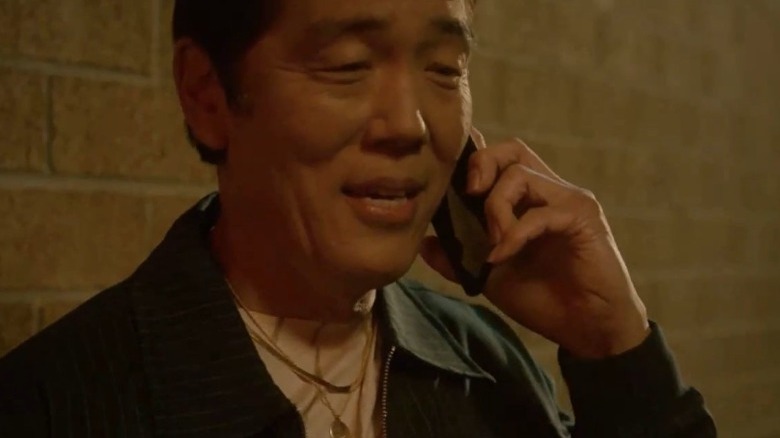 Netflix
Season 5 saw the delightful return of Chozen, a former nemesis of Daniel LaRusso. Now Chozen is an ally and friend to Daniel, having accepted Daniel's act of mercy when they were young. Chozen has been brought stateside by Daniel to help thwart Terry Silver's grand schemes. Of course, the Okinawan fighter is a bit overzealous in his role as Daniel's sidekick. That sometimes gets him in trouble, such as when he attacks Mike Barnes (Sean Kanan) before learning that Mike is an ex-Cobra Kai fighter who now runs a furniture store. Still, Chozen is a good, loyal friend to Daniel and even strikes up a friendship with Johnny. In a vulnerable moment with Johnny, Chozen reveals that he is in love with a woman named Kumiko (Tamlyn Tomita).
Daniel knows exactly who Kumiko is, as she was Daniel's love interest during his teen years. When Daniel accompanied Mr. Miyagi on a trip to his home in Okinawa, Daniel met Kumiko and the two became inseparable. The pair even met once again in their adult years. However, Chozen, having grown up in the same village, apparently always had a fondness for Kumiko. Daniel encourages Chozen to pursue her, and Chozen does so by leaving her a drunken but endearing voicemail. Will Chozen find a bit of happiness and connect with Kumiko upon his eventual return to Okinawa? Let's hope we get to see a happy ending to that story.
What's going to be the new dojo name for the Sekai Taikai tournament?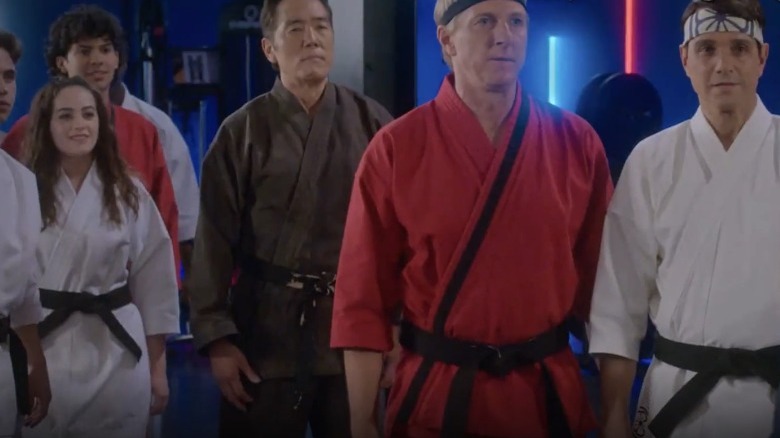 Netflix
Once again, Daniel and Johnny put everything on the line as they prepare their students for a fight with Cobra Kai. This time, however, the fight's results will determine whether they would have a place in the global Sekai Taikai tournament. Hawk is chosen as the male fighter and Sam naturally takes center stage as the female fighter. Hawk loses his bout with Kenny due to some shady calls from the referee and a brutal (but apparently legal) strike to his sternum. To get around the compromised referee, Sam must make each point she scores clear and undeniable. She succeeds and impresses the Sekai Taikai officials enough to allow her dojo to come aboard.
However, when Daniel and Johnny are asked what the dojo's name is, they offer up both Miyagi-do and Eagle Fang. They want to recognize that their dojo is a melding of two opposing philosophies that came together and managed to find common ground. As such, they've formed a unique mixed style. While the officials acknowledge the legacy of their group, they still require a single name for entry. However, they didn't need the name right away, meaning that Johnny and Daniel can get back to them later. 
Despite accomplishing their ultimate goal of defeating Terry Silver, there's no way Daniel and Johnny will pass on the opportunity to compete in the global arena. So what will their dojo be called? Will they officially adopt Miyagi-Fang, or will they come up with a new name altogether?
Will Kenny make amends for his actions?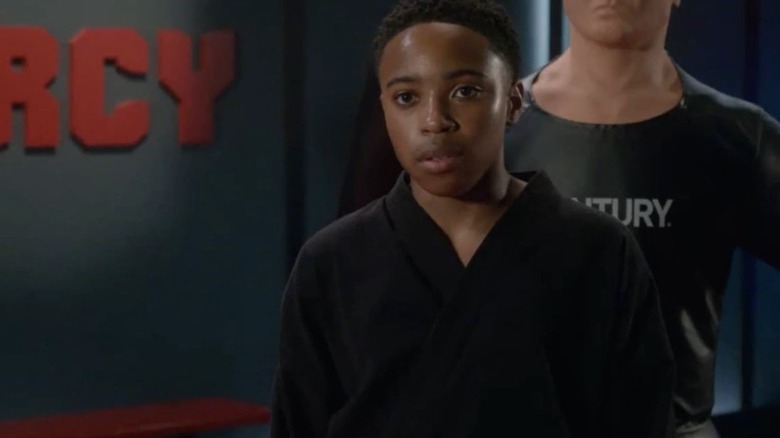 Netflix
Kenny Payne may be small, but he quickly proves that size isn't everything. For a time, he was relentlessly bullied by Anthony LaRusso and his pals. He carries that pain with him into the next chapter of his life as a karate master. Robby takes Kenny under his wing in Cobra Kai to help him to master his abilities as a fighter to defend himself. Later, Robby realizes how detrimental Cobra Kai is to members and leaves. However, Kenny stays and quickly turns his newfound skills into a tool for his own rage. He flips the script and begins bullying others in Season 5.
Kenny shows his ruthlessness, much of which is rooted in the crowd he now hangs around with, as many of Cobra Kai's students are also bullies. Robby attempts to talk sense into Kenny and goes to great lengths to show that he cares about Kenny's well-being. Sadly, Kenny is now just a ball of rage and threatens all those who were once close to him, including Robby. 
At the end of the season, when Terry's sins are revealed to Cobra Kai, Kenny is the first to rip his Cobra Kai apparel off in shame and lob it at his fallen leader. Now, Kenny seems lost. Even after Robby approaches him in the aftermath, Kenny dismisses his former friend as he's not ready to confront everything. Will Kenny undergo a transformation like many of the former Cobra Kai students? We can only hope.
Can Mike Barnes recover from the loss of his furniture store?
Netflix
Terry's reign of terror leaves plenty of broken pieces to be picked up. One of his victims is the former Cobra Kai fighter, Mike Barnes. Daniel visits Mike believing that Terry is going to recruit his former student in his fight against Daniel and Johnny. After a brief misunderstanding, Daniel learns that Mike has put Cobra Kai behind him and is now a family man who operates a furniture store. Mike is living a busy, happy life. However, during his conversation with Daniel he reveals information that could jeopardize Terry's future with Cobra Kai. Terry retaliates by having Mike's furniture store burned to the ground.
In the final episodes of the season, Mike is furious over the loss of his business. Mike goes to Terry's house to beat him to a bloody pulp. Johnny and Chozen join him, but it doesn't go the way they envisioned, as Terry has plenty of muscle on standby. Ultimately, Mike, Johnny, and Chozen survive the bout but with plenty of bruises, cuts, and blood to show for their efforts. 
Hopefully, Mike wasn't merely a means to an end for the writers. The police don't go into specifics about the crimes Terry is charged for, but arson should be one of them. Further, Daniel promises to help Mike get back on his feet. Perhaps Mike will join Daniel at the dealership. Anything is possible, and we can only hope that Mike has a better future ahead of him.
What's Carmen and Johnny's baby going to be named?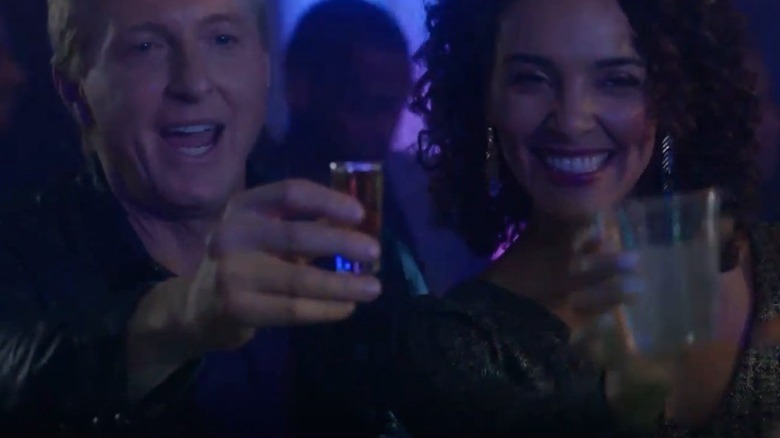 Netflix
Perhaps one of the best things about Season 5 of "Cobra Kai" is that Johnny and Carmen learn that they are going to have a baby. While at first terrified, Johnny quickly resolves to be a far better father to the youngster than he was to Robby. Johnny does some research on childproofing his home to make it safer for an infant. Johnny shows that he's serious about fatherhood and sets out to make things right between Robby and Miguel before breaking the news to them. Once Johnny has brought the two together he shares the news, and they are overjoyed.
This leads to some of the brightest moments of the entire season. It also gives Johnny a better reason to confront Cobra Kai and ensure that his child grows up in a community that isn't terrorized by thugs trained in brutal dojos. When Carmen and Johnny go to the doctor for an ultrasound, Johnny insinuates that the baby will be a boy, but the doctor says it's too soon to know. Of course, Johnny clarifies that whether it's a boy or a girl, he's ready for the adventure of being a parent. 
Now the only question is: what will they name the baby? In a show that's all about honoring the legacy of "The Karate Kid" films of the '80s, it'd be a surprise if the writers don't take this opportunity to include another reference to the history of the franchise. It'd be presumptuous for us to make any guesses at this stage, but there are plenty of options on the table.