The Desperate Housewives Star You Likely Forgot Played One Of Jerry's Love Interests On Seinfeld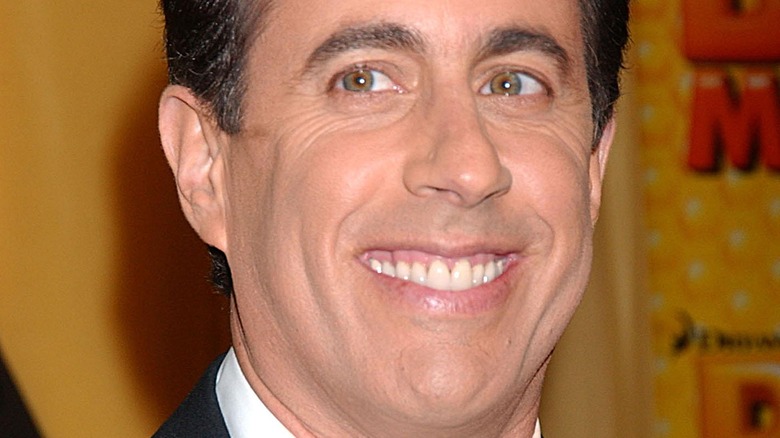 Everett Collection/Shutterstock
For eight seasons, the scandalous Susan Mayer-Delfino (Teri Hatcher) lives it up on Wisteria Lane with her fellow frenemies in ABC's "Desperate Housewives." But Susan's erratic behavior often manifests itself in her dysfunctional relationships, particularly with her daughter, Julie (Andrea Bowen). Julie seems more like the parent than child, especially in the instances when Susan's teen is the one balancing the checkbook and tackling the laundry.
Susan's odd behavior even leads to her locking herself out of the house, and she ends up naked in the bushes for her love interest Mike Delfino (James Denton) to find. Despite it all, Susan finally marries Delfino in the Season 3 finale titled "Getting Married Today." During the same episode, Bree (Marcia Cross) returns from her honeymoon, but what you might not know is that the love lives of these "Desperate Housewives" spilled over into the sitcom world of "Seinfeld."
In fact, three cast members made appearances on the show about nothing. Cross portrayed the memorable dermatologist, Dr. Sitarides, in the Season 9 episode titled "The Slicer," while Brenda Strong's recurring character of Sue Ellen Mischke guest starred in four episodes. However, it's the "Desperate Housewives" star you likely forgot who plays one of Jerry's love interests, and she causes Seinfeld and company to have perhaps their worst headache. Her role isn't quite as shocking as the untold truth of Seinfeld, but this housewife helps land Jerry and his friends in jail, even though it's not the most controversial scene of the show.
Teri Hatcher portrays Jerry's love interest Sidra Holland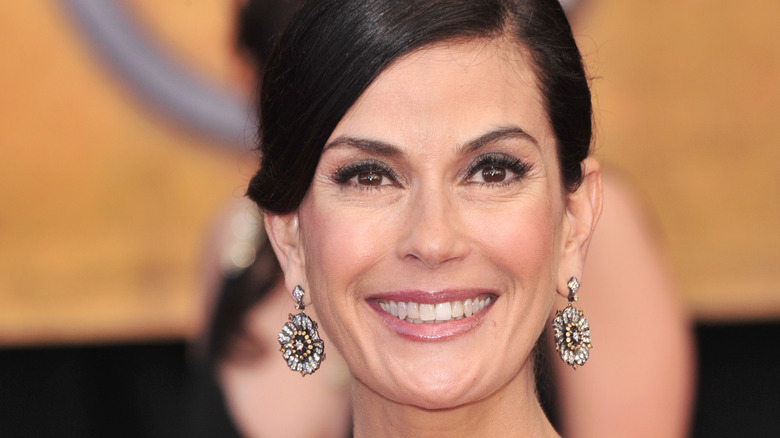 Featureflash Photo Agency/Shutterstock
Sidra, Seinfeld and Elaine Benes (Julia Louis-Dreyfus) work out at the local gym. Jerry takes an interest in Sidra, and he dates her, but Elaine puts one of her silly ideas into Jerry's head: She thinks that Sidra's breasts are too perfect to be real. And since Jerry is so picky when it comes to who he dates, he draws the line at breast implants. So, Jerry dumps Sidra.
However, when Elaine accidentally stumbles into Sidra, while the women relax in the Sauna, she realizes Holland's breasts are real. Elaine tells Jerry, and Seinfeld immediately tries to salvage the relationship with Sidra. In the end, though, Holland suspects Jerry deliberately sent Elaine into the sauna to discover the truth. Annoyed with the whole situation, Sidra leaves Jerry's apartment, but she returns long enough to tell him, "and by the way, they're real, and they're spectacular."
Hatcher reprises the role of Sidra twice. First, she shows up in the Season 4 finale titled "The Pilot," and her father reminds her "that Kim Novak had some big breasts." However, it's in the television series finale that Jerry once more has to face the harsh consequences of his actions. Defense attorney Jackie Chiles (Phil Morris) not only loses Seinfeld's court case and the gang is sent to prison, but Jackie is now involved with Sidra. Chiles also has the audacity to remind Seinfeld that Holland's breasts are "real, and they're spectacular" before the attorney leaves the courtroom with Sidra.