This Look At The Boys' Antony Starr As Invincible's Omni-Man Makes Too Much Sense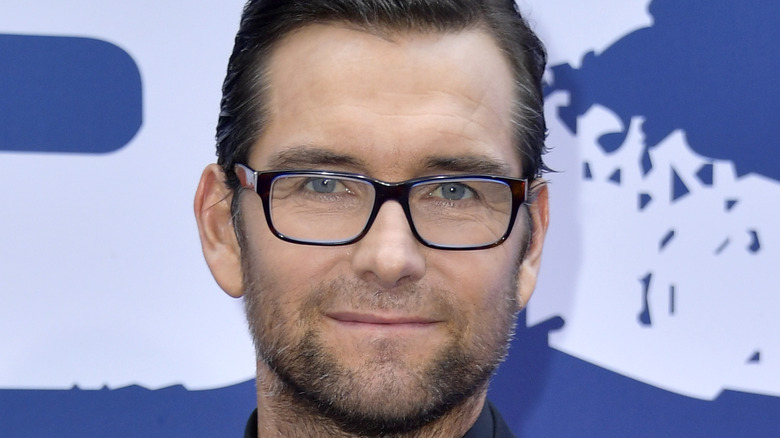 Kristy Sparow/Getty Images
"The Boys" just wrapped up its diabolical third season on Amazon Prime, with critics and fans once again responding positively to the series focused on a world with corrupt and sometimes evil superheroes (via Rotten Tomatoes). Since Season 1, we've watched Billy Butcher (Karl Urban) and The Boys, including Hughie Campbell (Jack Quaid), Mother's Milk (Laz Alonso), Frenchie (Tomer Capone), Kimiko (Karen Fukuhara), and additionally Starlight (Erin Moriarty), do everything in their power to stop The Seven. Although, especially in Season 3, the goal has mostly been to stop and kill Homelander (Antony Starr), essentially an evil Superman and the most powerful Supe to ever exist.
Starr's Homelander is a particularly messed up character, using and abusing his powers to intimidate, murder, and generally scare the bejesus out of everyone throughout the seasons. He's incredibly manipulative and sinister but ultimately seeks to be adored and loved by others more than anything due to his childhood trauma of being raised in a lab by Vought. The Boys take every chance they can get to exploit this insecurity, although they would ultimately require his help to defeat Soldier Boy (Jensen Ackles) during the Season 3 finale.
The qualities of Antony Starr's Homelander certainly fit the character from the original comics very well, so many feel that he might play the live-action version of another Superman-like villain, Omni-Man, from the "Invincible" comics, all too perfectly. A concept artist has even given us a look at what that could be like, and it makes too much sense.
Antony Starr is too good of a fit for Omni-Man
A recent post from artist Mizuri on Instagram has revealed a concept of what Antony Starr could look like as a live-action version of Omni-Man from the "Invincible" comics, and it's pretty incredible. Starr's Omni-Man is equipped in a detailed red and gray suit with the "O" on the chest, along with a red collar and gloves. Of course, the Omni-Man look wouldn't be complete without the trademark mustache either, which Starr sports in the image. We have seen Omni-Man hit the screen already in the Amazon Prime animated series of "Invincible," voiced by J.K. Simmons. The animated show has been received with incredible positivity like "The Boys," with a 98% critic and 92% audience approval score.
Seasons 2 and 3 of the animated "Invincible" series were greenlit a while back (via Variety), so it's unlikely that fans would get a live-action version of the show anytime soon. Even so, it's even more unlikely that Starr would play the character, albeit he would likely play it perfectly. Having Starr play a character very much like one he already plays would not only be confusing for some but probably be something he would move away from for the sake of variety and not being typecast.
Not to mention, Season 4 of "The Boys" was renewed almost immediately (via Deadline), and the cast is already back to set to film the series (via Karl Urban on Instagram), so Starr, unfortunately, has his hands full with one version of evil Superman.