First Look At Jason Momoa In The Aquaman Movie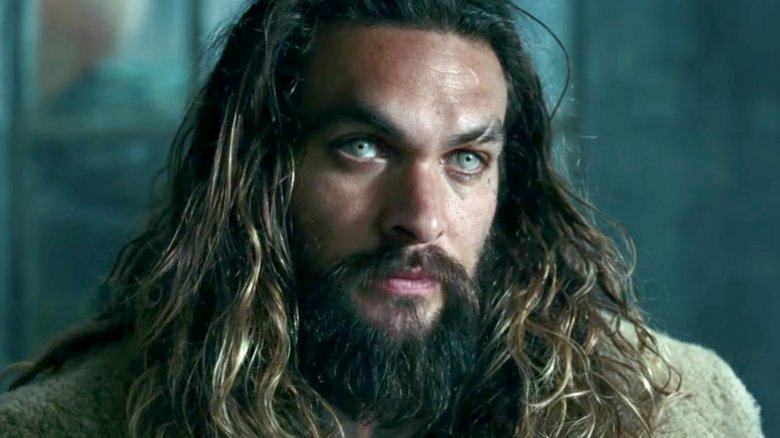 Justice League formally introduced us to Aquaman, but we've never seen him quite like this.
Entertainment Weekly has a first look (below) at Jason Momoa as Arthur Curry in the upcoming standalone flick from James Wan (Insidious). 
One thing you'll notice is a distinct lack of water. Instead, the image shows Aquaman striding (shirtless, of course) through steam in an industrial setting. Wan said we should expect the movie to be a departure from Justice League. "It's going to look very different, it will feel very different—aesthetically, tonally, story-wise—it's my own take," he said. "It's a much more a traditional action-adventure quest movie."
Of course, there's a good chance the setting in this photo is actually underwater since the movie will pretty much tell the entire life story of the half-human, half-Atlantean who eventually becomes king.
"Justice League was only a weekend in Arthur Curry's life," Momoa said. "This is a totally different beast. In Aquaman, you see when his parents met and what happened to them. Then the little boy being raised and finding his powers and going through that and never being accepted on either side. And then becoming this man who puts up all these walls. You just slowly see this man harden up and be completely reluctant wanting to be king and not knowing what to do with these powers he has. I think James Wan just killed it."
Back when Wan first met with Warner Bros. about a superhero movie, the executives gave him two options: The Flash and Aquaman. Although making an Aquaman movie seemed improbable for so long that it was a running joke on Entourage, Wan jumped at the opportunity. "Aquaman has been the joke of the comic book world, but the more I thought about it, the more I thought how cool that would be," he said. "Let's take the character everybody makes fun of and do something really interesting with him."
He's assembled an impressive cast to help with that task. Amber Heard plays Mera, Nicole Kidman plays Queen Atlanna, Willem Dafoe plays Nuidis Vulko, Patrick Wilson plays The Ocean Master, and Yahya Abdul-Mateen II plays Black Manta. 
We'll surely hear a lot more as we get closer to the movie's release on Dec. 21, 2018.