Cobra Kai Season 5 Gives Us A Peek Into Johnny's Eyebrow-Raising Work History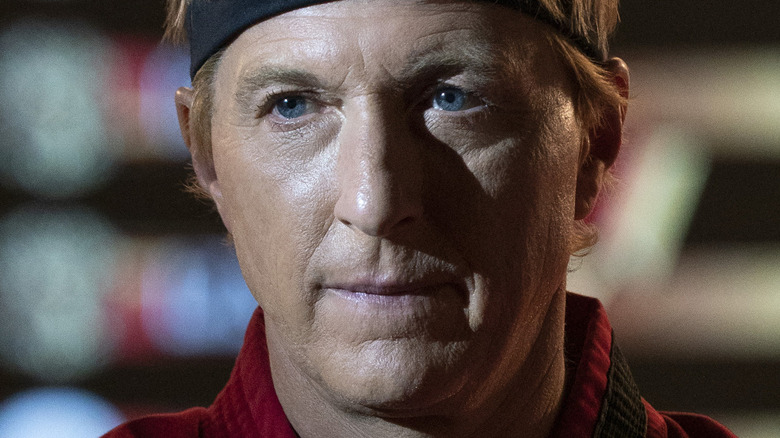 Curtis Bonds Baker/Netflix
Contains spoilers for "Cobra Kai" Season 5
From the moment "Cobra Kai" premiered, it's been clear that Johnny Lawrence (William Zabka) isn't an easily employable guy. Stuck in his 1980s mindset, he gets fired from his handyman job, and it's only after reopening Cobra Kai when he finds that he has what it takes to be a karate sensei.
After Terry Silver's (Thomas Ian Griffith) Cobra Kai took down Miyagi-do and Eagle Fang in Season 4, Johnny resumes his professionally aimless state in "Cobra Kai" Season 5. This becomes a problem when it turns out that Carmen Diaz (Vanessa Rubio) is pregnant. Despite his increasingly successful attempts to improve his relationship with his son Robby Keene (Tanner Buchanan), Johnny's never exactly been father of the year material — and while he intends to correct course this time around, he still needs to find a job.
Fortunately, Johnny's ex-wife Shannon Keene (Diora Baird) is there to help. Shannon herself cleaned her act in "Cobra Kai" Season 3, and in "Cobra Kai" Season 5 Episode 4, she hooks Johnny up with a job ... and during the conversation, we learn some very strange things about Johnny's work history. 
Johnny may have worked as a stripper in his youth
Since Johnny has a car, Shannon comes up with the idea to set Johnny up with a DoorDash-type mobility service gig. Meanwhile, the man himself continues his decades-long streak of remaining impressively unaware of most technological and social developments after the 1980s by having absolutely zero clue about the whole mobility as a service industry. During this conversation, we find out a surprising little fact about Johnny's checkered work history, as he heavily implies that he used to work as a stripper after high school.
Johnny's experiences in this particular job were evidently less than enchanting, as he ended up quitting after he grew tired with the customers' wandering hands. However, while he seems to think that the job Shannon hooks him up with is a door-to-door stripper or even escort gig, he still doesn't hesitate to accept. "Never thought I'd see the day," he briefly laments before fully resigning to his fate. 
Of course, "Cobra Kai" is a family show, and Johnny's new food-hauling, customer-terrorizing job turns out to be rather less exotic than he was clearly bracing himself for. Still, this short exchange reveals that even after five seasons of "Cobra Kai," the character is full of surprises.