The Stranger Things Star You Might Have Missed In Pretty Little Liars: Original Sin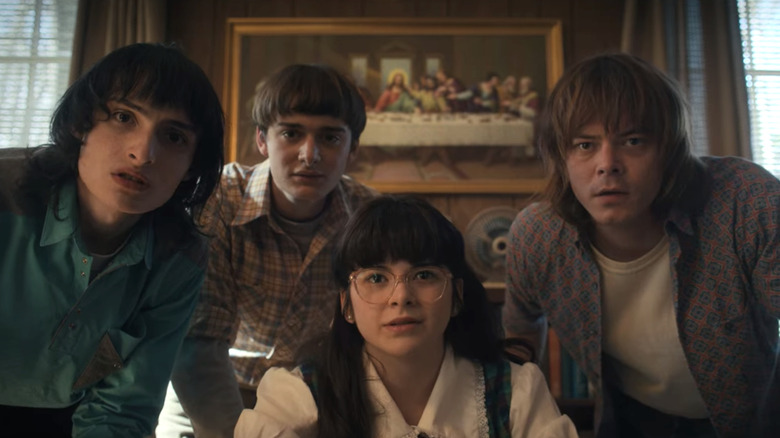 Netflix
"Pretty Little Liars: Original Sin," the HBO Max spinoff series created by Roberto Aguirre-Sacasa and Lindsay Calhoon Bring, premiered on July 28, 2022. Set within the same continuity as its predecessor show, "Pretty Little Liars," the series follows a new group of teens who begin receiving messages from their own mystery "A" who starts sending the teens terrorizing texts, which place responsibility on them for a sin committed by their parents 20 years prior. The new set of teen "Liars" include pregnant teen Imogen Adams (Bailee Madison), aspiring filmmaker Tabby Haworthe (Chandler Kinney), ballet dancer Faran Bryant (Zaria), trauma-ridden Minnie "Mouse" Honrada (Malia Pyles), and track star Noa Olivar (Maia Reficco).
However, it's one of the other teens of Millwood, Pennsylvania that may strike viewers as super familiar — given that she is also on one of the most popular shows of recent years, "Stranger Things." Here's which "Stranger Things" actor you may have missed in "Pretty Little Liars: Original Sin."
Stranger Things' Suzie-portrayer Gabriella Pizzolo is also in Original Sin
Actress Gabriella Pizzola is racking quite the impressive list of credits, seeing as she can now add both "Stranger Things" and "Pretty Little Liars: Original Sin" to her resume. First, she showed up in "Stranger Things" as Suzie, the girlfriend of Dustin Henderson (Gaten Matarazzo) who Dustin's friends initially thought was made up. Suzie and Dustin met at a sleepaway camp and mainted a long-distance relationship once camp was over, given that Suzie is not from Hawkins. Pizzola has appeared in three episodes of "Stranger Things" as Suzie; her most recent appearance was in Season 4's "Chapter Six: The Dive."
Meanwhile, on "Pretty Little Liars: Original Sin," Pizzola plays Angela Waters, a teen who dies by suicide in 1999 at a party in the show's opening scene. In the scene, Angela cries for help, seeking out her friends — namely Davie Adams, Sidney Haworthe, Corey Bryant, Elodie Honrada, and Marjorie Olivar (aka the parents of the show's main characters of the present day) — but is ignored by them. She then jumps off a ledge at the party, leaving her distraught friends to watch on. Put plainly, Pizzola's character is essential to — and at the center of — the plot of "Original Sin." She appears in eight out of the 10 episodes of the show's first season.
If you or anyone you know is having suicidal thoughts, please call the National Suicide Prevention Lifeline by dialing 988 or by calling 1-800-273-TALK (8255)​.
Pizzolo is grateful for the fans' support of Stranger Things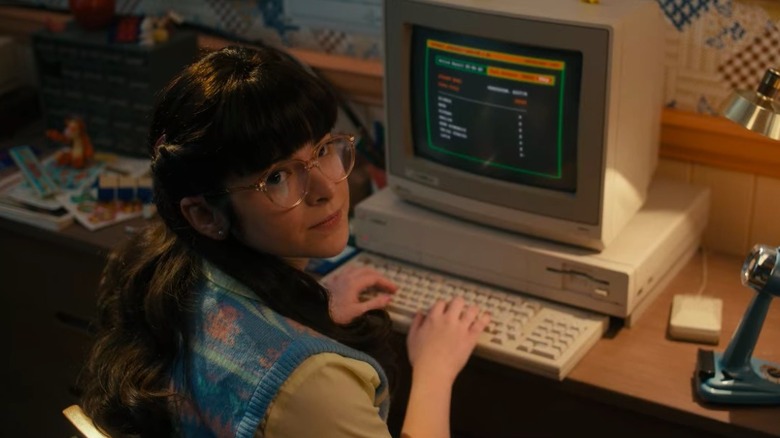 Netflix
In an interview with Showbiz CheatSheet, Gabriella Pizzola spoke about her experience playing Suzie in "Stranger Things" — including what it was like to experience the reactions from the show's dedicated fans. Pizzolo explained that her co-stars warned her about the intensity of fans' reactions, but that, even with the warning, she still wasn't prepared for the outpouring of reactions and fan theories. Suzie's "Neverending Story" musical duet with Dustin naturally got a whole lot of attention from the fans.
Pizzolo said, "The love for that scene and the appreciation was overwhelming in the same way that the [fan] theories [about Suzie] were and it all equally felt great. Just because whether it was a positive or a negative [reaction] in terms of the character, it was always a positive in terms of the work that we had done and the recognition that we were getting. So I always was really happy with it."
PIzzolo then noted that she is excited to see how the rest of "Stranger Things" plays out, but didn't mention whether or not her character would be returning, so we'll just have to wait and see if Suzie shows up in the upcoming fifth season of the show.