Why Captain Crow From The Sea Beast Sounds So Familiar
In the span of a few years, Netflix has become one of the most notable hotspots worldwide for animation fans eager to discover new and original films. Four animated features distributed by Netflix — 2019's "I Lost My Body" and "Klaus," 2020's "Over the Moon," and 2021's "The Mitchells vs the Machines" — have already made enough of a splash to garner nominations for the Academy Award for Best Animated Feature, and that's not even getting into the numerous animated short films that got a boost in the awards race thanks to their easy availability at the fingertips of the streaming service's subscribers. Now, by the looks of it, Netflix is keeping up its batting average in the animated medium this year with "The Sea Beast."
Directed by Chris Williams, whose work in "Bolt" and "Big Hero 6" previously earned him Oscar nods of his own at Disney Animation, "The Sea Beast" is a rousing adventure that follows in the footsteps of films like "How to Train Your Dragon" and "Moana" (the latter of which was co-directed by Williams) with its appeal to the yearning for wonder and awe in every viewer. The film, which takes place in a world filled with sea monsters and their famed hunters, assembled a first-rate voice cast, including Karl Urban as the conflicted Jacob Holland and Marianne Jean-Baptiste as pirate Sarah Sharpe. And then there's the great actor who was enlisted to play Captain James Crow. Here's where you may have heard him before.
Jared Harris is one of the finest and most prolific character actors working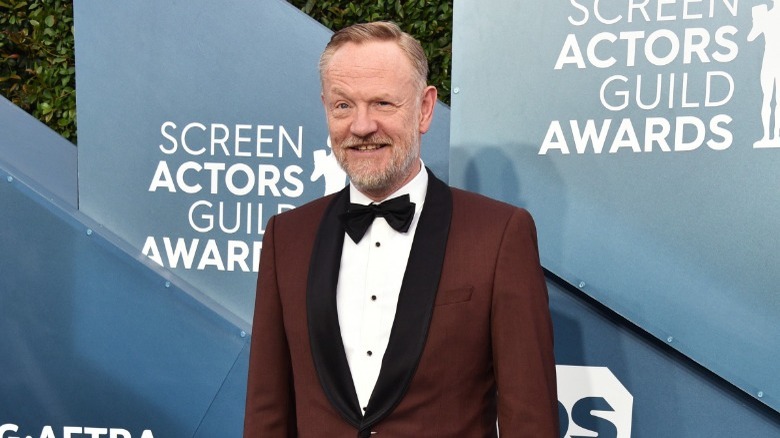 Gregg Deguire/Getty Images
James Crow is one of the most pivotal characters in "The Sea Beast." In addition to his authority and centrality to the film's dynamic as captain of the Inevitable and adoptive father to Jacob, his status as a monster hunting legend sets the stage for the ultimate conflict between violent tradition and disruptive understanding at the center of the story. It's only right that Captain Crow should be voiced by an actor worthy of his imposing stature, and that's exactly what we got in Jared Harris.
The son of iconic Irish actor Richard Harris (perhaps best-remembered today for his role as Albus Dumbledore in the first two "Harry Potter" films), Jared Harris began acting in films and on the stage consistently in the 1990s, appearing in such indie classics as "I Shot Andy Warhol" and "Happiness." From 2009 to 2012, he rose to prominence with his role as Lane Pryce, the new English financial officer at Sterling Cooper, on AMC's "Mad Men."
Following that, Harris became a mainstay of both American and British prestige television, bringing King George VI to life handsomely on the first season of Netflix's "The Crown," then delivering a pitch-perfect performance as Francis Crozier, the surly polar explorer at the center of the first season of AMC's "The Terror." More recently, he got arguably his biggest showcases yet as Valery Legasov on HBO's "Chernobyl," and Hari Seldon on Apple TV+'s "Foundation."
He had a memorable role in the expanded edition of Watchmen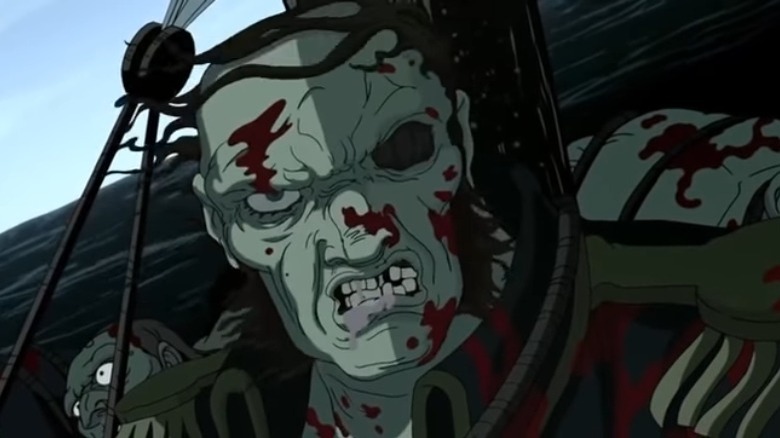 Warner Home Video
In addition to his multiple great live-action performances on the small screen, Jared Harris has also lent his distinctive, gruff voice to several notable animated projects — including one within a major live-action film.
Fans of Zack Snyder's 2009 take on "Watchmen" will remember that, in an effort to keep it within a commercially reasonable length, the controversial director had to excise a good deal of the material produced for his adaptation of the classic comic series by Alan Moore and Dave Gibbons. This included an entire animated short film adapted from "Tales of the Black Freighter," the comic-within-a-comic that New York teen Bernie is shown reading throughout the original "Watchmen." The animated "Tales of the Black Freighter" was ultimately included as a bonus feature on "Watchmen" home releases and edited into segments corresponding to the portions of the comic that Bernie (Jesse Reid) is seen reading on the 215-minute "Ultimate Cut" of the film.
"Tales of the Black Freighter" follows an unnamed sea captain (voiced by Gerard Butler) whose ship is destroyed by the terrible pirates of the Black Freighter, leaving him stranded on a deserted island and forced to scramble for a way to both survive and return home in time to warn people of the Freighter's coming. As he descends into madness while alone, he finds himself talking to his deceased former shipmate and friend Ridley, voiced by Jared Harris in a typically gut-wrenching performance.
He voiced Lord Charles Portley-Rind in The Boxtrolls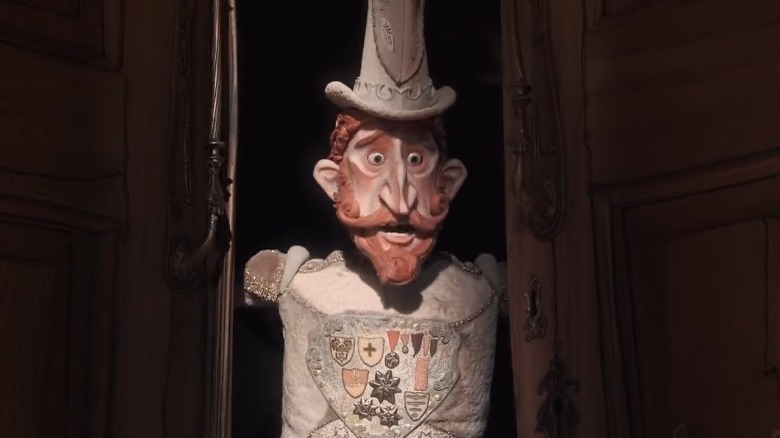 Focus Features
Stop-motion studio Laika became one of the leading forces in American animation throughout the last decade and a half, turning out such beloved and award-winning features as "Coraline," "ParaNorman," and "Kubo and the Two Strings." One of the things the Oregon-based studio became known for is its reliably strong voice casting; the cast roster of any Laika production is all but guaranteed to sport not only major star power, but also a significant degree of prestige and carefully hand-picked talent.
Although it is sometimes considered a lesser entry in Laika's oeuvre, 2014's "The Boxtrolls" very much adheres to the house rule when it comes to its voice ensemble. In addition to then-teen stars Isaac Hempstead Wright and Elle Fanning as kid protagonists Eggs and Winnie, the cast includes dramatic heavy-hitters like Toni Collette and Ben Kingsley, as well as well-matched comic figures like Tracy Morgan, Richard Ayoade, and Simon Pegg. Also in tow is Jared Harris, who plays Lord Charles Portley-Rind, in what was then only his first voice role in an animated feature film.
The father of Winnie and leader of the hilltop Victorian town of Cheesebridge, where most of the film takes place, Lord Portley-Rind initially has an antagonistic role in the film's plot, striking a deal with the villainous Archibald Snatcher (Kingsley) to have the Boxtrolls exterminated, until his daughter's friendship with Eggs leads to transformations in the relationship between the trolls and the townspeople.
He had two distinct guest roles on Robot Chicken
Few shows on television have racked up cast lists as sprawling as "Robot Chicken," Adult Swim's long-running, perennially popular stop motion sketch comedy series about ... well ... nothing in particular, but certainly a great many things. Out of the over 700 voice actors credited on IMDb as having popped up for at least one of the 220 episodes of "Robot Chicken," several were enlisted to take part in the show's famous celebrity and media spoofs, including memorable turns like Seth MacFarlane as Emperor Palpatine and Mark Hamill himself as the Joker. And, on two separate occasions, Jared Harris was one of the high-caliber performers brought aboard for sketches.
First, in 2016, he appeared on the Season 8 episode "Joel Hurwitz Returns," specifically on the 007-spoofing sketch "James Bond: Mastermind." Just as it says on the tin, the sketch follows the Sean Connery version of Bond as he plays a dangerous game of Mastermind against a stereotypical villain with an appropriately bizarre accent. And to give the unnamed "Bond Villain" the requisite flair, Jared Harris was cast, in a role that provided him with a rare opportunity to goof off a little. Every vowel and every consonant in his performance is outrageous — is he French? Russian? German? British? Who's to say?
More recently, in 2021, Harris came back for Season 11's "The Bleepin' Robot Chicken Archie Comics Special," an episode-length "Archie" spoof on which he played Riverdale High School principal Mr. Waldo Weatherbee.
He can be heard as the asteroid on New Looney Tunes
Over the years, Warner has made countless attempts to revamp the "Looney Tunes" brand for newer generations. The 21st century alone has seen a wide array of refurbished TV takes on the classic cartoon characters, from the toddler-oriented "Baby Looney Tunes" to the radical departure of "Loonatics Unleashed" to the underappreciated, sitcom-esque "Looney Tunes Show." From 2015 to 2020, the floor belonged to "New Looney Tunes," originally known as "Wabbit," an attempt to reconcile fan demands for traditional "Looney Tunes" slapstick with a more contemporary sensibility.
One of the key aspects of "New Looney Tunes" was its focus on Bugs Bunny (voiced by Jeff Bergman) as a protagonist and primary driving force, with other "Looney Tunes" and "Merrie Melodies" characters playing supporting roles. This format allowed the show to introduce an enormous amount of new characters into the world of Bugs, and one of those characters was an evil asteroid voiced by Jared Harris.
Appearing for the first time in the Season 3 episode "Armageddon Outta Here," the asteroid initially proved a mighty foe for Bugs and company, who struggled to destroy him and protect the planet until Axl Rose stepped in and saved the day with the power of rock (it makes more sense in context). Then, in keeping with that trademark why-the-heck-not "Looney Tunes" spirit, the asteroid — and Harris — returned eight episodes later to narrate a "Christmas Carol" spoof focused on Elmer Fudd (Bergman).