Joseph Mazzello Had A Close Call With A Dinosaur On Jurassic Park's Set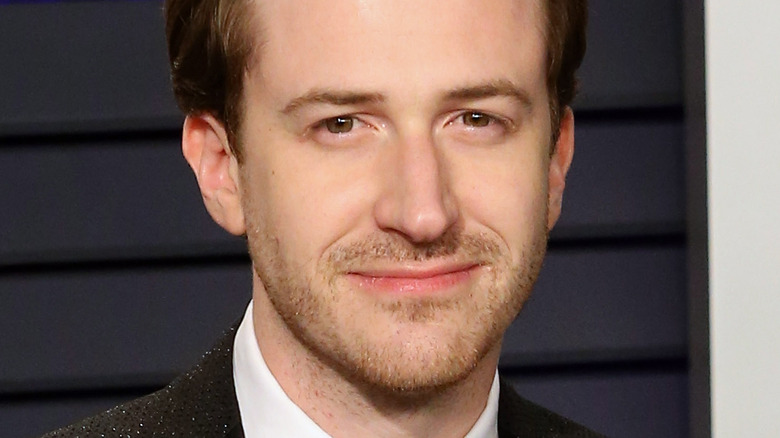 Joe Seer/Shutterstock
In 1993, Steven Spielberg's "Jurassic Park" premiered in theaters and dominated the commercial box office. During its first weekend alone, the action-packed film grossed a record-breaking $50 million. It also triumphed overseas, sweeping an impressive global revenue that cemented the film's impact on pop culture (via Variety). Adapted from Michael Crichton's novel of the same name, the original movie follows scientists Alan Grant (Sam Neill), Ellie Sattler (Laura Dern), and Ian Malcolm (Jeff Goldblum) as they visit the famed theme park, where the group interacts with real-life dinosaurs. At the same time, John Hammond (Richard Attenborough), the ambitious entrepreneur who supervised the park's construction, brings his grandchildren, Lex (Ariana Richards) and Tim (Joseph Mazzello), along for the ride. Inevitably, mayhem ensues.
Upon its debut, critics applauded the film for its stunning special effects and suspenseful narrative (via Rotten Tomatoes). The popularity of "Jurassic Park" spurred a decades-long franchise, culminating in a number of blockbuster sequels. In 2015, Universal Pictures rebooted the series with another trilogy (via IGN). While drawing on the universe established by its predecessor, "Jurassic World" introduced audiences to a new slate of characters. Notably, however, the third and final installment, "Jurassic World Dominion," brought back a few familiar faces, including Neill, Dern, and Goldblum.
While "Jurassic Park" has continued to endure in the entertainment industry, its original stars have often shared behind-the-scenes stories of their initial time on set. During an early interview, Mazzello revealed the ways in which shooting with animatronic dinosaurs could be tricky.
Joseph Mazzello got a few scrapes from his time on set
In 1993, while a guest on the TODAY Show, a 10-year-old Joseph Mazzello shared his experiences while filming on the set of "Jurassic Park." Sitting beside his co-star, Ariana Richards, Mazzello told anchor Katie Couric about a "close call" he had during the shoot. At first, he described what was originally supposed to take place in a key scene, noting that his character had to run into a walk-in freezer and narrowly escape the jaws of a carnivorous dinosaur. However, Couric asked, "It hit you on the head with its claw, didn't it?"
Nodding his head in agreement, Mazzello explained that he was supposed to "bear left" when entering the freezer, while the dinosaur had to "bear right." However, the dinosaur accidentally turned left as well. Motioning to the left side of his forehead, Mazzello said, "It hit me right here, on the head, and I got black-and-blue, and it was my birthday."
Although Mazzello did not reprise his role in "Jurassic World Dominion," he has referenced his past experiences in the franchise with tongue-in-cheek humor. In a recent Instagram post, the actor shared a picture of himself pouting at a dinosaur-themed birthday party. He captioned the photo: "My 2 year old nephew's birthday party was TRIGGERING" (via Instagram).
At the same time, Mazzello has remained largely positive about his involvement with the film. While reflecting on the movie's legacy in 2020, Mazzello praised the film for its contributions to cinema. As he observed, "When you think of Jurassic Park, I can think of 20 shots off the top of my head that are iconic. [Spielberg] just took such great care with every single frame of that movie, as he always does" (via Screen Rant).