Are Jaclyn Smith And Cheryl Ladd From Charlie's Angels Friends In Real Life?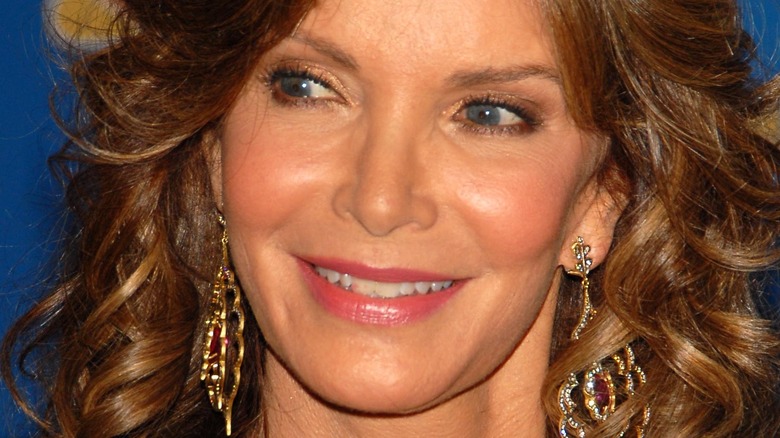 s_bukley/Shutterstock
It has been 41 years since Jaclyn Smith and Cheryl Ladd stopped fighting crime and solving cases as Kelly Garrett and Kris Munroe, respectively. Created by Ben Roberts and Ivan Goff, "Charlie's Angels" finished airing on June 24, 1981, with Episode 16 of Season 5, "Let Our Angel Live", an episode in which Smith's character got accidently shot in the head and nearly met an untimely end. But she did not — and neither did the bond between co-stars Smith and Ladd.
Smith was always part of the original cast, but Ladd was not. In 1980, Farrah Fawcett, who played the character of Jill Munroe, decided to leave the show and Ladd was cast to play the other actress' younger sister. Regarding her first day on the job, Smith told Fox News: "I wore a t-shirt that said, 'Farrah Fawcett Minor' since she was 'Farrah Fawcett Majors.' Everyone laughed. I made a lot of friends right away. I got to work and hoped that the character of Kris Munroe would be funny and quirky. I wanted her to be somebody that people could root for. I was very relieved when the ratings went up that season." 
Indeed, "Charlie's Angels" took off with the new cast member, who would end up starring in 87 episodes of the series.
The two angels talk all the time
A little over four decades later, Smith and Ladd's friendship is still going strong. On February 8, 2019, Smith posted a photo of the two looking beautiful and smiling for a photo together. The caption read: "With my sweet friend @angelcherylladd. No time has past when we are together." More recently, on July 21 of this year, Ladd posted a photo with Smith on the red carpet. She wrote that it was a "Throwback Thursday" post meant to highlight a time that both of them enjoyed hanging out on the red carpet together in 2011, over a decade ago. Clearly, those "Charlie's Angels" ties remain strong.
It is apparent that the two stars did not let the passing of time drive them apart. The two often keep in contact, as Ladd told Closer Weekly on June 25 of this year: "Jaclyn Smith and I talk all the time. She's a doll. Just a great girl and so fun. You know, for as elegant as she is, she's also kooky and a goofball. We'd love to find the right project to work together on. A movie about two old friends and all the ups-and-downs of that relationship — how you help each other out in good times and bad." 
With all that said, it is very apparent from the many photos one can find of the two together, that they have an undeniable, dynamic, fun-loving synergy. Who knows, perhaps — and hopefully — the two Charlie's Angels will find an exciting new project to star together in, as proposed by Ladd, where they can both amaze us with their incredible on-screen chemistry.