How The Big Bang Theory's Jim Parsons Used To Prep For Sheldon's Lines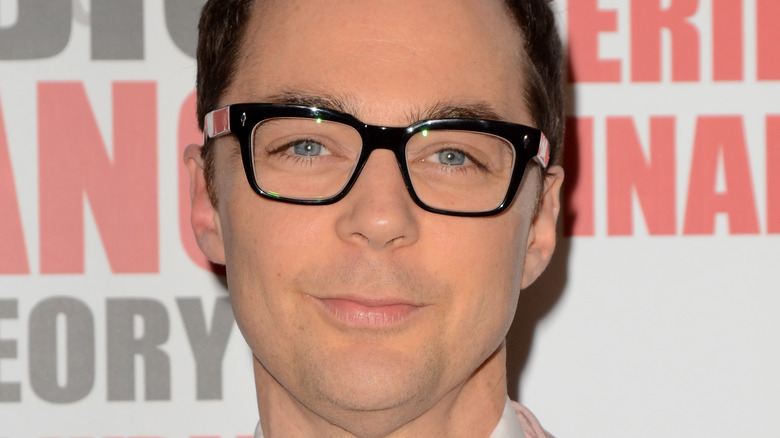 Kathy Hutchins/Shutterstock
Over the course of his 12 years playing neurotic physicist Sheldon Cooper on "The Big Bang Theory," Jim Parsons was recognized for his acting chops with a slew of Emmy wins and nominations. It's a testament to his talents that he successfully played such an intelligent individual, especially given Parsons' nonexistent background in science.
In almost every episode of the hit CBS sitcom, Sheldon rattles off details of a research project or one-ups his friends with his vast knowledge. Whether he's trying to discover a new element or teach Penny (Kaley Cuoco) physics so that she can understand the work of boyfriend Leonard Hofstadter (Johnny Galecki), Sheldon is regularly seen showing off his smarts.
Sheldon's years of work ultimately pay off in the series finale, when he and Amy Farrah Fowler (Mayim Bialik) receive a Nobel Prize for their Super-Asymmetry theory. Though she hasn't earned such a coveted honor in real life, Bialik shares her character's love of science and actually holds a doctorate in neuroscience.
Parsons, on the other hand, always had his sights set on an acting career and earned a master's from The Old Globe and the University of San Diego Shiley Graduate Theatre Program in 2001 (via Biography). Afterward, he landed a number of smaller parts before appearing in his first recurring role as Rob Holbrook in "Judging Amy." Therefore, intricate scientific terminology wasn't exactly in Parsons' wheelhouse. So how did he nail it on "The Big Bang Theory?"
Jim Parsons practiced Sheldon's scientific dialogue everywhere
In an interview with "Fresh Air," Jim Parsons revealed his secret to flawlessly presenting the detailed, science-based lines of Sheldon Cooper — practice makes perfect.
"I really just [run] rampant around my apartment saying these words, this dialogue, over and over," he said. "I'd go outside and say it. I'd sit down and say it. I'd stand up and run while saying it. Because I thought, 'I need to be able to trust myself to have these words come out.'"
Though Parsons can't exactly relate to Sheldon's passion for physics, he can certainly identify with his character's social awkwardness. As a child, Parsons was so shy that he refused to converse with his new kindergarten peers. Because of this personal experience, Parsons told TODAY how "surprisingly easy" it was to play Sheldon, despite his oftentimes difficult lines. He said, "I think that there's undeniably part of myself that understands what it is to feel outsidery. Probably everybody does ..."
It also helped that "The Big Bang Theory" called in UCLA physics instructor David Saltzberg, who served as a fact-checker and ensured the actors presented the scientific material as accurately as possible. Still, some of his contributions were lost on Parsons, who told "Fresh Air," "He [Saltzberg] sends over this diagram on this white board and he'll throw in little inside jokes that I don't find funny because I don't know what the heck he's talking about."
Still, to see Sheldon discuss physics on-screen, one would never know that the actor didn't study subatomic particles for a living.