Chicago Med Season 8 Poster Suggests A Major Character's Departure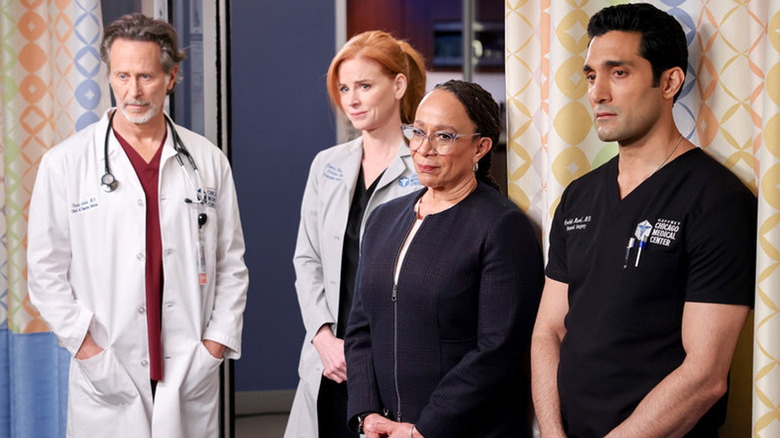 George Burns Jr/NBC
"Chicago Med" premiered as the third show in NBC's interconnected "One Chicago" universe, and continues to cross over with both "Chicago Fire" and "Chicago P.D." as all three series remain on the air. However, viewers more compelled by medical drama than its connections to these other shows can watch "Chicago Med" as a standalone series. In fact, its approach to the medical profession is such that "Chicago Med" is more realistic than "Grey's Anatomy," which may well be its closest peer.
Its fanbase, comprised of both "One Chicago" diehards and medical drama devotees, is sizable enough that "Chicago Med" Season 8 is currently slated to air in September of 2022. NBC announced that all three of its flagship "One Chicago" shows will be back on the same date in a series of Tweets featuring four discrete posters, including one for each show and one with information pertaining to all three series. While these primarily serve to build anticipation for the "One Chicago" universe's return, eagle-eyed fans happened to notice that the post about the return of "Chicago Med" suggests that a principal character will be absent from Season 8.
NBC's Chicago Med Season 8 poster hints that Pamela Blake is leaving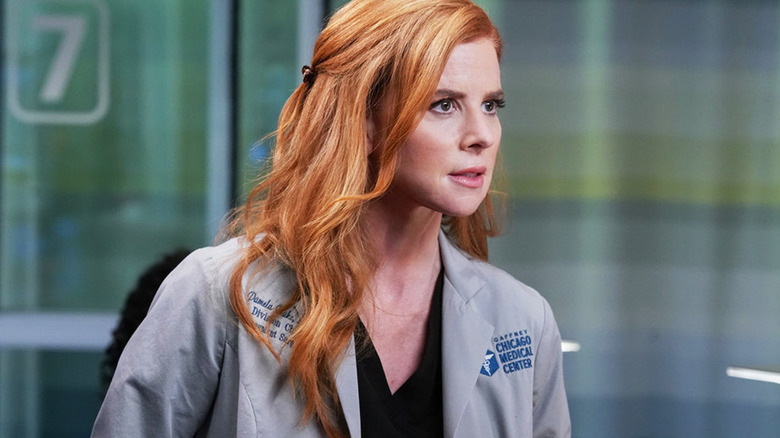 Elizabeth Sisson/NBC
Each of the promotional images shared to the "One Chicago" Twitter account in advance of the "One Chicago" universe's September 2022 return features a graphic of the relevant show or shows' principal characters layered over one another in a manner akin to a typical Marvel movie poster. While this is an altogether standard promotional strategy, the "Chicago Med" poster is notable for its lack of Pamela Blake (Sarah Rafferty) from what is otherwise a collage of all the series' major players.
Furthermore, NBC circulated a series of still images from the Season 8 premiere (via Reel Chicago) in which the majority of the show's principal characters are represented. Once again, Blake is conspicuously absent.
Currently, there is no official word as to whether or not Rafferty will remain a cast member on the eighth season of "Chicago Med." That said, Rafferty is currently set to star in a Netflix show titled "My Life with the Walter Boys" (via Deadline). Theoretically, then, either the production of this series or a project that has yet to be announced could have conflicted with filming "Chicago Med."
For what it's worth, Blake undergoes a significant change in the Season 7 finale, which may well be the impetus for her character's departure. More information about Rafferty's role in the upcoming season should become available in the lead-up to or following the "Chicago Med" Season 8 premiere on September 21.