12 Dark Movies Like Barbarian Fans Should Check Out
"Barbarian" looks to be a thrilling, unnerving, and maybe even mind-bending horror movie based on its simple premise and strange trailer. The film follows Tess (Georgina Campbell), who is in a new town for a few days for a job interview. When she arrives at the rental home that she's booked for her stay, she discovers there's already someone staying there. The current tenant is the friendly and good-looking Keith (Bill Skarsgård), who tells Tess she should stay the night there and can take the bedroom with a door that locks.
But of course, because this is a horror movie, things aren't quite so simple. While it's unclear exactly what the evil or danger is that lurks in the house, the trailer seems to imply the possibility of a cult and otherworldly elements. So with a sense of "Barbarian" from the information we have already — that it's a small-scale story about two people in an apartment that turns into something much more terrifying than they ever expected — here are 12 movies that offer similar premises and deliver on the scares. Whether you're looking to prepare for "Barbarian" or you're just in the mood for something spooky and location-based, you're sure to find something that piques your interest.
Always Shine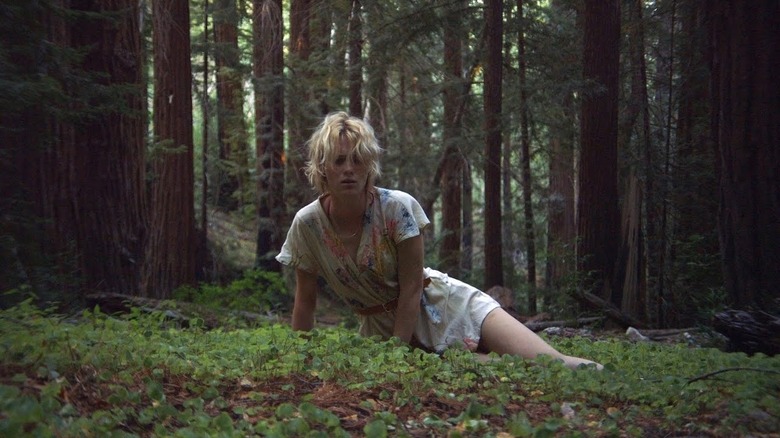 Oscilloscope Laboratories
"Always Shine" follows friends Anna (Mackenzie Davis) and Beth (Caitlin FitzGerald), who take a vacation from their hectic lives as struggling actors in Los Angeles to a cabin in Big Sur. The two have grown apart recently and are looking to get back in touch with each other and catch up. As the film goes on, though, instead of becoming closer friends, their resentments come to the fore.
Beth hasn't passed along invitations for meetings with directors to Anna, and Anna thinks that she could perform Beth's roles better. There's also the constant reminder of Beth's greater success as she prepares for an upcoming role while Anna doesn't have any. But the movie expands its interest, and its horror, beyond the dangers of two friends with long histories facing their real feelings about one another in an isolated area, and it becomes a reality and identity-bending story.
There are no sci-fi or fantasy elements to the 2016 film — it simply becomes difficult for us, and for Anna and Beth, to tell exactly who is who and who is doing what. Far from making the film a confusing mess, that ambiguity makes it a thought-provoking thriller that sticks with you long after it's over. The director, Sophia Takal, would also go on to helm Blumhouse Productions' "Black Christmas" remake.
The small-scale vacation setting and the strange reality-bending nature of the story make us think fans of "Barbarian" would also find something to love in "Always Shine."
Come to Daddy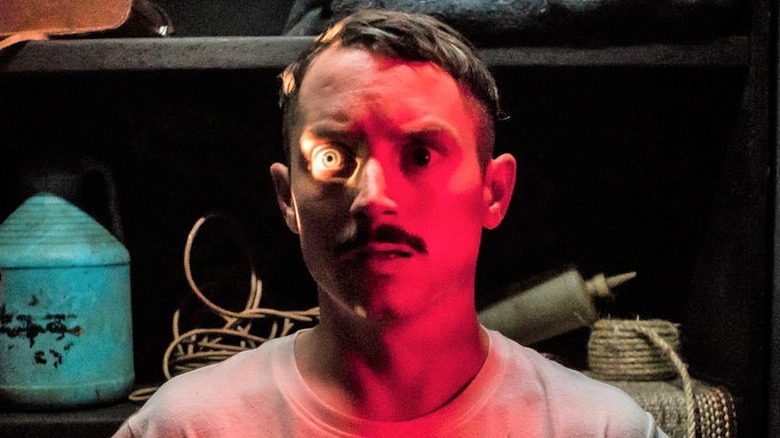 Saban Films
Elijah Wood has been a horror-lover for a long time, and since 2010, when he founded the production company SpectreVision, he's produced some of the most interesting films in the genre, including "A Girl Walks Home Alone at Night," "Color Out of Space," and "Mandy." But all that work producing great movies hasn't kept Wood from acting, and in "Come To Daddy," it's easy to see the actor-producer's love for the genre.
The film follows well-off musician Norval (Wood) who travels to an isolated cabin on the coast of Oregon to visit his estranged father after receiving a letter inviting him. At first, Brian is kind and welcoming, excited to see his son, but as their conversations continue, he becomes cruel and eventually violent.
But that's just the beginning of this strange, spooky, and hilarious horror-thriller-comedy that delves into some dark territory but never does so without a thick layer of humor. 2020's "Come to Daddy" initially seems to be a two-hander centered on characters who barely know each other that expands into something much more exciting in a way that may mirror the small beginning and potentially wild ending of "Barbarian."
The Rental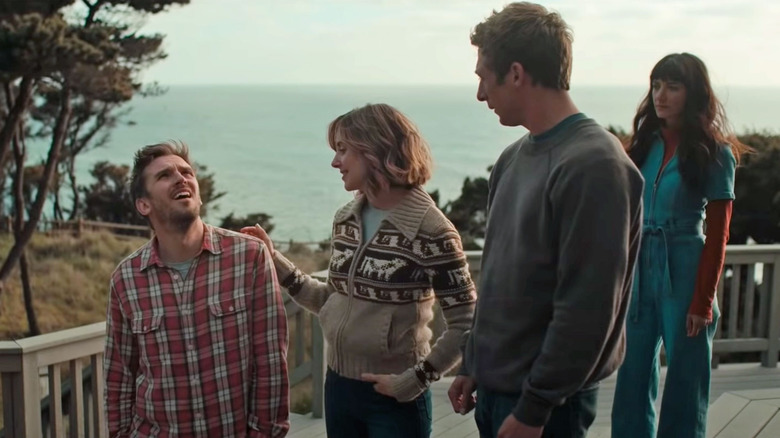 IFC Films
"The Rental," Dave Franco's first feature film as a director, centers on two couples who rent a remote home on the water for a short vacation. Charlie (Dan Stevens) and his wife, Michelle (Alison Brie, Franco's real-life wife), along with Charlie's brother, Josh (Jeremy Allen White), and Josh's girlfriend, Mina (Sheila Vand), are made immediately uncomfortable upon their arrival when their rental host, Taylor (Toby Huss), makes some racist comments towards Mina (who is Iranian).
The couples try to not think about their rude and creepy host though, as he won't be staying in the home with them. They get to drinking and take some drugs, and not long after, Mina and Charlie are kissing and sleeping together. But infidelity quickly becomes the least of the vacationers' concerns when they discover a camera hidden in the shower and Josh's dog goes missing.
All signs point to Taylor, but are things so simple? The movie takes some thrilling and disturbing twists and turns but remains firmly small-scale and centered on its five central characters. We think the 2020 film's (largely) single-location story and the horrors of an unknown and seemingly unmotivated tormentor will appeal to any fans of "Barbarian."
Antichrist
"Antichrist" follows a couple, known only as She (Charlotte Gainsbourg) and He (Willem Dafoe), who retreat to a cabin in the woods called Eden after the accidental death of their infant son. He is a therapist, and despite the obvious ethical problems, he decides that he will treat his wife's grief in their isolated cabin, where she can work through her emotions.
But when they arrive, strange things begin to happen: Acorns rain down from the sky, He develops a strange skin condition, and He has visions of animals, some of whom talk to him. He soon discovers that perhaps She is not the victim of circumstance that he had believed and that she instead has malicious plans for them both.
The 2009 Lars von Trier film is often slow-moving and atmospheric, but even in its slowest moments, the atmosphere is so thick with dread that it's never boring. The film's finale has become the stuff of legend for how disturbingly violent it is, but we think it fits the film's strange and psychosexual narrative. It's a movie that's also heavily symbolic, a couple marked only by their genders and their placement in a natural place called "Eden" is clearly interested in something Biblical, and the combination of heady themes and dread-inducing atmosphere makes it one of the best cabin-in-the-woods movies ever made.
While "Barbarian" doesn't take place in a cabin in the woods, the strange nature of the apartment, with its hidden doors and the potential themes of gender violence, make us confident "Antichrist" serves up something fans will enjoy.
Evil Dead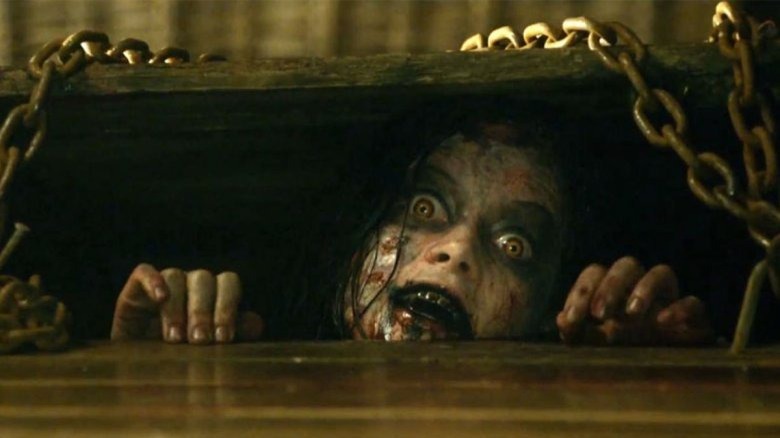 Sony Pictures Releasing
While Sam Raimi's original "Evil Dead" series, which began in 1981 with "The Evil Dead" and ended in 1992 with "Army of Darkness" and gave us some of the best '80s horror movies ever, holds a place in our hearts, we think the remake from 2013 is more likely to satisfy fans of "Barbarian." Like "Barbarian" and the other movies on this list, "Evil Dead" takes place overwhelmingly in a single location — in this case, a small cabin in the woods, as the original is a progenitor of the trope — and like "Barbarian" seems to do based on the trailer, the remake expands its mythology without ever leaving that location.
Without giving anything away, suffice to say that the 2013 film delivers more gore than even the original, and its ending sequence is almost Lovecraftian levels of cosmically horrifying. We can't be sure yet exactly how much "Barbarian" will lean into the gore, but the MPAA R-rating descriptor tells us it received that rating for "some strong violence and gore," so at the very least, it seems like there will be something for gorehounds to enjoy, and if they do, "Evil Dead" 2013 can continue to satisfy that craving for slick, sticky, over-the-top violence.
Caveat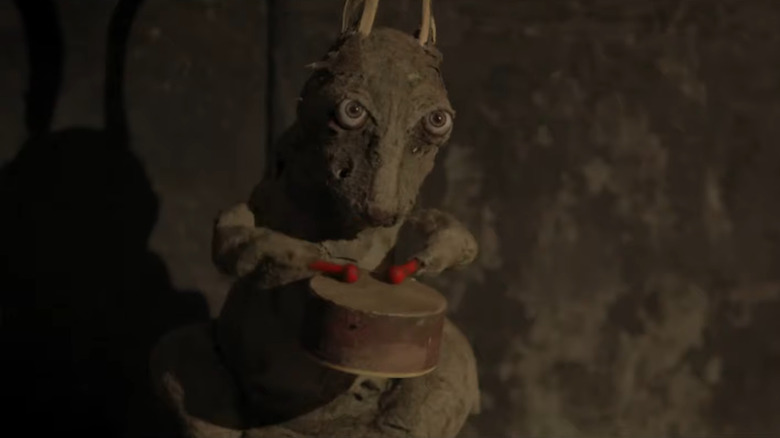 Shudder/YouTube
The 2020 Irish horror film "Caveat," like "Barbarian," has one hell of a premise: An amnesiac, Isaac (Jonathan French), takes a job caring for a mentally unstable young woman, Olga (Leila Sykes), on a remote island. Isaac's desperate, which is the only reason anyone would take the job — not that Olga seems to be overly difficult to care for, as her uncle who hires Isaac says that her largest problem is that she sometimes goes catatonic, but because to do the job, Isaac is asked to wear a chain.
No, not like a necklace, he's told that he needs to chain himself using a long chain that will allow him to reach most of the rooms in the home but restrict him from going places he shouldn't. But Isaac needs money, so while the chain certainly raises an eyebrow for him, he still accepts the job. The strangeness of the chain soon becomes the least of Isaac's problems, though, as there seem to be strange supernatural events and spirits in the home with him and Olga. And as he attempts to discover exactly what is going on and how he might stop it, Isaac only uncovers more and more disturbing information that places him in greater danger.
It's a spooky, high-concept movie that's locked to a small location with big secrets, something "Barbarian" looks to offer as well.
Session 9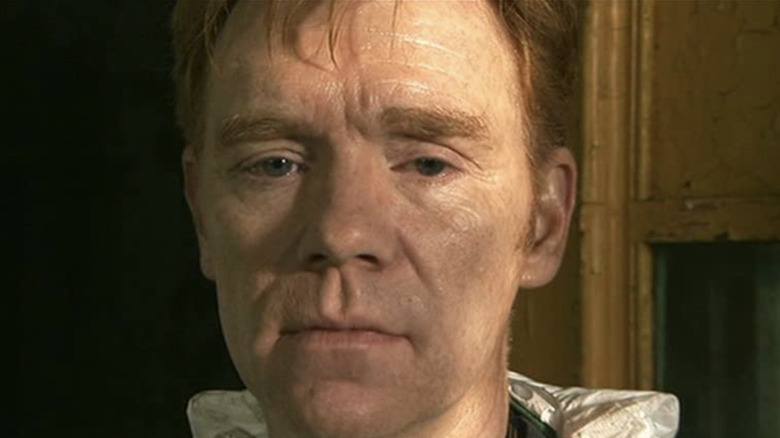 USA Films
Unlike the other movies on this list, 2001's "Session 9" doesn't take place in a home or cabin or anywhere that could be described as cozy. "Session 9" takes place at an abandoned psychiatric hospital and was filmed at the real Danvers State Hospital (per Movieweb), an abandoned asylum that served as the inspiration for the Arkham Sanitarium in H. P. Lovecraft's work, which then inspired Arkham Asylum in "Batman."
The setting is a historical landmark, but inspiring the work of a horror author and the home of the criminally insane in superhero stories gives a good sense of the place. It's big — gothic almost — and feels like it's falling apart even while people are trying to clean it up. And that setting fits perfectly with this story of an asbestos abatement crew who take a job at the abandoned hospital only for it to start taking a toll on them.
"Session 9" has been compared to "The Shining" for its single-location story of madness that seems to suggest an inexplicable and perhaps incomprehensible supernatural evil tied to a place. That sense of evil makes us think that fans of "Barbarian" will find something interesting here.
The Night House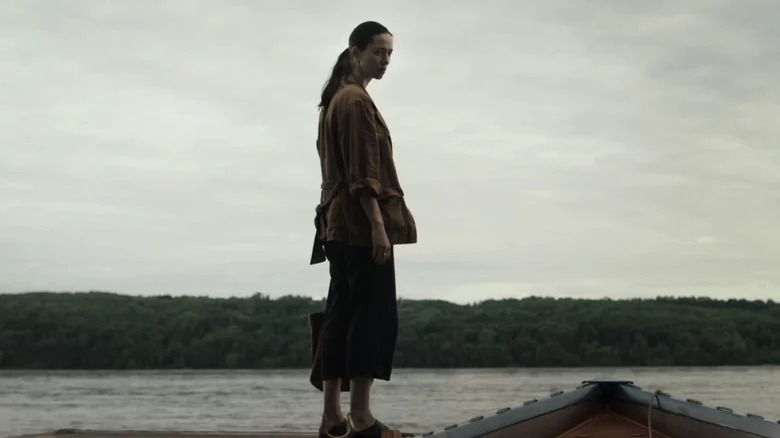 Searchlight Pictures
Most movies about scary places are about other people's homes or places that the protagonists visit for a vacation, but 2020's "The Night House," from upcoming "Hellraiser" reboot director David Bruckner, is about the horror of discovering that there may be more to your own home than you knew. After the death by suicide of her husband, Beth (Rebecca Hall) begins to experience strange, seemingly supernatural, events and finds floorplans of her home that her husband left behind.
He was an architect who designed their home, so the fact that he had floorplans of the place seems reasonable enough, but upon closer inspection, Beth realizes that the floorplans are reversed — an inversion of their home. Beth investigates exactly what these floorplans are about and why her husband made them, and what she discovers is unexpected and truly horrifying.
"The Night House" mixes a variety of horror subgenres to deliver something excitingly different, and "Barbarian" looks like it will do the same with its simple premise that leads to unexpected places.
If you or anyone you know is having suicidal thoughts, please call the National Suicide Prevention Lifeline by dialing 988 or by calling 1-800-273-TALK (8255)​.
The Invitation (2015)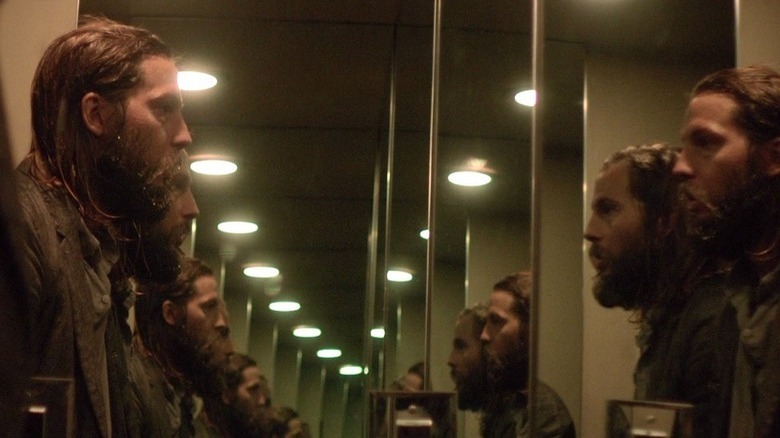 Drafthouse Films
There's the horror of learning that there's more to your home than you thought, and then there's returning to the site of a traumatic event. 2015's "The Invitation," helmed by "Jennifer's Body" director Karyn Kusama, subverts the usual setup of "scary new place" horror movies by having Will (Logan Marshall-Green) go back to the home where he used to live with his ex-wife before their son died. The home is also not at all isolated and sits firmly in a residential area of the Hollywood Hills.
Will and his girlfriend (Emayatzy Corinealdi) have been invited to a dinner party by his ex-wife, Eden (Tammy Blanchard), and her new husband, David (Michiel Huisman), and the prospect of seeing them and being in the old home is already enough to make Will anxious. Of course, this is a horror movie, so there are soon many better reasons for him to be anxious as Eden and David begin to talk to their guests about a new group they've joined called "The Invitation."
The film is brutally tense, and while it never leaves reality, it shows us the world through Will's eyes and memory, blurring together the past and the present to create a woozy and unnerving feeling for the audience. It's another small-scale film that packs a big punch, in the same way we expect "Barbarian" to do.
Honeymoon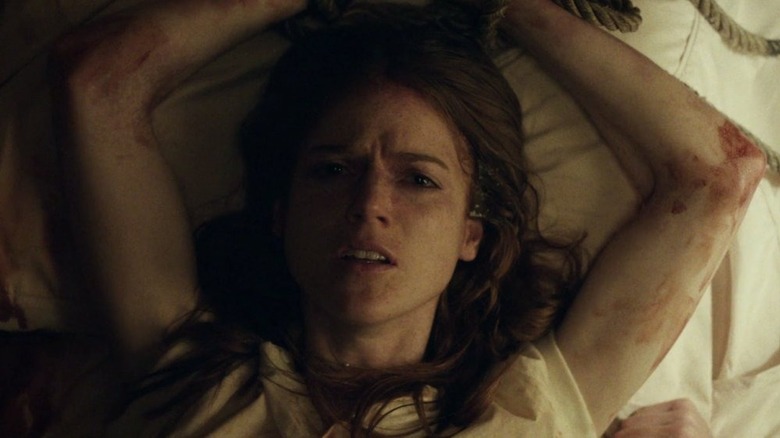 Magnolia Pictures
As you can likely guess from the title, the 2014 film "Honeymoon" centers on a new couple's honeymoon. Bea (Rose Leslie) and Paul (Harry Treadaway) have escaped from their lives to a cabin her family owns in the Canadian forest near a lake. On one of their early nights at the cabin, Paul wakes up and Bea is missing. He finds her wandering the woods naked and is alarmed, but she says she was just sleepwalking.
As their honeymoon goes on, Bea only begins to act more strangely, practicing conversations with herself and forgetting how to do everyday tasks. And soon the couple begins to see bright lights shining into their cabin at night, but they can't find the source. The confluence of bizarre events makes Paul concerned that something dangerous and supernatural may be going on around them and affecting Bea, but she continues to say that she's fine.
Honeymoon is a wonderful movie that's been thoroughly underrated, and we think anyone who enjoys "Barbarian" is primed to appreciate this strange and disturbing gem.
Creep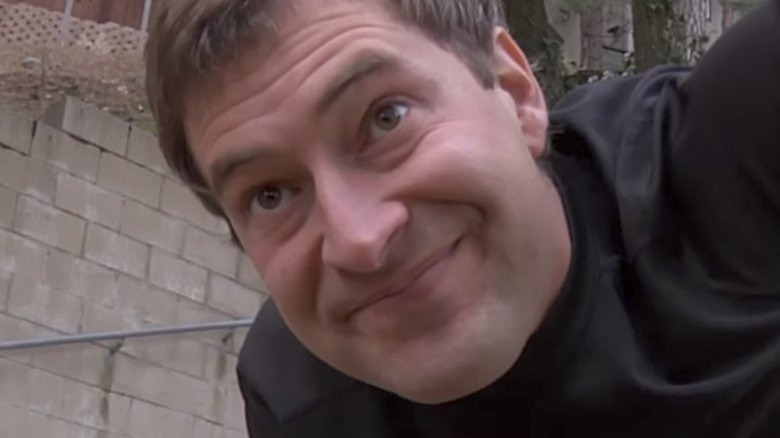 The Orchard
"Creep" doesn't focus on a situation that's meant to be a relaxing or enjoyable vacation like many of the films on this list, as it's about someone taking a job that leads them to a new place.
Desperate videographer Aaron (Patrick Brice) accepts a Craigslist ad to visit the, you guessed it, remote cabin of the off-kilter Josef (Mark Duplass) and create a video diary with him. Josef says that he has terminal cancer and that his wife is currently pregnant, so he wants Aaron to help him create a document for the child he will never meet. But the longer Aaron works with Josef, the more he begins to think that Josef may not be telling him the truth.
"Creep" takes some disturbing twists, and the found footage style of the film makes it all feel that much more immediate. Thankfully, Duplass is hilarious as the potentially lethal Josef, and the 2014 found-footage film (and its sequel) tends to be funnier more often than it is scary, save for a few shocking jump-scares and a general unsettling vibe. While it doesn't entirely take place in the cabin, it's still a film centered on just two people and the way that their dynamic plays out. We're confident that this small-scale focus and the unexpected discoveries Aaron and the audience make along the way make "Creep" a winner for fans of "Barbarian."
The Lodge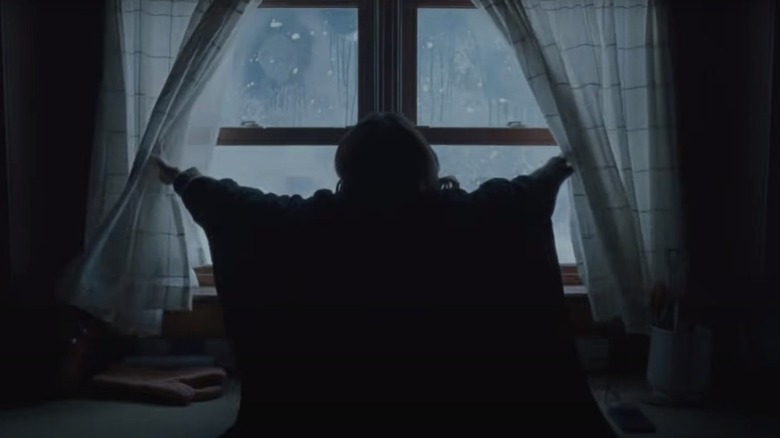 Neon
"The Lodge" takes place largely in, well, a lodge. Months after the death by suicide of her fiancé's ex-wife, Laura (Alicia Silverstone), Grace (Riley Keough) is left alone with his two children in a lodge far from anything else. The idea was for them all, including her fiancé Richard (Richard Armitage), to spend the Christmas holiday together and bond, but when Richard is called to work for a few days, Grace spends the time with the children, elder Aiden (Jaeden Martell) and younger Mia (Lia McHugh).
There's enough tension among the characters to create a palpable thriller, but when the children discover that Grace is the sole survivor of a cult that died by mass suicide, things go from uncomfortable to outright hostile and threatening. And then things begin to wrong for them all, inexplicable things start happening like their belongings disappearing and the date changing mysteriously.
It's an ominous, atmospheric movie with some fascinatingly dark themes, especially as they relate to belief and religion. "The Lodge" seems to move us through a variety of states of consciousness and reality in a way that "Barbarian" promises to do as well. And of course, it's disturbing as can be.
If you or anyone you know is having suicidal thoughts, please call the National Suicide Prevention Lifeline by dialing 988 or by calling 1-800-273-TALK (8255)​.