A Wrinkle In Time Releases Four Stunning New Character Posters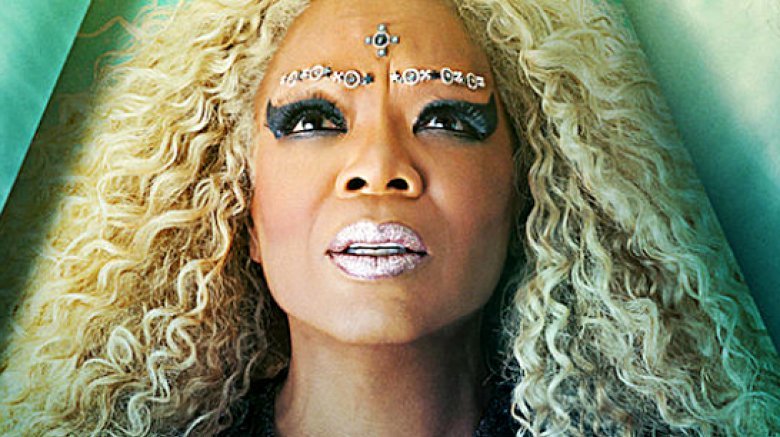 Walt Disney Motion Pictures
If the dazzling teaser trailer and jaw-dropping promo images for A Wrinkle in Time weren't enough to hype you, these new posters will likely change all that. 
Disney has dropped four character posters for its highly anticipated adaptation of Madeleine L'Engle's seminal novel of the same name. The one-sheets (courtesy of Entertainment Weekly) feature the three mystical guides–Oprah Winfrey as Mrs. Which, Mindy Kaling as Mrs. Who, and Reese Witherspoon as Mrs. Whatsit–and the wayward central protagonist Murry, played by Storm Reid. All four charactesr are shown reaching their hands out to touch a pool of water in front of them.
Take a look at the full batch of posters below. 
Directed by critically acclaimed filmmaker Ava DuVernay (Selma), A Wrinkle in Time adapts L'Engle's characters in bright, bold colors for the big screen. Costume designer Paco Delgado helped bring DuVernay's unique and cutting-edge vision to life, as evidenced by these new posters. DuVernay previously spoke about her creative journey with the project, telling EW earlier this year, "My whole process with this film was, 'What if?' What if it was different? The book is written very openly. It's not nailed down, the way everything looks or even when it [takes place]. I feel like working with Madeleine's work, with her source material, it was an invitation for interpretation within it and we really went for that."
Additionally, the fact that Winfrey's Mrs. Which, Kaling's Mrs. Who, and Witherspoon's Mrs. Whatsit are at the forefront of this new bundle of film promotion honors DuVernay's past statements regarding the coalescing of three powerful women. Bringing them all together, the director stated, is "a great archetype in literature," and she pondered if she could add something new to the beloved characters. "I wondered, could we make them women of different ages, body types, races? Could we bring in culture, bring in history in their costumes? And in the women themselves, could we just reflect a fuller breadth of femininity?" the filmmaker stated. 
DuVernay has also repeatedly praised Reid's performance Meg Murry. "She's a wonder. She's trained, but she's also a natural, so here you've got this natural ability that's within a girl who really studies and takes it seriously as well. She cared about this character and she goes so deep in it," she said. "I saw a lot of girls, but there was only one Meg and she stood out early. And the world is in for a treat. Get ready. Get your umbrellas out. There's a Storm coming."
Chris Pine co-stars as Meg's scientist father, alongside supporting actors Zach Galifianakis, Gugu Mbatha-Raw, and Michael Peña. Here's the official synopsis: "From visionary director Ana DuVernay comes Disney's A Wrinkle in Time, an epic adventure based on Madeleine L'Engle's timeless classic which takes audiences across dimensions of time and space, examining the nature of darkness versus light, and ultimately, the triumph of love. Through one girl's transformative journey led by three celestial guides, we discover that strength comes from embracing one's individuality and that the best way to triumph over fear is to travel by one's own light."
A Wrinkle in Time will arrive in theaters on March 9, 2018.