Adam Sandler Thought He Was Going To Faint During His First SNL Appearance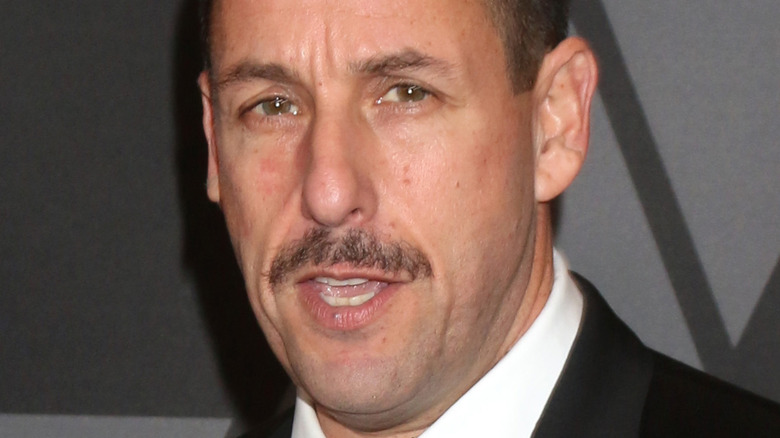 Kathy Hutchins/Shutterstock
Many great character actors and movie stars like Robert Downey Jr. and Julia Louis-Dreyfus had career breakthroughs working on "Saturday Night Live" (via Good Housekeeping), even if it was just for a season in Downey's case. Some actors hated the experience, resulting in their time on the variety show getting cut short. However, producers have historically been great at choosing promising talent who can appear on the series and carry it to the forefront of American television.
Among "SNL" alumni, though, the only rival to the success story of Adam Sandler might be Eddie Murphy. Thanks to Sandler's songs and performances on "SNL," he became one of the undisputed kings of comedy blockbusters. "Billy Madison," "Happy Gilmore," and "The Wedding Singer" were such big hits that Sandler formed his own production company, Happy Madison, in 1999 (via Far Out Magazine). Directors eventually discovered that he was a charismatic dramatic actor as well, leading to revelatory performances in "Punch-Drunk Love," "Reign Over Me," and "Uncut Gems."
Considering all of Sandler's success, it's hard to believe that he almost passed out during his first "Saturday Night Live" appearance.
Sandler nearly fainted during an episode hosted by Tom Hanks
Adam Sandler was first discovered by fellow stand-up Dennis Miller while performing on the comedy club circuit. Miller recommended the young performer to show producer Lorne Michaels, and his time on "Saturday Night Live" began in 1990 (via Howard Stern). In an interview with IMDb, however, Sandler revealed that he nearly fainted before his first-ever performance.
Sandler's first episode on the show featured Tom Hanks as the host. The actor, however, was secretly panicking: "I remember gasping for air, that I was so scared that I was gonna faint" (via IMDb). Performing live on stage can be frightening in front of a small audience, let alone when it's being broadcast to millions of people and it could be an actor's big break. Per Far Out Magazine, Sandler rallied anyway, however, and was able to cement his talent with comedy classics like "The Chanukah Song" and "Lunchlady Land" on the show until he was fired in 1995.
Despite his stage fright, Sandler recalls the evening fondly, telling IMDb, "Man, that was just probably the coolest night of my life with just saying, 'It's official, I'm on Saturday Night Live.' Because I was on air."