Johnny Depp Once Brought An Iconic Role Back To Life On Family Guy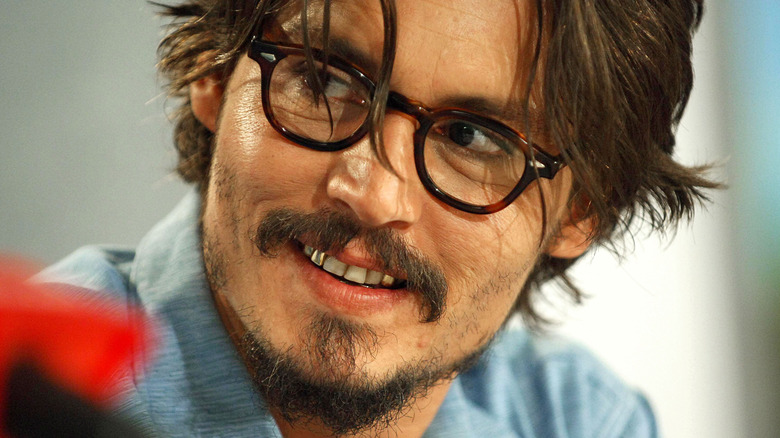 Everett Collection/Shutterstock
Since his film debut sharing the screen with dream-fiend Freddy Kruger in "A Nightmare on Elm Street" back in the early 1980s, Johnny Depp has gone on to become as much a pop culture icon as a standard-issue movie star. Throughout his 40-year career, Depp has made a name for himself fully inhabiting characters from teen heartthrobs to evil wizards. Along with a number of box office flops including misses like "Dark Shadows" and "The Brave," Depp's globally recognized and adored Captain Jack Sparrow helped propel Disney's original "Pirates of the Caribbean" and four sequels into an international, multi-billion-dollar franchise.
Often garnering as many headlines for his dramatic personal life as for his on-screen performances, Depp is also known for his ability to fully commit himself to whatever role he takes on and whatever ensemble of actors he works with. In this regard, he's been quoted as saying, "The most important thing that an actor needs to do is not to act, but to react. That's what it is all about, and you do one of the most difficult things in the world, which is to just be — to be in the state of being" (via Cinema Blend). As such, it's intriguing to think about how Depp might have reacted to getting the news he'd be able to reprise one of his most iconic characters for an episode of "Family Guy."
Johnny Depp voiced Edward Scissorhands on Family Guy
Launching on Fox in 1999, "Family Guy" features the animated exploits of Peter Griffin, wife Lois, kids Meg, Chris, and Stewie, and their pooch, Brian. Created by Seth McFarlane, the adult-oriented show often uses cutaway scenes to satirize other films or TV series. Canceled in 2002, fan demand, syndication success, and big DVD sales prompted Fox to bring the series back to broadcast TV in 2005, where it's been airing ever since, with its 21st season debuting in 2022 (per CBR).
Johnny Depp lent his voice from one of his most indelible film performances to the "Family Guy" episode "Lois Comes Out of Her Shell" in 2012 (via IMDb). As noted, the series often transposes the show's characters into gag sequences spoofing other films. As it turns out, for his "Family Guy" installment, Depp would find himself vocally re-animating his extraordinary turn as the wild-haired, blade-fingered protagonist of director Tim Burton's horror romance, "Edward Scissorhands." As seen in this YouTube clip of the scene, Edward is re-cast on the show as a babysitter, which, not surprisingly, turns out to be both hilarious and slightly depressing but par for the course where "Family Guy" humor is concerned.