Can The Big Bang Theory's Simon Helberg Actually Speak As Many Languages As Howard?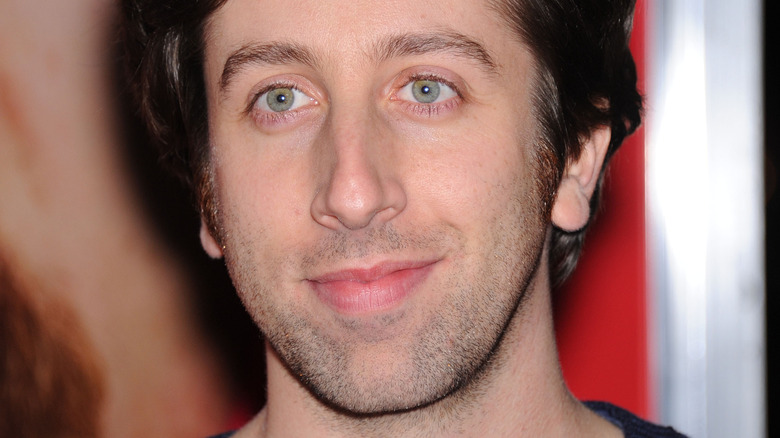 DFree/Shutterstock
On the hit CBS sitcom "The Big Bang Theory," Howard Wolowitz (Simon Helberg) is quite the jack of all trades. Despite criticism from Sheldon Cooper (Jim Parsons) for being the only non-physicist among the friend group, Howard is knowledgeable in his field of aerospace engineering. He even gets to experience space, though it's not exactly the exciting adventure he always envisioned.
Outside of his career, Howard boasts some impressive vocal talents. Not only can he perform spot-on impressions of everyone from Christopher Walken to Raj Koothrappali (Kunal Nayyar), but he's also fluent in numerous foreign languages. They include French, Russian, Mandarin, Arabic, Persian, Japanese, and the "Star Trek" tongue of Klingon. This is in addition to conversational ASL. Howard is particularly proud of his fluency and attempts to use this skill to attract women, mostly Penny (Kaley Cuoco).
In the pilot episode, prior to the Cheesecake Factory waitress and Leonard Hofstadter (Johnny Galecki) becoming an item, Penny must utilize her new neighbors' shower but is unsure of how to work it. As Leonard volunteers to help, Howard tells her to have a "good shower" in French. He says, "It's a sentiment that I can express in six languages." In a separate scene, after telling Penny something in a foreign language that's obviously flirty, he asks a confused-looking Penny, "Haven't you ever been told how beautiful you are in flawless Russian?"
Howard may be able to speak in various dialects confidently, but is Helberg also skilled in this area?
Simon Helberg only knows English and a little Latin
Some "The Big Bang Theory" actors are similar to their on-screen personas. For example, Mayim Bialik and her character Amy Farrah Fowler have doctorates in neuroscience and neurobiology, respectively. As for Simon Helberg, he doesn't exactly share Howard's smarts when it comes to languages.
In an interview with TV Guide, when asked if he speaks anything besides English, the actor admitted, "I don't. I took Latin in high school, so that won't come in handy nowadays unless I'm trying to woo the Pope."
Helberg revealed the reason behind Howard's determination to learn as many languages as possible is being prepared to impress women under all circumstances. "Howard subscribes to the notion that you never know who you're going to meet and win over with perfect Russian, so he's dedicated himself to learning those [six] specific languages and he has that in his repertoire," he said.
Though his bilingual pick-up lines can often come off as cringy and creepy, some fans of "The Big Bang Theory" think it adds an endearing element to the character. On Reddit, u/Greaves- said, "If anything, he's really a dude to aspire to for anyone growing up. Big development from a boy to a man ... great husband, great father, speaks a million languages ..."
U/solipsisticcompass believes Howard can speak more languages than shown in "The Big Bang Theory." Given his Jewish background, this user said, "He probably knows a little Yiddish or Hebrew too. Seems logical."