The 60 Minutes Cast Member You Likely Didn't Realize Was A Guest Host On Jeopardy!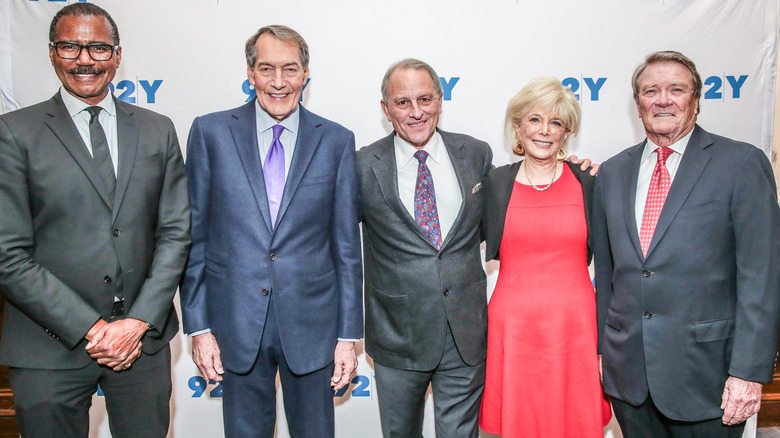 Cj Rivera/Getty Images
Whether it's breaking news or fascinating stories, there are many options out there regarding the number of programs keeping viewers up to date. While podcasts and vlogs have become all the rage, some still value the old ways of consuming information and insight. That's why people are still tuning into shows like "60 Minutes" every week, excited to see what's in store from their distinguished lineup of multi-faceted correspondents.
The news magazine broadcast has been the most watched program in America five times, and the show has spent over two decades on the Nielsen Top 10 highest-rated programs list. In addition, "60 Minutes" has won over 70 Emmy awards in over three decades, solidifying its status as a powerhouse on the small screen (via CBS News). The long-running series has put out some intriguing entries covering a multitude of topics, with some leaving viewers in tears and others convincing fans that aliens exist.
Bringing audiences these captivating stories is an assortment of talented correspondents. From Anderson Cooper's reports on the drug war in Mexico to Sharyn Alfonsi's pandemic coverage (via CBS News), everyone on the roster has proven to be very good at their job. But some of them aren't just exemplary at giving people the news. Some have had experience dishing out the clues on the popular game show "Jeopardy." Many "60 Minutes" fans may not realize that one of the cast members was a host on the renowned quiz show.
Bill Whitaker hosted Jeopardy
Bill Whitaker started reporting for "60 Minutes" in March 2014 (via CBS News) and has been known for covering various topics, from ghost guns to the race for a vaccine. He even did an episode where he came face-to-face with a Grizzly bear. Over the years, his efforts in his field have earned him several honors and accolades, including the Distinguished Journalism Award from DePaul University (via CBS News Chicago).
Among his many accomplishments, one that stands out is his time as a host of "Jeopardy." When Alex Trebek sadly passed away in November 2020, the series needed to find people to cover his hosting duties. Bill Whitaker was one of the individuals chosen, and he did so ten times from May 3 to May 14, 2021 (via IMDb). In an exclusive interview (via Jeopardy on YouTube), the guest host talked about what the show means to him and how it's impacted his life. "Jeopardy is my wife's and my favorite show. Every night I'm home, we watch Jeopardy. We try to answer the questions, we have a little thing where we put it on pause, and then we talk it over and see if we got the right answer. And we come back, and often we don't, but we love it." While he probably won't be crowned champion on the series anytime soon, the resourceful and renowned "60 Minutes" correspondent is one of the few dedicated fans that can boast they once played host on the beloved game show.