The Rick And Morty Season 6 Episode 2 Post-Credits Scene Explained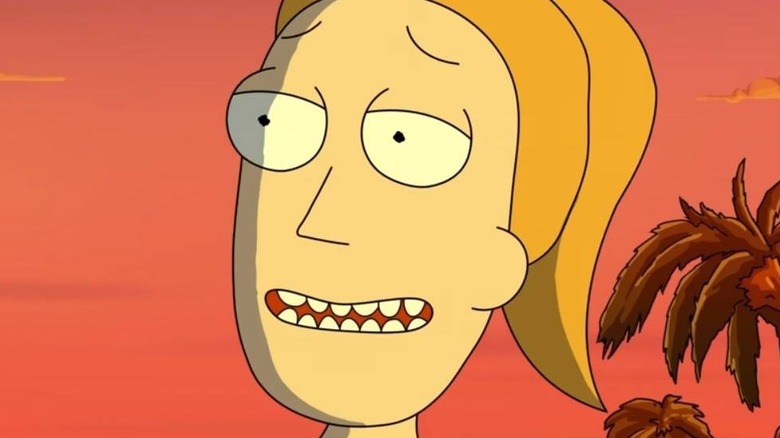 Adult Swim
Contains spoilers for "Rick and Morty" Season 6, Episode 2
"Rick and Morty" Season 6 Episode 2, "Rick: A Mort Well Lived," juggles two major plotlines. Rick (voiced by Justin Roiland) spends the majority of the episode as the main character of in-universe video game "Roy: A Life Well Lived" in order to save Morty (Roiland), whose consciousness has spread over every single non-player character in the game. Meanwhile, Summer (Spencer Grammer) tries to keep the pair's bodies safe in the middle of a very familiar-looking tower heist.
The episode reveals that the "Towerman" scenario in "Die Hard" is actually a repeating storyline in the show's universe. The episode's villain, Hans Gruber (Alan Rickman) stand-in and "Die Hard" scholar Chans (Peter Dinklage), knows the movie's plot off by heart while Summer, who has never once seen the movie, has to play the role of the hero. As you'd expect, plenty of hilarity and plot twists ensue — and as is the series' custom, the episode closes with a post-credits scene that elaborates and expands on a certain part of the story. Let's see what the "Rick and Morty" Season 6 Episode 2 post-credits scene is all about. 
The post-credits scene reveals a surprising sequel
The post-credits scene in "Rick and Morty" Season 6 Episode 2 depicts an alien standing on a strange planet, wearing a billboard that says "I Hate Everybody." Two other aliens observe from a distance, wondering why no one's attacking the billboard guy. The pair start debating whether they've toned down the far more offensive billboard text from "Die Hard with a Vengeance" too much. In the end, the more smartly-dressed villain alien misses his dead brother. 
The alien bad guy whose brother is dead is a pretty clear allusion to Hans Gruber's brother, "Die Hard with a Vengeance" villain Simon Gruber (Jeremy Irons), which — together with the fact that they're attempting to recreate a scene from the movie — implies that the original "Die Hard" isn't the only one playing out over and over again. 
The short stinger scene understandably doesn't delve into the depths of the whole "Die Hard" situation, so viewers never learn whether the scenario loop contains just the Gruber-themed "Die Hard" movies, or if every single movie in the franchise plays out somewhere in the universe. If it's the latter, one can't help but feel sorry for the poor characters who are stuck in the plots of some of the worse "Die Hard" movies.